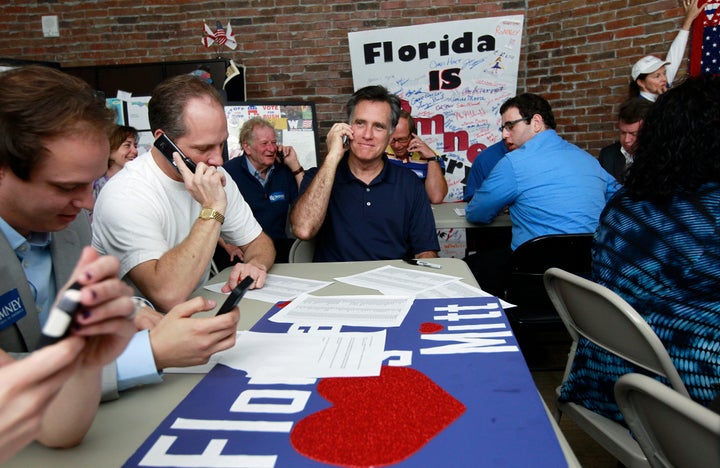 A Romney campaign conference call got a moment of levity Wednesday when a conservative blogger from Ohio used her chance to ask a question to inquire whether President Barack Obama's travel to the Buckeye State is going to snarl traffic.
"Do we know yet where Obama will be?" asked the woman, who identified herself to the call operator as Carol Greenberg, with the blog Conservative Outlooks.
"Can you say or can you at least give a general geographical part of the state? I'm hoping he's not going to be in northwest Ohio, because he always ties up traffic," Greenberg continued. "So if he's going to be up here I may stay home tomorrow."
Romney adviser Russ Schriefer tried to contain a chuckle during his answer, but couldn't disguise his amusement.
"Well it's my understanding the president's going to Cuyahoga County, and that he's speaking at the, I believe it's the Cuyahoga Community College. So, I hope that doesn't screw up your traffic plans," Schriefer said.
Greenberg's blog identifies her as "a Constitutionalist, a firm believer in 2nd Amendment and 10th Amendments rights." Greenberg adds, "For many of my posts I am supplied info from CRC Public Relations and House.Gop.gov." She also has an active Twitter feed.
The conference call was notable for one other reason. It was the first time that Schriefer, who runs a media firm with fellow Romney adviser Stuart Stevens, and a political consulting firm with Stevens and Romney adviser Eric Fehrnstrom, had been put out by the campaign to talk to the press.
To date, Schriefer has not been a visible part of the Romney campaign, while Stevens and Fehrnstrom both have played prominent public roles. Schriefer offered his thoughts on Romney's trip to Cincinnati, which will take place at the same time as Obama will be in Cleveland.
Schriefer said little that went beyond familiar campaign talking points. But he downplayed the impact of an intra-party squabble between Republican Gov. John Kasich and the party's former state chairman, Kevin DeWine, in which Kasich forced DeWine out.
"I think they all know there's no state that is more important than Ohio, and we're counting on them to do their best and we know they will," Schriefer said of the Ohio GOP.
There was also a minor debate over the ground rules for the call. The Romney campaign advised the conference call by e-mail on less than two hours notice, then announced at the top of the call that Schriefer could only be identified as a campaign official or some other background term. However, a campaign spokeswoman changed that rule after a request by The Huffington Post that the call be on the record.

Popular in the Community