So the latest tempest raging inside the seemingly endlessly fractious teapot known as the GOP involves one-time Presidential hopeful Mitt Romney and former vice presidential candidate Sarah Palin, and naturally, it involves something very, very, very, very shallow.
KING: As you launch this effort, anyone who picks up Time magazine this week and sees the 100 most influential people, will see two Republicans in that magazine. They'll see Sarah Palin and Rush Limbaugh. Is that helpful, hurtful, indifferent?

CANTOR: You know, they are two individuals that have a lot of ideas, and our party should be about ideas. That's what this effort is about and the National Council for a New America, and that is what they're about. So I don't think any of us should have any monopoly on the ideas. And I know that there are some who like to make it all about personalities, but it's about ideas. It's about how we take this country forward.

ROMNEY: John, I'd like to have a lot more influential Republicans. I think there are a lot more influential Republicans than that would suggest. But was that the issue on the most beautiful people or the most influential people? I'm not sure. If it's the most beautiful, I understand. We're not real cute.
Oh yeah! Take it from Mitt Romney, second-place finishing fraudbot extraordinaire -- he's a super-serious, not-cute Republican that would rather be thought of as influential than pretty! Of course, it wasn't long ago that Romney was being honored for listicle inclusion himself:
If you ever meet Winter Olympics organizer Mitt Romney, feel free to praise him for helping to rescue this year's Games from a bribery scandal and a deficit of nearly $400 million. Just don't tell him he's arrestingly handsome. "Nothing embarrasses Mitt more than when someone says he's good-looking," says Cindy Gillespie, a colleague on the Salt Lake Organizing Committee. Yet now that Romney, 55, who lives in Belmont, Mass., is the GOP candidate for governor of his home state, it's hard not to notice his blinding smile. Says Olympic skeleton gold medalist Jimmy Shea, 33: "I'd be really excited to look like him when I get to be his age." Political critics like to paint the 6'2" Mormon as a too-perfect Ken doll. The son of former Michigan governor George Romney amassed a multimillion-dollar fortune as a venture capitalist at Boston's Bain Capital and has been married 33 years to his high school sweetheart, Ann, with whom he has five sons. But childhood pal Tom McCaffrey insists that while Romney's "family looks like a Gap ad, which makes us all a bit cynical," he is a man of "immense credibility and character--which shows in his face."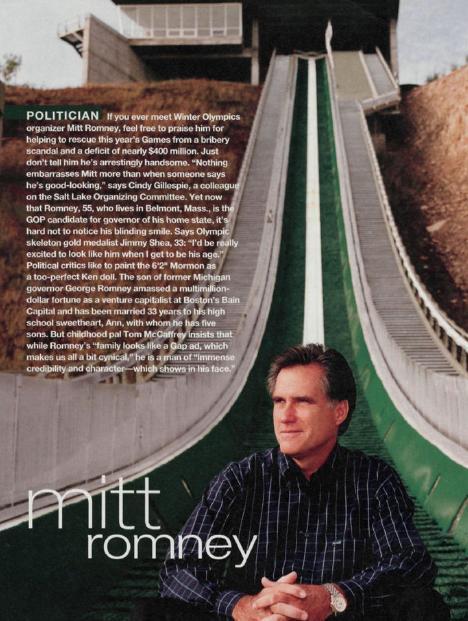 OMG! Romney must have been SO EMBARRASSED when this issue with the photoshoot he willingly participated in came out and hit the newsstands! How will we ever feel his influence if we cannot stop ourselves from noticing his "blinding smile" and telling him for "arrestingly handsome" he is!