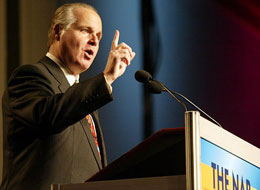 Support for radio host Rush Limbaugh's latest controversial comments is appearing more and more non-existent. This morning, White House Press Secretary Dana Perino faulted Limbaugh for saying troops who returned from Iraq and criticized America's presence there were "phony soldiers."
Sen. John McCain (R-AZ), who is a frequent target of Limbaugh's, followed with a harsh statement: "Any American who risks his or her life to defend us has earned the respect and gratitude of every American citizen, irrespective of their views on this war. If Mr. Limbaugh made the remark he is reported to have made, it reflects very poorly on him."
Now former Massachusetts governor Mitt Romney is weighing into the fray. In a statement to the Huffington Post, Romney's spokesman Kevin Madden offered the following on Limbaugh:
"Governor Romney would disagree with the negative characterization of those men and women who serve with honor and distinction in the United States Military. There may be disagreements with individual opinions, but no one would ever dispute the fact that those members of the military who disagree with the war have earned the right to express that opinion."
Support HuffPost
The Stakes Have Never Been Higher
Popular in the Community