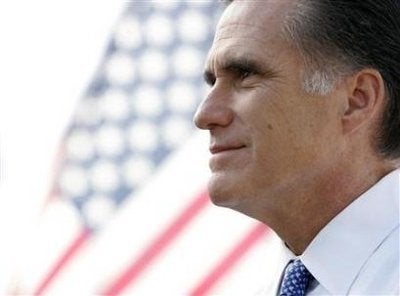 Republican presidential candidate Mitt Romney loaned his campaign a total of more than $35 million in 2007, according to the most recent filings of campaign finance reports.
In the past quarter alone, the former Massachusetts governor pumped $18 million of his own wealth to financing his candidacy. That personal contribution helped bolster his fourth quarter fundraising total to $27 million, well beyond the $6.8 million raised by his competitor and GOP frontrunner, Sen. John McCain. The figures, it should be noted, were tallied at the end of December when the political dynamics were very much different.
Nevertheless, the scope of Romney's personal wealth and the extent of his self-financing have become recent fodder on the campaign trail. In a recent debate, the Massachusetts Republican declined to reveal just how much money he was giving his campaign. Though he has been willing to flaunt his campaign wealth as evidence that he remains a viable White House contender.
"I have authorized a seven-figure -- I won't give you the exact number -- but a seven-figure advertising buy for our campaign," Romney told the Washington Post. "But frankly, at this stage, I don't think anyone will be advertising on a per-person basis the level we did in Iowa, New Hampshire, Michigan and Florida."
Romney, the former CEO of the private equity firm Bain Capital, is said to be worth $250 million. The $35 million he has used on his presidential campaign does not include what he lent himself during the month of January. That amount -- should Romney stick to his self-financing pattern -- should push the total figure for personal wealth spent over the $40 million mark.
See who is bankrolling the 2008 Presidential election. Search by name or street address to see the cash donations and political leanings of your boss, neighbors, relatives, friends, and favorite celebrities with Huffington Post's FundRace.
Calling all HuffPost superfans!
Sign up for membership to become a founding member and help shape HuffPost's next chapter