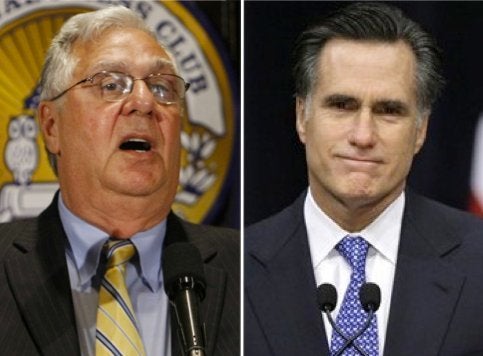 WASHINGTON – A top goal of the nation's most influential national Tea Party group is to stop Mitt Romney from winning the Republican nomination for president.
Interviews with top officials at FreedomWorks, a Washington-based organizing hub for Tea Party activists around the country, revealed that much of their thinking about the 2012 election revolves around derailing the former Massachusetts governor.
"Romney has a record and we don't really like it that much," said Adam Brandon, the group's communications director.
FreedomWorks is led by former House Majority Leader Dick Armey (R-Texas) and Matt Kibbe, an economist and former Capitol Hill aide. More than 30 employees, as well as a fresh class of several interns, work out of spacious seventh floor offices near the U.S. Capitol. The group knows they cannot impose their will on the fiercely independent conservative organizers fueling the Tea Party. But they say the activist base is just as anti-Romney as they are.
Kibbe said in an interview that FreedomWorks has no plans at the moment to endorse an opponent of Romney's in the primary. But others in the organization made clear they will devote considerable resources toward helping whoever emerges as the most viable Republican in the primary other than the putative front runner.
Brendan Steinhauser, who travels around the country meeting with activists as FreedomWorks' top liaison to the grassroots, said most people he talks to are "definitely trying to stop Romney."
"I don't think I've met any groups or any local activists that like him or want him to be president," Steinhauser said. "They just don't believe he's authentic. That's the biggest problem in addition to the health care thing."
The "health care thing" is Romney's approval of a 2006 law that aimed to achieve universal insurance in Massachusetts by mandating coverage and expanding the state's Medicaid rolls. Many see it as the precursor to President Obama's health care overhaul at the federal level.
But Steinhauser said there is a growing concern that the Tea Party movement is going to splinter its vote because there is no clear alternative to Romney at the moment. Without such an option, grassroots conservatives may scatter among GOP candidates such as Rep. Michele Bachmann (R-Minn.), former Sen. Rick Santorum (R-Pa.), former Godfather's Pizza CEO Herman Cain, Rep. Ron Paul (R-Texas) and others. Such a scenario would likely help Romney.
Former Minnesota Gov. Tim Pawlenty is emerging as Romney's clearest rival, though many questions remain about his ability to unite the Republican base. Former Utah Gov. and U.S. Ambassador to China Jon Huntsman could become a Romney alternative for some voters, but he is likely to be too moderate for most Tea Partiers.
So FreedomWorks plans to bring its influence to bear during the primary. They'll be violating former President Ronald Reagan's so-called Eleventh Commandment -- that Republicans should not attack other Republicans -- but Steinhauser said these are unusual circumstances.
"You can't divide the vote in the primary and end up with, you know, who? Newt Gingrich? Mitt Romney? Somebody's got to beat those guys," Steinhauser said. "I think it's important that we really point out the flawed candidates and brand them as such and point out who are the people we consider unacceptable."
The inclusion of Gingrich in the same "unacceptable" category as Romney is a blow to the former House Speaker from Georgia, who is trying to brand himself as an "outsider" candidate.
While FreedomWorks hopes to raise roughly $20 million for the 2012 election cycle, the group's focus will not be on fundraising or TV campaign ads. They will concentrate instead on nudging the grassroots toward coalescing behind whoever ends up being the most electable alternative to Romney. They see their role as being crucial after the GOP candidates have gone through the first three or four primary states: Iowa, New Hampshire, South Carolina and Nevada.
"When you come out of those early primary states, the only thing that's going to be uniting the surviving candidates is they're all going to be broke. They're not going to have the money to go saturate Florida and Ohio on television and Super Tuesday states," said Brandon.
"What we're going to be ready to do, is when these candidates -– let's say it's Romney versus one of the governors, or there's four candidates –- at that point that's when we probably really start focusing on getting behind one person," he said. "And then these networks will help propel that person through those states."
FreedomWorks is not currently leaning in any one candidate's direction, though Pawlenty's was mentioned as having the best shot to beat Romney and win the general election. Though Bachmann is formidable in terms of her appeal to the conservative base, the group does not appear to view her as a particularly strong opponent for Obama.
But Kibbe expressed skepticism about the power of Romney's advantages in fundraising and name ID, comparing him to former Florida Gov. Charlie Crist, who lost his bid for a U.S. Senate seat last year to insurgent candidate and Tea Party favorite Marco Rubio.
"Charlie Crist had everything, right? He had name ID, tons of money in the bank. He was the sitting governor, he had all the advantages of incumbency, and yet this ragtag insurgent movement connected to a capable candidate and blew up that whole model," Kibbe said. "In some ways Romney looks like the Charlie Crist of this cycle: he's got all the money, he's got the name ID."
"It's not just about money anymore. It's about grassroots organization and an ability to organize," he added.
That's where FreedomWorks comes in. They have gained currency with the Tea Party despite the skepticism among most in the movement about any national group claiming to speak for them.
FreedomWorks has become a trusted brand by embracing the role of facilitator, rather than trying to mobilize and influence with a traditional top down model. They have focused on giving activists tools to connect with one another, educating them on policy and the legislative process, and providing them with political training.
Other national groups have carved out their own niches. The Tea Party Patriots drew big names to a policy summit in Arizona this year and to a rally on Capitol Hill, but their recent events have not been anywhere nearly as well-attended as rallies they held in Washington in 2010, and their connection to local-level politics has not been as evident. The Tea Party Express, meanwhile, played a big role in the Alaska Senate election last year on behalf of Tea Party candidate Joe Miller, but has stayed largely quiet since the midterms.
Conversations with grassroots activists revealed that while some have minor gripes about FreedomWorks, they are largely willing to credit the organization for having an impact.
"FreedomWorks is an incredible organization that does not take credit for anything and provides amazing support to local organizations around the country," said Ryan Hecker, a lawyer in Houston who is active with the Tea Party there. "There's no ego there that I see. It's definitely second to the movement."
The group has an e-mail list of over 1 million, a Facebook community with 650,000 or so members, and its own social networking site, called FreedomConnector. The site, which was modeled on Facebook and built from scratch by an in-house web developer, boasts over 100,000 active users.
A study by four Brigham Young University scholars in April found that "of the Tea Party groups that backed candidates in the general election, only FreedomWorks endorsements were associated with a statistically significant increase in votes for the Republican candidates."
The Romney campaign referred questions to Sal Russo, a long time Republican political operative based in Sacramento who in 2009 founded the Tea Party Express. That group has raised millions of dollars over the last two years, is co-hosting a GOP presidential debate in September with CNN, and is planning a bus tour in the weeks leading up to the debate.
In an interview, Russo said his group was "not harboring any grudges or ill will toward any of the candidates, because frankly that's counterproductive."
"We've heard all kinds of things about every candidate who did this and they wrote this college paper once, and they voted on the city council this way," Russo said. "Everybody's got things that people might be unhappy about. But it's kind of a new era. We've now turned a corner on where we are and there is now widespread recognition that we have to address the fiscal woes that America faces."
"We're less interested in what they did and more interested in where they're going," he added. "I think the Tea Party people are like most Republicans: they're pretty open."
Since the Tea Party emerged as a political force in 2009, journalists and commentators have struggled to grasp who is leading the movement. Some on the left point to the Koch brothers –- Koch Industries executives David and Charles –- as having bankrolled an Astro turf movement to undermine Obama. But while the Kochs have seeded numerous conservative groups with millions of dollars over the years, they have never given to FreedomWorks, the group said.
Ongoing interviews with activists indicate that after focusing on national-level politics and policy in 2009 and 2010, much of the Tea Party's energy, increasingly focused on state and local politics, has become more diffuse than ever.
But the movement's decentralization and independence means it may be hard to corral its participants to get behind a 2012 candidate if one capable of taking on Romney does not emerge. If Romney were to win, Kibbe said, many in the Tea Party would likely not vote or would go with a third party candidate. He said the 2012 presidential election could be the Tea Party's "Achilles heel."
"We are nervous about this presidential race," Brandon said. "I'm not going to hide that."

Popular in the Community