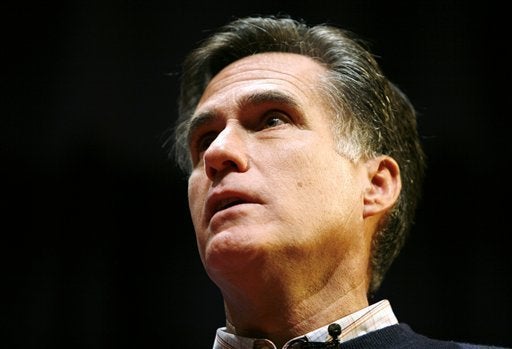 Less than two weeks before the possibly make-or-break New Hampshire primary, GOP presidential candidate Mitt Romney woke up Wednesday to find another scathing anti-endorsement in a Granite State newspaper. It's the second major anti-Romney editorial slam this week.
The Union-Leader, the largest newspaper in the state, slammed Romney for lacking "conviction," and said that the more New Hampshire voters saw of him, the less there was to like.
"In this primary, the more Mitt Romney speaks, the less believable he becomes," the markedly conservative Union-Leader editorial board wrote. The Union-Leader has endorsed Arizona Sen. John McCain in the Republican primary.
The scornful jab by the media outlet with the biggest bullhorn in the Granite State comes at a delicate time for the Romney campaign, as the candidate struggles to hold his slight lead in the polls and sprint across the finish line. A win in New Hampshire would provide a jolt of momentum to a campaign that is seeing its prospects in the other pivotal early state of Iowa lagging in recent weeks. Former Arkansas Gov. Mike Huckabee has surged ahead of the Republican field and recently overtook the once-sizeable lead that Romney held in Iowa for most of the year.
New Hampshire is considered by many to be a virtual political suburb of Massachussetts where Romney sat as governor. A failure by Romney to score big in the Granite State could be a mortal blow to his national campaign.
Four days ago, another large New Hampshire newspaper, the Concord Monitor, slammed Romney as a phony and told its readers that he "must be stopped."
Under the headline "Romney should not be the next president," the Monitor said his consistent flip-flops on issues left voters wondering whether his turnarounds were sincere, or driven by personal ambition:
If you followed only his tenure as governor of Massachusetts, you might imagine Romney as a pragmatic moderate with liberal positions on numerous social issues and an ability to work well with Democrats. If you followed only his campaign for president, you'd swear he was a red-meat conservative, pandering to the religious right, whatever the cost. Pay attention to both, and you're left to wonder if there's anything at all at his core.
Despite spending more time in New Hampshire than any other GOP candidate, Romney has yet to pick up a single newspaper endorsement. He still leads in most New Hampshire polls, with the latest Real Clear Politics average showing him up by 3.5 percent over his nearest rivals.
Questions about Romney's authenticity and truthfulness were raised last week when he was forced to repeatedly parse the dictionary meaning of the verb "to see" after claiming he "saw" his father march with civil rights icon Martin Luther King, Jr. News reports later showed that the elder Romney, a former Michigan governor, did not march with King, although he was a supporter of the civil rights movement.