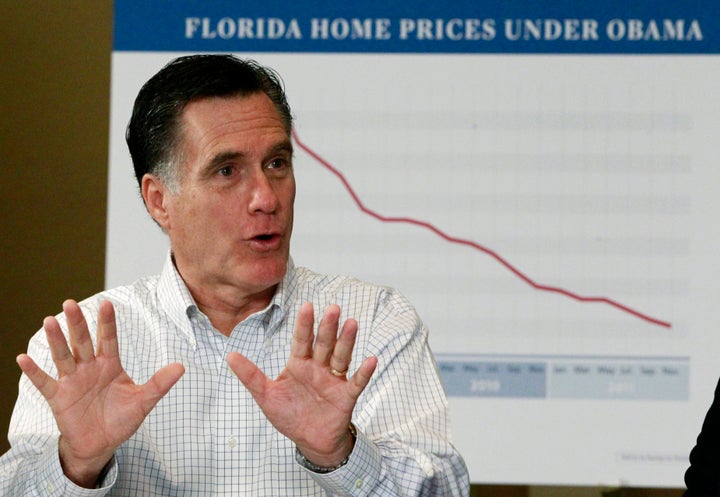 Back in October, Republican Presidential candidate Mitt Romney made news by suggesting -- in Las Vegas, of all places -- that we simply needed to let the housing crisis wash through the system, and the market would work its magic. "Don't try and stop the foreclosure process," Governor Romney said. "Let it run its course and hit the bottom."
Mr. Romney's comments not only demonstrate callousness towards millions of families struggling to stay in their homes, but point to his fundamental misunderstanding of the problems facing our housing market.
Feeling the backlash from his comments in Nevada, and perhaps sensing that his political vulnerability in Florida, Romney suggested in a town hall yesterday that mortgage principal write-down might be worth considering. "Some of the institutions that hold [mortgage debt] aren't willing to write it off and say they made a mistake, they loaned too much, we're overextended, write those down and start over. They keep on trying to harangue and pretend what they have on their books is still what it's worth," Mr. Romney said.
Mr. Romney's back-tracking on the issue of foreclosure is a tacit admission that he and his party have no plan to help Americans at risk for losing their homes. And while this lack of attention to the issue of housing is extremely distressing, it presents a tremendous opportunity for President Obama, if he chooses to seize it.
In fact, President Obama should use his State of the Union address as a platform to lay out a stark contrast between his administration and the Republican party on the issue of housing.
The President's signature housing effort to date, Making Home Affordable (MHA), has admittedly fallen short of the goals laid out in February of 2009. But the problem with MHA is not that loan modifications don't work, but that the administration trusted mortgage servicers to do the right thing, even when it was in the servicers' financial interest to foreclose. After nearly three years of trying to coax servicers to help homeowners, President Obama should say that he's ready to use the full force of his presidency to fix the housing market.
First, the president should use his bully pulpit to demonstrate that principal write-downs are a top priority for his administration. While I plan to introduce legislation to require FHFA to reduce principal on loans the enterprises own or guarantee, I know that the fastest way to bring relief to our housing market is through executive action. All evidence points to the fact that the Acting Director of FHFA is rejecting these types of modifications in order to minimize short-term, rather than long-term, losses by Fannie Mae and Freddie Mac. President Obama should provide leadership, and use the full leverage of his administration to push for new approaches to principal reduction -- either with regional pilot programs, or by pushing creative solutions, such as shared appreciation.
If a more robust principal reduction plan is unachievable, the president should work with FHFA to adopt the "principal paydown" plan, submitted to the administration from California's House Democratic delegation, which would provide homeowners with interest payment forbearance for 5 years under a modified Chapter 13 bankruptcy. Such a plan could be adopted by Fannie and Freddie without action by Congress, and has the potential to give underwater borrowers some equity in their homes.
Additionally, the president should make clear that a top priority for the newly appointed Director of the Consumer Financial Protection Bureau should be to implement national mortgage servicing standards that not only provide clear rights to homeowners, but provide servicers with certainty on how their businesses will operate moving forward.
The president also should admonish banking regulators for their weak consent orders on mortgage servicers, and call on them to pause the enforcement process until they can fix critical flaws, including a provision that let the servicers hire their own investigators to examine bad practices.
Similarly, the president should lead state attorneys general, urging them to reject the proposed settlement with the nation's largest mortgage servicers. The central problem with the settlement is that negotiations are being undertaken before any systematic examination of wrongdoing has been completed or a single subpoena has been issued. While we don't know the scope of the releases being given to mortgage servicers in exchange for this settlement, the fear of many skeptical experts is that the deal offers broad immunity in exchange for a settlement that won't seriously address negative equity.
Finally, the president should call upon his Treasury Department to look into any ways that unspent Making Home Affordable funds can be repurposed to help homeowners. Nearly $50 billion was committed to housing programs under TARP, but the Congressional Budget Office predicts that only $13 billion will ultimately be spent on housing-related programs. While TARP requirements may hamstring what the president can do in this regard, a committed administration might be able to maximize the $50 billion that Congress has already allocated to help vulnerable families.
"If we act boldly and swiftly to arrest this downward spiral, then every American will benefit." President Obama said of the housing crisis in February, 2009. The president's comments from nearly three years ago are still true today and his State of the Union address presents an opportunity to reject the Republicans' "do nothing" approach to this devastating crisis.