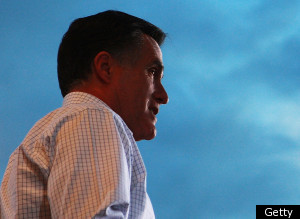 I bet Mitt Romney has a sweatshirt that says I (heart) Florida. His victory in the Sunshine State revitalized his campaign for the GOP presidential nomination. Florida also gave him an opportunity to explain his immigration policy.
Asked how he would deal with undocumented immigrants, Romney said during the Tampa debate that he believes in "self-deportation." A crackdown on undocumented immigrants, he explained, would make "people decide they can do better by going home because they can't find work here...because they don't have legal documentation to allow them to work here."
Some spectators in the audience giggled at Romney's answer. "Self-deportation," however, is no joke. It amounts to laws that harm undocumented immigrants and Latinos. Let's break it down and see why self-deportation defies reality, legality, and American values of dignity and human rights.
First of all, Romney's idea of self-deportation overlooks the obvious. How do we think the estimated 11 million undocumented U.S. immigrants got here? They already "self-deported" themselves right out of their home countries in search of better lives and opportunity. And the fact is, they're here to stay. In 2011 the Pew Center found that, despite a weak economy and increased enforcement measures, the undocumented population has remained stable. Although unauthorized entries have dropped, Pew reported that few undocumented immigrants are returning to their countries of origin.
It's amazing that Romney, a successful businessman, doesn't realize that if the undocumented were to leave, even gradually, it would cause our economy to contract. An exodus of this labor force would hit agriculture and the service sector very hard.
But wouldn't American workers take these jobs? So far, it hasn't worked out that way. In Alabama and Georgia, two states that passed strong, harsh immigration laws, farmers are facing severe labor shortages. Alabama has even considered using prisoners because farmers can't find anyone willing to do backbreaking fieldwork.
Key components of the self-deportation strategy are state and local laws targeting "illegals." Yet ironically, many of these laws have been found to be of questionable legality themselves. The Department of Justice has challenged many such statutes because they usurp federal authority over immigration and result in racial profiling of Hispanics. In Arizona's Maricopa County, for instance, the department found that Latinos were up to nine times more likely to be pulled over for traffic violations than non-Hispanics. Its Civil Rights Division has received more than a thousand complaints about Alabama's law.
Romney favors self-deportation over rounding up undocumented families and removing them from the country. Unfortunately, his solution is equally harsh and inhumane. Self-deportation means passing laws that make the daily lives of the undocumented miserable. It means measures that would bar them from finding work or renting a home and deny them basic services such as water and heat. It means questioning schoolchildren about their parents' immigration status. These examples aren't hypothetical. They're all components of Alabama's draconian immigration law.
It's troubling that Romney endorses trampling on constitutional and human rights for the sake of winning his party's nomination. His stance on immigration shows a lack of compassion from a man whose Mormon ancestors were persecuted across America before settling in Utah, and whose own family crossed the Mexican border a few times themselves. He would be well advised to learn from Ronald Reagan (who granted amnesty to 3 million undocumented immigrants in 1986) or even George W. Bush (who supported a path to legalization for the undocumented).
Romney might consider that his immigration stance is at odds with his faith; The Mormon Church actively promotes compassion towards all immigrants. Most of all, Romney needs to realize that Americans don't want a long, slow purge of the undocumented. What we want is sensible, comprehensive immigration reform.
Popular in the Community