"The comments are disappointing," a longtime conservative Muslim activist who advises the Romney campaign told The Huffington Post, in reference to a video from a May 2012 Romney fundraiser published by Mother Jones on Monday. "One, because they're very inaccurate and are really just reinforcing mistaken beliefs about the conflict."
"But larger than that, they really underscore in my mind the need for thoughtful Muslim Americans to engage both with Gov. Romney and President Obama on a range of issues," the source continued. "It could reinforce a belief in some voters' minds that Gov. Romney has not studied the issue or is not informed as well as he should be on the very difficult issues related to the Middle East peace process."
In the video, Romney argues that a two-state solution is "almost unthinkable to accomplish," and that Palestinians "have no interest whatsoever in establishing peace." Cynicism over the state of the peace process is widely shared among foreign policy experts. But the harsh words for the Palestinian people is tougher than what Romney has offered publicly.
"It is troubling," said Randa Fahmy Hudome, a former Bush administration official and leading Arab Republican. "In his campaign platform and his public materials, he talks about how one of his priorities as president is to appoint a Middle East coordinator, not an envoy, someone that oversees everything. And as president he said his first trip will be to Israel. That indicated to me that the Middle East would be a top priority for him."
Unlike some prominent members of the Republican Party, Romney hasn't had a particularly contentious relationship with the Muslim community. But his rhetoric has grown more aggressive during the course of his political career and this campaign, personified last week by the firm stance against any U.S. official "apologizing" for "The Innocence of Muslims," an anti-Islamic video.
Romney faced widespread criticism for accusing the president of sympathizing with protests at U.S. Embassies in Libya and Egypt. His jumbled facts and unwillingness to acknowledge the provocative role played by the film turned heads.
The abrupt reversal illustrated the larger difficulty Romney has had in striking the right diplomatic tone when it comes to Muslim-Arab-U.S. relations. If earlier in his campaign, he was able to contrast himself against his GOP primary foes -- who passionately rebuked Sharia law and "radical Islam" -- as the party's official nominee, he has found himself at the helm of a party with a faction that routinely wields anti-Muslim rhetoric.
As governor of Massachusetts he faced similar challenges. He caused a stir in the Muslim community in 2005 for emphasizing the need to wiretap mosques as part of a wider effort to surveil students from "terrorist-sponsored states."
"How many [students] are coming to our state and going to those institutions who have come from terrorist-sponsored states? Do we know where they are? Are we tracking them?" Romney asked.
Romney neither apologized for nor retracted the statement, even as Muslim and civil libertarian groups, including the American Civil Liberties Union, sent Romney a letter calling his "desire to wiretap mosques ... an affront to the values and principles that make America a great country."
Another blemish on Romney's record with Muslims came two years later, when businessman Mansoor Ijaz wrote in a 2007 Christian Science Monitor op-ed declaring that Romney told him he couldn't see justification for appointing a Muslim to a cabinet position "based on the numbers of American Muslims [as a percentage] in our population."
Romney, then in the midst of his first presidential run, disputed Ijaz's characterization of his comments. He argued that he was responding specifically to a question on whether he would appoint a Muslim to his cabinet to combat jihad, and was simply stating that he intended to appoint people based on their merits. Ijaz could not be reached for comment.
Through it all, some Muslim and Arab Republicans still felt they had a sympathetic ear in the Massachusetts Republican, partly because of his own religious background.
"He also was pastor of his church in Belmont Massachusetts [that] was burned down one night and they suspected it was arson," Hudome explained. "So I can't help but think Mitt understands what a lot of Sikh and Muslim communities go through in their worship. So I do hope he understand this stuff."
The Romney campaign did not return a request for comment.
In the Republican primary, Romney stood out as a more moderate voice on Muslim extremism. He quietly watched Newt Gingrich, Herman Cain, Michele Bachmann and Rick Santorum blast "radical Islamists" and warn the U.S. against the threat of Sharia law at a primary debate in June 2011, all the while refusing to engage on the issue.
"I think we recognize that people of all faiths are welcome in this country," Romney responded. "Our nation was founded on a principle of religious tolerance."
While campaigning in Iowa in December 2011, Romney stated that jihadists "take a very different view of Islam" than the Muslims he knows. He spoke of his childhood in the Detroit area, which has a large Muslim population, and described them as "peace-loving and America-loving individuals."
In recent months, Romney's tone has seemingly hardened. The biggest shift could be seen when he was asked about charges by Rep. Michele Bachmann and four other House Republicans that Huma Abedin, a top aide to Secretary of State Hillary Clinton, has ties to the Muslim Brotherhood.
While top Republicans were quick to condemn the allegations, Romney declined an opportunity to do the same. Instead, he told a reporter, "I'm not going to tell other people what things to talk about."
The recently resurfaced comments from a private fundraiser raise additional questions about how the Muslim community -- both in America and abroad -- would respond to a Romney presidency.
"During the GOP debates when you had [Newt] Gingrich and [Herman] Cain making clearly anti-Muslim statements, Romney didn't buy into that and didn't go down that road, which was appreciated," said Cory Saylor, a spokesman for the Council on American-Islamic Relations, the nation's largest Muslim civil liberties and advocacy organization. "But his comments on the video ... [are] also unscripted. If these are off-the-cuff remarks then you're speaking not from talking points but from where your head actually is."
Maya Berry, executive director of the Arab American Institute, felt that Romney's statements could cause genuine friction with the Arab American community. The AAI estimates about a third of Arab Americans are Muslim, but according to Berry, the politicizing of the Israel-Palestine conflict is an issue that resonates with Arab American constituency at large, which she referred to as "the quintessential swing constituency."
"Republicans and Democrats for years have talked about a two-state solution," Berry said. "He's suggesting the Palestinians have no desire to pursue peace -- that's deplorable and wrong, and he's advocating and talking about -- albeit what he thought was private -- a position that's completely bipartisan and stated in U.S. politics for decades."
"He thinks the peace process that we've dedicated so many hours and resources to is basically pointless," she added.
In a poll conducted last year, 81 percent of Muslim Americans expressed support for an independent Palestinian state coexisting alongside Israel. According to the Muslim Republican who advises Romney, the GOP presidential nominee's comments could reinforce a belief that Romney has not studied "or is not informed as well as he should be" on the complex issues related to the Middle East peace process.
"There's no doubt that Muslim Americans are just really disappointed on a whole range of issues in President Obama," the Muslim activist who advises the Romney campaign said. "On the other hand, when they look elsewhere in the GOP -- and when they hear comments like Gov. Romney's, it causes them to wonder if they should just stay put with the Democratic Party or not to vote at all. And I think that would be a tragic loss."
--Daniel Lippman and Sam Stein contributed to this report.
CORRECTION: An earlier version of this article misstated the date on which Mother Jones published the video as Tuesday. Parts of the video were published on Monday.
Before You Go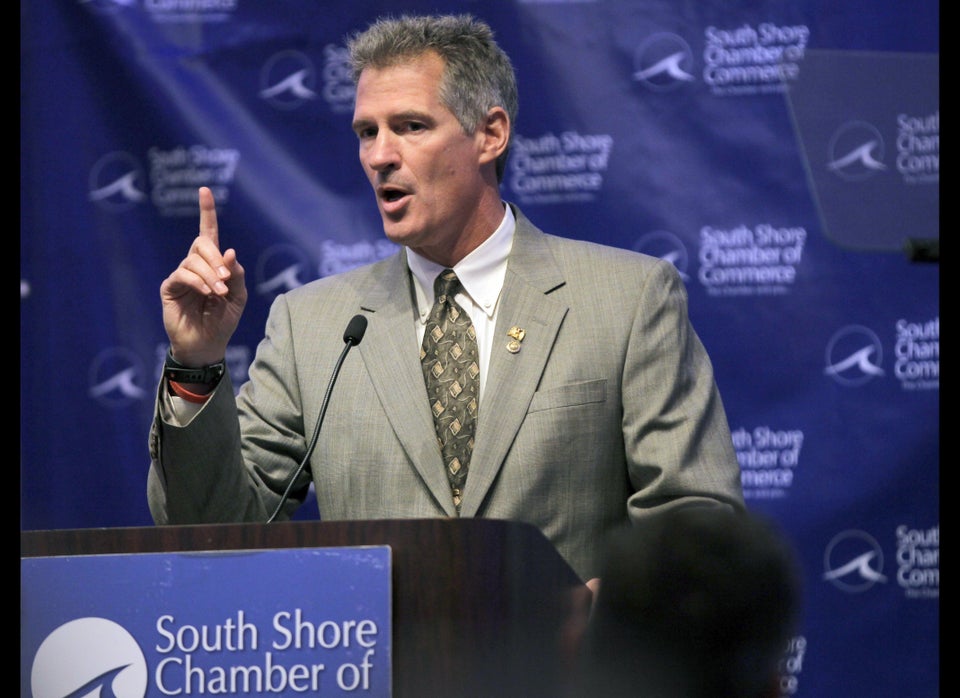 Conservatives React To Leaked Romney Video
Popular in the Community