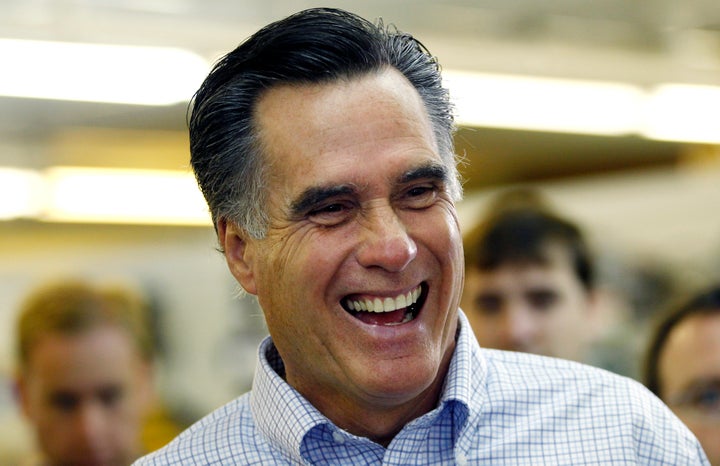 WASHINGTON -- As the political world watches the clock wind down on the debt ceiling debate, presidential candidate Mitt Romney is coming to Washington D.C. for an entirely different reason.
The Romney for President committee is hosting a fundraiser on Tuesday that is being billed as a "Lawyers for Romney" event. Taking place at the offices of the high-profile firm Patton Boggs LLP, the affair will feature a veritable who's who of insider Republican officials. Not all of them are lawyers, however. Several are lobbyists with deep, influential client lists.
Perhaps the most noteworthy lobbyist originally slated to attend the Romney event is an individual who was forced to back out at the last minute. Andrew Siff, of the firm Siff & Associates, was listed as a host on one of the first invitations to be sent out by the Romney campaign. Siff's political significance is owed to the fact that he lobbies for Koch Industries, the private energy conglomerate that has become a Democratic bogeyman for its willingness to bankroll conservative causes.
Asked about his presence on the host list, the Romney campaign responded Monday that Siff had bowed out of the event. Reached by phone, Siff confirmed that he would not be in attendance on Tuesday night; not because he no longer supports Romney -- he said he does -- but because he had a personal issue to deal with instead. Siff gave Romney the $2,300 maximum donation during the 2008 primary election and told The Huffington Post that he planned to back his current run for the White House as well.
Even without Siff on the docket, the Romney fundraiser features some K-Street heavy hitters. Former Senate Majority Leader Trent Lott is listed as a host. The Mississippi Republican has lobbied for a wide variety of companies with legislative interests before the government, including Goldman Sachs, Raytheon Company, AT&T, and Delta Airlines, which is currently fighting to reverse union-election laws that would make it easier for its workers to organize. J.C. Boggs, who lobbies on behalf of Prudential Financial, and SAP (among others) is also named as a host, as is Darryl Nirenberg, who lists Wal-Mart and MKW Capital, a leading venture capital firm, as clients.
The majority of people on Romney's host list are not federal lobbyists or, for that matter, lobbyists at all. Thomas R. Phillips, a lawyer with Baker Botts and a former Texas Supreme Court Justice, is a registered lobbyist in Texas. Another notable host is Elliot Berke, a former counsel to the former House Majority Leader, and convicted felon, Tom DeLay.
If the registered lobbyists helping to raise money for Romney end up pulling in more than $16,000, their names will be made public under federal election law. But those individuals on the host list who are not registered to lobby will not have to reveal how much money they bundle for the former Massachusetts Governor on Tuesday night. The Romney campaign has said that it will not voluntarily make that information available, despite the fact that previous Republican presidential campaigns, as well as President Barack Obama's re-election campaign, have offered such disclosure.
BELOW IS THE MOST UP-TO-DATE INVITATION:
UPDATE: POLITICO'S Alex Burns has stressed that his colleague, Jonathan Martin, was the first to report on the fundraiser.
Popular in the Community