 Several weeks ago we invited Governor Romney to address several questions about his Mormon religion. Our invitation was our second attempt because four years ago Helen Whitney, the producer of the four-hour PBS series "The Mormons," attempted to ask him the same questions in a calmer, less politicized period, but to no avail. We do not raise these questions again in an attempt to entrap him or to embarrass the Church. Rather, we continue to ask them because, in our opinion, they allow him to address crucial unanswered issues at the intersection of his religion and his governance, in the event that he is elected President.
The "Mormon Moment--Postponed" remains postponed, for Romney neither responded to our questions nor gave any of the press detailed access to that part of his life that arguably was most important in shaping his overall character. In a radio interview in Iowa, he exploded when pressed to discuss his faith: "I am not running as a Mormon!" and abruptly ended the interview. Clearly, Governor Romney does not understand that this is an unprecedented moment in American history. Why? Because it is the first time that an ordained minister is a major party's candidate for president. As we said in our earlierHuffPost article, Romney's ordination to the offices of Bishop and Stake President obligates him to answer questions more fully than other candidates never ordained to the ministry.
Reviewing Romney's statements - and "inelegant misstatements" - throughout this campaign, we have now come to feel that full disclosure about the shaping influence of religion on his character is of even greater urgency to the voter. It is no longer about the postponed Mormon Moment, for that has been lost. It is about Romney himself. Who is this man? What settled convictions does he have? Is Romney the face of Mormonism? Or, as some Mormons have come to feel, has he so far distanced himself from core values of his religion that they feel constrained to emphasize that he is not that face?
We therefore posit a list of five questions that Romney never addressed--some of which we asked in our earlier column--along with our observations as to why he should have addressed all of them.
1. How have your early experiences within the Mormon Church--particularly your two-year proselytizing mission to France and your service as Bishop and Stake President--shaped your character and your worldview? This question remains as we asked it, and we see his failure to address it as a great opportunity lost. The most poignant speeches at the Republican National Convention were those by his former parishioners, who gave moving accounts of the compassion and generosity that he showed to them while he was their ecclesiastical leader. But those speeches were buried in the early evening schedule, never making it to prime time television coverage, and Governor Romney has consistently shied away from discussing the few periods of his life when he came closest to personal ministry.
2. Given that your church's highest leadership councils consist entirely of white males and deny its lay priesthood to women, how can you assure the American public that the status of women in this country would advance rather than retreat? While Governor Romney has never addressed this question in depth, his apparently unrehearsed comment in the second presidential debate, when he spoke awkwardly of "binders full of women" as proof of his inclusion of women in his administration as Governor of Massachusetts (and the percentage of women in senior positions actually dropped during his administration), raised legitimate concerns as to whether he even understands women's issues, much less is willing to address them equitably. Such concerns are not lessened by his apparent willingness to regulate bedrooms but not banks. Given the subordinate role that women play in the Mormon Church, it is tempting to see Romney's statement as merely reflecting his patriarchal Mormon culture.
3. Are Governor Romney's values concerning material wealth on the one hand, and the 47% on the other, reflective of Mormonism? An unresolved debate as to whether Mormonism is a Christian religion was skewed in one direction when Governor Romney, in a lengthy, apparently off-the-record exposition of what appeared to come as close to his core values as one is likely to see, wrote off nearly half the population of this country: "My job is not to worry about those people. I'll never convince them they should take personal responsibility and care for their lives." Simultaneously, he has never shied away from holding up his immense wealth -- hundreds of millions of dollars -- as a quintessential success story of capitalism. How does he reconcile both values with the core messages of Jesus, who consistently pleaded with his disciples to take care of the poor who are "always with you," and leveled some of his harshest condemnation towards those who sought "treasures upon earth"? Do Mormon values and Christian values diverge on these points? As one who has been obliged by his political party to wear his Christianity on his sleeve, Governor Romney takes a moral obligation to explain the dissonance.
4. What would be the relationship between a President Romney and the LDS Church hierarchy in Salt Lake City? Credible reports of discussions between then-Governor Romney and the LDS hierarchy about social issues and the limits within which Romney might act and still have the nod of approval of the Church suggest that the question is highly relevant to the presidential campaign. We do not seek to deny Romney or any other elected official from consulting with spiritual leaders, but Romney's former position as a high-ranking ecclesiastical officer--equivalent to Catholic bishop--coupled with his prior consultations begs a statement of clarification.
5. Has Governor Romney resuscitated the long-disavowed Mormon tradition of "Lying for the Lord"? While politicians are well known for bending the truth on the campaign trail, Governor Romney's recent claims about the automobile industry were so outrageously untruthful that they elicited unprecedented condemnations from Chrysler and GM--in the former instance causing CEO Sergio Marchionne to call him out personally, and in the latter eliciting from GM spokesman Greg Martin the charge of "campaign politics at its cynical worst." A New York Times editorial this week used what may have been unprecedented harsh language in chastising Governor Romney for the episode: "It takes an especially dishonest candidate to simply turn up the volume on a lie and keep repeating it." LDS Church members who qualify to enter a Mormon temple--and Romney is so qualified--must first certify to their bishops that they are, among other things, "honest in their dealings." Those with even a cursory knowledge of Mormon history are aware of the Senate hearings accompanying the seating of Mormon Apostle and Senator Reed Smoot a century ago, during which some church leaders intentionally gave false testimony and later boasted that they had "lied for the Lord." Is Governor Romney a product of an earlier age of Mormonism that is now strenuously disavowed by the institutional church in its qualifications for temple admittance, or is he merely a cynical politician for whom truth is a commodity?
Click through the slideshow to see most and least Mormon states in the United States: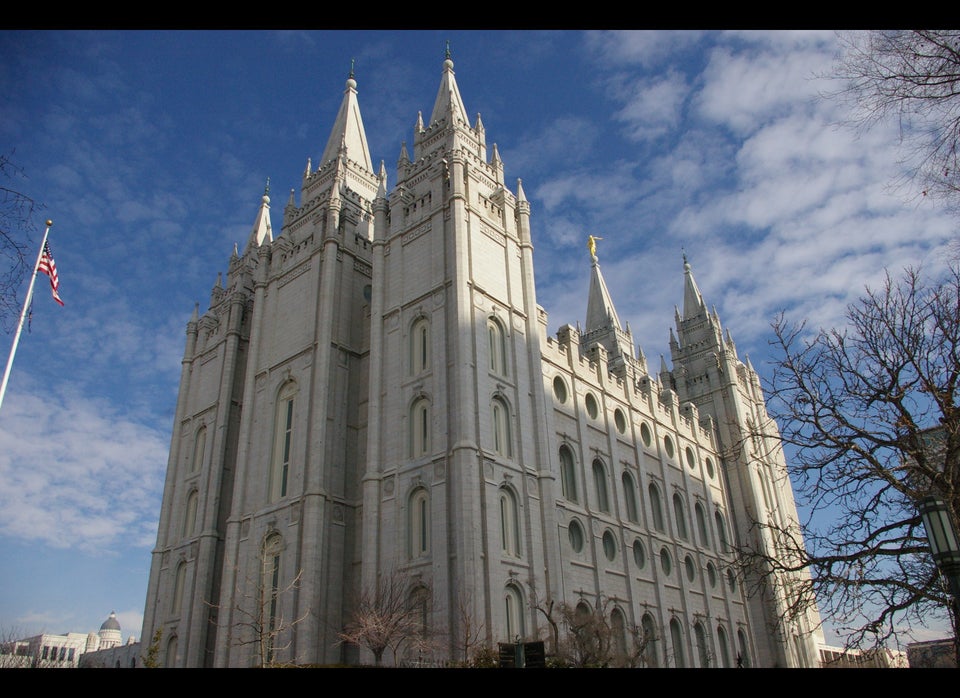 Most and Least Mormon States
Popular in the Community