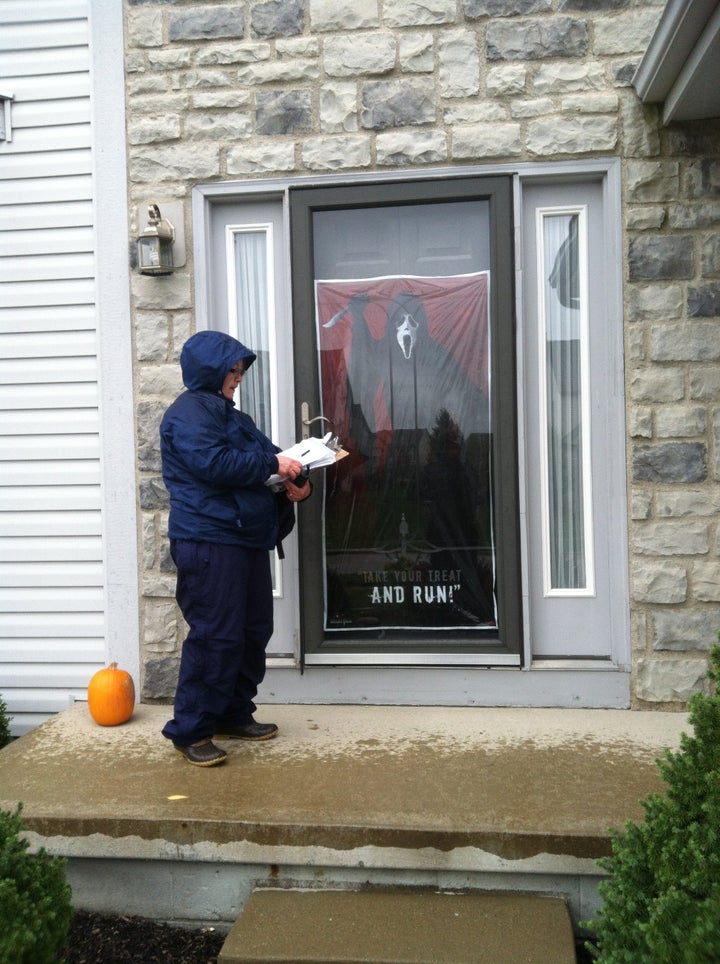 CANTON, Ohio -- Samuel Taylor held his clipboard of addresses Saturday while telling a reporter about what's it like to be an openly gay supporter of President Barack Obama at the conservative Malone University here in town.
"Needless to say, I don't fit in," Taylor said.
Taylor, 22, was headed out to knock on doors for the Obama campaign. The Huffington Post tagged along for three hours, while Taylor knocked on just over 40 doors in a working-class neighborhood. The next day, HuffPost trekked through a subdivision in the Columbus suburbs with Sharyn Sytsma, a Mitt Romney volunteer, as she hit about 30 doors in roughly 90 minutes.
The candidates' get out the vote operations were already important components of their campaigns. But with Hurricane Sandy having upended the presidential race, causing both Obama and Romney to cancel crucial rallies and appearances in the Ohio, the ground game here -- in the state that could decide the race -- is even more vital.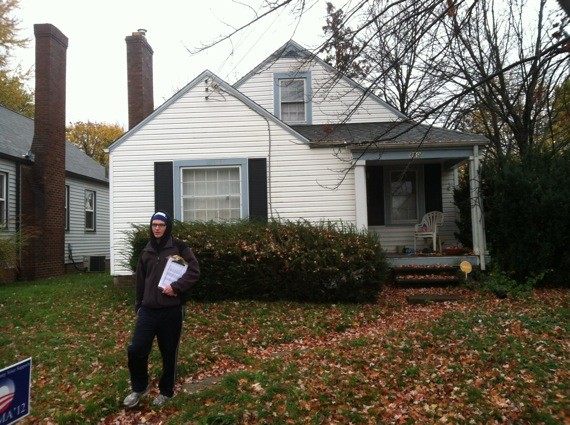 Samuel Taylor campaigns for Obama.
There were clear differences in how the volunteers for the two campaigns approached their task. But there were a few similarities too.
Both volunteers were energized and dedicated, despite the fact that they were doing their work in the rain and cold. And both had clearly been assigned by the campaign to target likely supporters. This was different than earlier in the summer, when much of each campaign's door-knocking focused on figuring out who might support their candidate, and who might not.
"We started out asking if they were satisfied with the current administration and the job that was being done, and asking them if they would support Mitt Romney and the Ohio Republican ticket," said Sytsma, who declined to give her exact age, but said she's in her 50s and has grandchildren. She said she worked in the "mortgage industry."
"And now we're just asking them if they're going to vote, and if they're going to vote, when they're going to vote or how they're going to vote: absentee or in-person early voting," she said.
Sytsma asked voters if they planned to vote early, and most of the dozen people she spoke with said they were not going to. Only one said he would try to vote early. This matched what one Romney campaign official in Ohio said, that most of their supporters did not like the idea of voting early.
Sytsma did not push or prod voters to vote early. She simply noted down on her sheet what they told her.
"Do you know if you'll stop on the way to work or on the way home?" she asked one man.
"Probably in the morning," the man said.
"Ok, and how about Linda?" Sytsma asked the man, referring his wife.
"Probably the same thing," the man said.
This data will help the Romney campaign monitor whether these voters do in fact cast a ballot earlier in the day. If they don't, they are likely to receive another knock on their door around dinner time on Election Day, said Sytsma, who will be one of the Romney volunteers walking door to door on Nov. 6.
Taylor, the Obama campaign volunteer, on the other hand, put a heavy emphasis on early voting.
"Early voting is one of the things we're really pushing," Taylor told one woman. "The better turnout we get in early voting, the better our chances of beating Mitt Romney."
If a voter said they had not yet early voted, Taylor asked them to fill out a card committing to vote early. The card asked the voter to name a day over the next week when they would go to an early voting site and cast a ballot. This is similar to a move online by the Obama campaign asking voters to "make a plan to vote."
"You're just basically telling the president, 'Hey, I'm going to go early vote for you,'" Taylor told the first voter he encountered. (Taylor interacted with eight voters, compared to 12 for Sytsma).
One woman who had already voted told Taylor she wanted to fill out a card for her sister, who was not home. Taylor told her he would wait on her porch while she did so. He collected it, and said that the campaign would mail her a reminder.
The early vote commit card was a way of putting the election in the front of the voter's mind, as well as getting their buy-in.
One woman asked Taylor if she was required to vote on the day she had chosen.
"If you pick a date, it's not set in stone," he assured her.
A number of the voters whom Taylor spoke with had already voted. After speaking with one woman, a mother of young children, who had not yet voted and asked where to go to do it, Taylor was upbeat.
"It's a good feeling, because the more you talk with people, the more you talk with the average middle-class voter -- like the mom I just met was making lunch for her family on a cold Saturday, and she was happy that somebody was able to tell her about the election, tell her about early voting," Taylor said. "You know, she's got kids. She doesn't have a lot of time to do a lot of stuff. So she definitely needs help with that process."
Taylor had no success recruiting campaign volunteers. He asked two or three people to consider it, and none of them were interested. Sytsma did not ask people at their doors to volunteer, but she said that she wears her Romney t-shirt everywhere, and when someone tells her they like her shirt, she hands them a piece of paper with the address of the Romney field office typed on it, so they can go volunteer.
There was a clear difference between the voters Taylor spoke with in Canton and the voters Sytsma spoke with in Westerville, the Columbus suburb. Most of the voters Taylor spoke with were African-American, and most of them said openly they were voting for Obama. Sytsma spoke with voters of different ethnicities, but the majority were white, and only three of them overtly indicated they would support Romney. The Westerville voters were far more guarded about stating who they supported, though for the most part, they were friendly and receptive to Sytsma. Two, however, shut the door on her and said they were not interested.
There were signs of voter fatigue in both cases. The most explicit was a woman who opened the door to Sytsma, only to give her an earful.
"Do you have to stop in on Sunday? We can't get away from this at all. I already voted. I turned it in. It's done. All right?"
Taylor and Sytsma had both been knocking on doors for months. Taylor had been doing it regularly since August, and Sytsma said she had been going since June, usually knocking on doors for three hours on weeknights, all day on Saturdays, and in the afternoon on Sundays.
She used to take her mother out to dinner on Friday nights, she said, but she had instead been volunteering seven days a week for the last several weeks.
"I told her, these last few weeks we won't be going out to dinner on Friday nights. And she said, 'I understand.'"
As chilly and wet as it was on Saturday when Taylor went door to door in Canton, it was colder and raining harder on Sunday when Sytsma did so. HuffPost asked her how her hands were faring, given her lack of gloves. She said they were fine, prompting this reporter to note that his hands were cold even with gloves on.
"I'm hardcore," said Sytsma. "I'm hardcore."
REAL LIFE. REAL NEWS. REAL VOICES.
Help us tell more of the stories that matter from voices that too often remain unheard.
BEFORE YOU GO
PHOTO GALLERY
Obama, Romney Get Intense At 2nd Debate