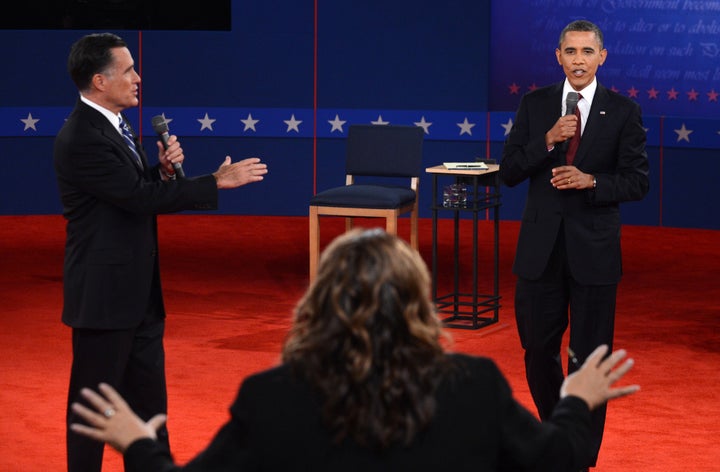 When all else fails, there's always the "you do it too" defense.
Hammered for months by the Obama campaign over his investments in China and his decision to park some of his personal fortune in tax havens like the Cayman Islands, Mitt Romney on Tuesday night called out the president for also investing overseas.
"Look at your pension," Romney said, in one of many confrontations between the two candidates in which the men circled so closely that an eye poke seemed imminent. "You also have investments in Chinese companies. You also have investments outside the United States. You also have investments through a Cayman's trust."
Romney was referring to the pension Obama earned as a former Illinois state senator. The president's defined benefit under the pension is between $50,000 and $100,000, according to financial disclosure forms.
The Romney campaign has claimed that 19 percent of the investments that comprise Obama's pension fund are in foreign companies, including some in China, the Washington Post reported. Ergo, Obama also invests in controversial places.
On its face, this is a reasonable argument. Romney is saying that foreign investments aren't a big deal, and are in fact a common part of any diversified portfolio.
But there is a substantive difference between Romney's relationship to his retirement account and Obama's to the Illinois pension fund.
As far as we know, Obama has never taken an active role in managing the assets of the pension fund. He suggested during the debate that he doesn't pay much attention to it.
Romney's retirement account, on the other hand, includes investments worth up to $30 million in a company he used to run. Those investments are actively managed for his and his wife's personal financial benefit. And while Romney claims he has no control over the blind trust that manages his retirement account, it is hard to see how those investments would differ much if he were in charge.
In the 1990s, Bain Capital, under Romney's control, set up funds in the Cayman Islands in order to attract foreign investors -- and also to benefit from preferential tax treatment. The company continues that practice today.
For example, according to their 2011 tax returns, Romney and his wife Ann had invested more than $1 million in Bain Capital Fund VIII LP, a shell company that "intends to conduct its operations ... so that it will not be subject to United States federal income or withholding tax on its income from United States sources," according to a prospectus obtained by Gawker.
To be clear: this is a fund that invests in the U.S. and is controlled by investors at least partially based in the U.S., but doesn't pay U.S. taxes. Remarkably, this is all perfectly legal, according to the Internal Revenue Service, even though Congress clearly never intended to create this tax loophole.
Romney has tried to avoid talking about this issue. When pressed, he has said that his investments have not yielded "one dollar of reduction in taxes." But he says nothing about profits.
By setting up offshore, Bain funds keep more of their earnings than they would if they were subject to U.S. taxation laws. And by investing in those funds, so do the Romneys.
REAL LIFE. REAL NEWS. REAL VOICES.
Help us tell more of the stories that matter from voices that too often remain unheard.
BEFORE YOU GO
PHOTO GALLERY
Romney's Bain Claims Don't Hold Up