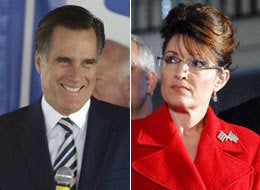 In the first strong indication of where conservative hearts lie for the 2012 presidential race, Mitt Romney won the Conservative Political Action Conference straw poll on Saturday, earning the backing of 20 percent of the crowd. It was his former Massachusetts Governor's third straight win and followed a well-received speech to the CPAC crowd just one day earlier.
The results of the CPAC Straw Poll provide a small, albeit interesting window into the affections and leanings of the conservative movement. Following Romney, the next largest vote recipients included, Louisiana Gov. Bobby Jindal with 14 percent of the vote, Rep. Ron Paul with 13 percent and Gov. Sarah Palin with 13 percent.
For the Alaska Governor, the belle of the conservative movement in the '08 election, the results aren't the best of news. Her non-appearance at CPAC, however, may have contributed to the tied-for-third-place finish. Moderate Florida Gov. Charlie Crist, earned one percent of the vote and was ridiculed by moderator Tony Fabrizio for being Barack Obama's favorite Republican.
With roughly two years to go until formal campaigning begins on the Republican side of the aisle, the results of the CPAC poll are more a temperature of the conservative movement at this point in time than an indication of who will end up the presidential nominee. Nevertheless, Republicans don't take these polls lightly. The results can provide a boost for a potential candidate or hurt the morale of another. Though the affect is never as strong as it seems.
In 2007, former Massachusetts Governor Mitt Romney etched out a win over former New York City mayor Rudy Giuliani by a margin of 21 percent to 17 percent. Sen. John McCain, who wound up winning the nomination, came in fifth with 12 percent of the vote. In 2008, Romney won again, narrowly beating John McCain, 35 percent to 34 percent, even though Romney had officially dropped out of the race a few days before the poll was released.
More than 1,700 people cast ballots in the 2009 CPAC poll, 57 percent of who were between the ages 18 and 25. Of the respondents, 95 percent said they disapproved of the job that President Obama was doing, only four percent approved. Meanwhile, 70 percent approved of the job Republicans in Congress were doing, 29 percent said they disapproved.
Here are the official results:
Mitt Romney - 20 percent
Bobby Jindal - 14 percent
Ron Paul -13 percent
Sarah Palin - 13 percent
Newt Gingrich -10 percent
Mike Huckabee - 7 percent
Mark Sanford - 4 percent
Rudy Guiliani - 3 percent
Tim Pawlenty - 2 percent
Charlie Crist - 1 percent
Undecided - 9 percent
Popular in the Community