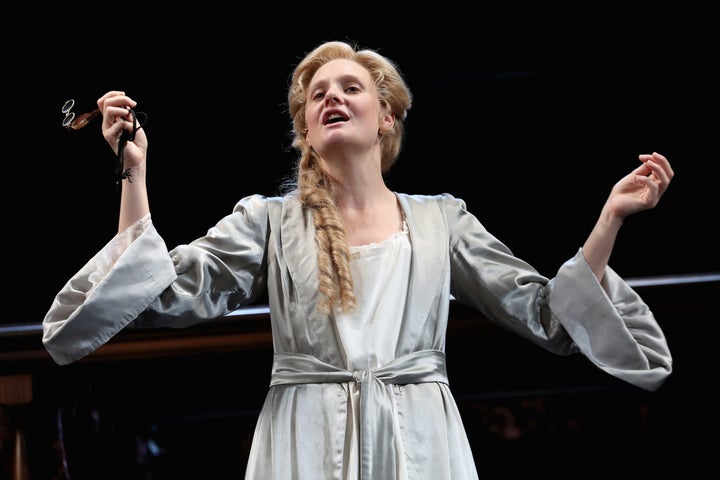 A British actress became the latest woman to come forward about an uncomfortable interaction with Harvey Weinstein. 
Describing the experience as "humiliating" and "extremely problematic," Romola Garai said that the Hollywood mogul invited her to his hotel room for an audition, and then answered the door in his bathrobe.
Garai said that she felt "violated" by Weinstein, who was fired from his namesake company this weekend in the wake of numerous sexual harassment allegations.
"Like every other woman in the industry, I've had an 'audition' with Harvey Weinstein, where I'd actually already had the audition but you had to be personally approved by him," the actress told The Guardian. "So I had to go to his hotel room in the Savoy, and he answered the door in his bathrobe. I was only 18. I felt violated by it, it has stayed very clearly in my memory."
Garai's story mirrors claims made by other women in Hollywood about Weinstein, which begin with an invitation to his hotel room and result in an encounter that was either explicitly or implicitly sexual.
"The transaction was just that I was there," said the actress, who has appeared in such films as "Atonement" and "Dirty Dancing: Havana Nights." "The point was that he could get a young woman to do that, that I didn't have a choice, that it was humiliating for me and that he had the power. It was an abuse of power."
The point was that he could get a young woman to do that, that I didn't have a choice, that it was humiliating for me and that he had the power. It was an abuse of power."

Romola Garai
Although she sensed that it was "weird," she said she tried to brush it off since she viewed it as a job interview. "I didn't feel like I had the right to complain."
Garai said that she isn't surprised that the allegations against Weinstein were made public.
"You can't find an actress that doesn't have that kind of story about Harvey," she said. "Given how powerful he is, and given that they are always with women who are a lot younger than him, I think there is clearly an imbalance of power in those relationships."
The New York Times published a bombshell report Thursday revealing decades of abuse allegations against Weinstein, including from former staffers and actresses like Ashley Judd and Rose McGowan. The Times reported that Weinstein had reached at least eight financial settlements with the women.
More women have since come forward, including television journalist Lauren Sivan, who told HuffPost that Weinstein once cornered her and masturbated in front of her in a New York restaurant.
A number of celebrities, mostly women, have also spoken out against Weinstein and the culture that enabled his behavior for years.
"Abuse, threats and coercion have been the norm for so many women trying to do business or make art," Lena Dunham wrote in The New York Times. "Mr. Weinstein may be the most powerful man in Hollywood to be revealed as a predator, but he's certainly not the only one who has been allowed to run wild. His behavior, silently co-signed for decades by employees and collaborators, is a microcosm of what has been happening in Hollywood since always and of what workplace harassment looks like for women everywhere."
Calling all HuffPost superfans!
Sign up for membership to become a founding member and help shape HuffPost's next chapter
BEFORE YOU GO
PHOTO GALLERY
Celebrities React To Harvey Weinstein