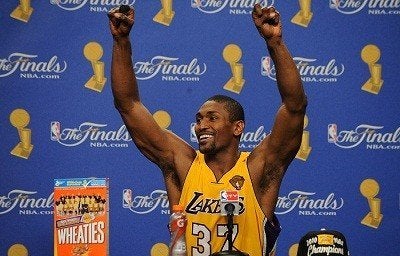 With the NBA lockout still in progress, fellow Los Angeles Lakers forward, Ron Artest is keeping his name afloat as the latest contestant of ABC's 'Dancing with the Stars.' The unforeseen pairing between the network's popular dance competition and Queensbridge, New York's hometown hero may seem a bit odd to some. In fact Artest recently admitted to being on the fence about participating in the new season, which kicks off September 19, but had a change of heart due to his 8-year-old daughter's previous bout with Cancer when she was 4 years old.
"At first it was not appealing," he told People magazine. "I did not want to do it. I don't dance and all of the dressing up and everything, but my daughter Diamond was like, Daddy, you should do it. I had a chance to play basketball overseas and I had a chance to do Dancing with the Stars. She asked me to do it, and I thought I could dance and raise some money for cancer research. I'm going to donate the profits."
In other related news, Artest's attempt to legally change his name to Metta World Peace has been put on hold, at least for now. According to the Los Angeles Times, the former St. Johns University star "has to clear outstanding traffic warrants" before proceeding with his petition.
"I'll pay them off," he told the Times during an phone interview. "I didn't take classes on how to pay parking tickets. I'm taking classes. Anything you don't know, you have to learn in college. Just don't park at meters you're not supposed to park at."
Artest's next court hearing is scheduled for September 16.

Calling all HuffPost superfans!
Sign up for membership to become a founding member and help shape HuffPost's next chapter