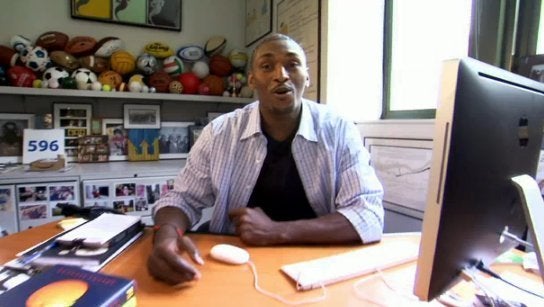 While Maj. Nidal Malik Hasan planned his murderous rampage at Fort Hood (and has remained eerily silent since then, just like Iago at the end of Othello), psychotics do not plan acts of violence; if anything, psychotics, of which I am one, are frightened that we are going to be attacked.

As I have written before, when I was at my most psychotic moment in 1999 and thought that I would be blamed for a series of murders sweeping the country, my girlfriend (now, wife) Barbara held on to me and tried to prevent me from fleeing her apartment. I did not strike her or shove her; I simply pulled away from her and went off on a harrowing, six-hour trek across Los Angeles, terrified that I would be assassinated.
Though I never became violent during my psychosis, the mentally ill do act violently on occasion.
Ron Artest, the Lakers' guard-forward, once got into a brawl in Detroit that led to his suspension from the NBA. He has rebounded since then. Appearing on Larry King Live on October 27, he spoke with honesty and earnestness about his battles with mental health and anger-management; he said that he was diagnosed with the latter at the age of 13. Artest also said that he comes from a family with a history of mental illness, something he and I have in common, and mentioned a few of his relatives who suffer from it.
Earlier in the year, during the NBA finals, I referred to Artest as a "thug" after he committed a hard foul against Boston's Ray Allen. I apologize for calling him that. Since that time, Artest has impressed me with his soulfulness, candor and humility.
I praised him in a piece a few months ago for publicly thanking his psychiatrist after helping the Lakers win game 7 of the NBA championship last June. In that final game, while Kobe Bryant was missing three-quarters of his shots, Artest hit some key jumpers in the fourth quarter to lead the team to the title.
Four months later, Artest announced on Larry King's show that he would raffle off his championship ring to raise awareness for mental health issues. The money generated will go toward providing psychologists for public school classrooms and community centers. Artest, who said that he was fortunate enough to get counseling as a kid, qualifies as a hero for the mentally ill and for the entire nation.
It is not often that you hear a person admit his personal failings and then atone for them. This is particularly true of men, who seem to think that baring their souls or saying that they are sorry shows weakness. What Artest showed on Larry King Live was nothing but strength.
His is a story of courage and redemption that we rarely hear about on television or in the print media.
Yet there are many people who are recovering from mental illness and making amends for their past.
For the past six weeks, I have been taking a course sponsored by the National Alliance on Mental Illness' Westside L.A. branch. Titled "Peer to Peer," the class, which is offered at NAMI offices across the country, features three mentors and about 25 students, all of whom are "consumers," people living with and recuperating from a diagnosis. Everyone in the class has grappled with a severe mental illness such as major depression with psychotic features, schizo-affective disorder or schizophrenia.
Like me, one class member once romped across L.A. County, fearful that she was going to be killed, though she feared the Mafia, not the CIA or FBI, as I did.
While there is one individual who has been disruptive at times, I have been told that he has the most severe condition of all of us. Otherwise, week after week, I have been delighted with the courteousness of the students and mentors, as well as the high level at which they function.
Like Artest, the people in "Peer to Peer" are trying to get better. We have all shared our stories while we learn how to guard against possible relapse. At a time when health care costs remain excessive for many, it is a credit to NAMI that it offers this program, a nine-week course, free of charge.
Perhaps, some day, the press will report more on such success stories. In the meantime, we do have Ron Artest.

Calling all HuffPost superfans!
Sign up for membership to become a founding member and help shape HuffPost's next chapter