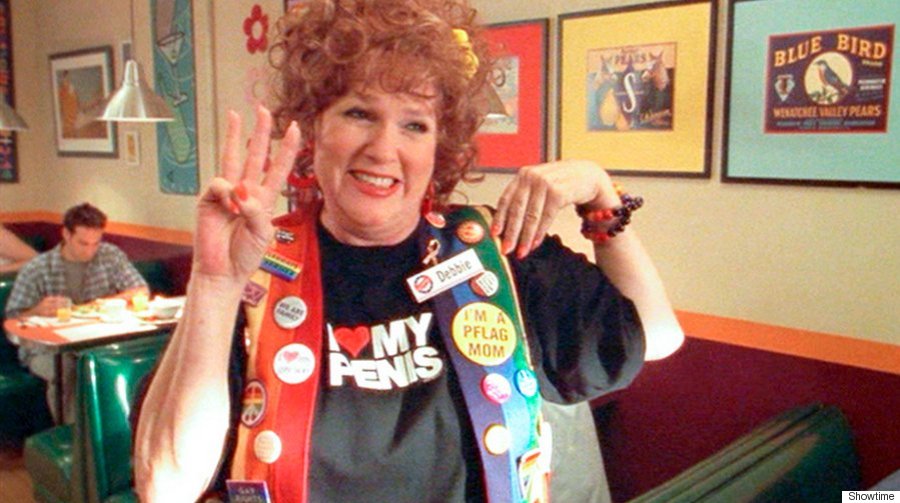 When Ron Cowen and Daniel Lipman wrote "An Early Frost" for NBC in 1985, the network wouldn't allow them to have two gay characters touching and they demanded things be "balanced."
"You couldn't stack the deck by having the gay characters be 'too gay,'" Lipman explained to The Huffington Post during an interview at Roaring Fork restaurant in Austin, Texas, earlier this month. "You couldn't have all the straight people be the villains and the gay people be the heroes."
"An Early Frost" was the first movie about AIDS. Full stop. There were plays -- like "The Normal Heart" (since immortalized by HBO) -- but nothing on screen. And, as Cowen and Lipman will have you recall, "An Early Frost" predated "Philadelphia" by eight years. It was also likely seen by more people when it first debuted.
You couldn't stack the deck by having the gay characters be 'too gay.'

Daniel Lipman
"It had 34 million viewers. It was the sixth highest-rated show of the week," Cowen said proudly. "We beat out Monday Night Football," Lipman added, a smile forming under his thick, black glasses.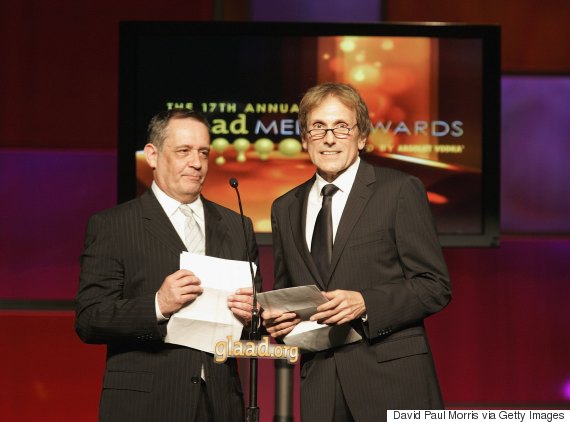 Daniel Lipman and Ron Cowan speaking at the 17th annual GLAAD Media Awards in 2006.
The two met at the Eugene O'Neill Playwrights Conference in Waterford, Connecticut, where they decided to work together on a series of one-act plays. That was 43 years ago, and they've been writing together ever since.
"Dan brings talent and intelligence ... " Cowen said of their partnership.
"And Ron brings a lot of pages I have to rewrite," Lipman interrupted him with a smirk.
Throughout our interview, the duo would switch off between taking jabs and engaging in masterful bouts of side-eye when they felt the other was monopolizing the conversation. After nearly half a century collaborating, Cowen and Lipman still act like two brothers in the backseat on a long car ride. But that doesn't make the work they do together any less brilliant, or their contribution to the perception and acceptance of gay culture on television any less significant.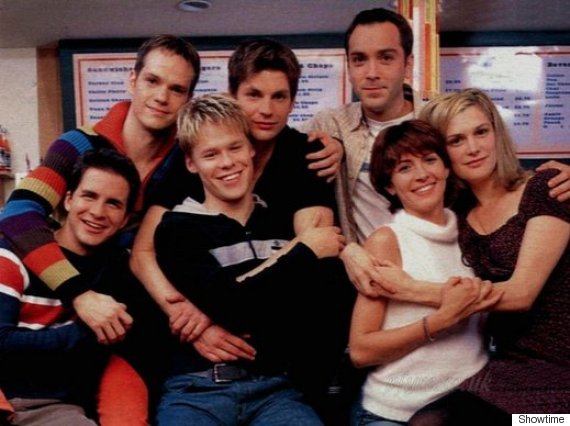 The cast of "Queer as Folk."
Cowen and Lipman had been writing plays together for several years when their theater agent introduced them to a TV rep who encouraged them to come out to Los Angeles. They worked across genres, trying to find their niche until they were approached by NBC executive Deborah Aal.
"[NBC] said they wanted a story about a man who finds out he has AIDS and has never told his family. So, he has to go home and tell them not only that he's gay, but that he's has AIDS," Cowen explained. "They referred to it as a 'double whammy'. And we thought, 'Well, does that happen very much?' He's, like, 30 years old. Don't they know by now?"
"This was in the '80s," Lipman chimed in. "People weren't out and open as they are now. This was a long time ago."
Cowen recalled that, not long before they were asked to write "An Early Frost," AIDS was called GRID (which stood for Gay-Related Immune Deficiency). Lipman remembered NBC giving them several books for research, including one which said mosquitos from Long Island were responsible for bringing in the virus.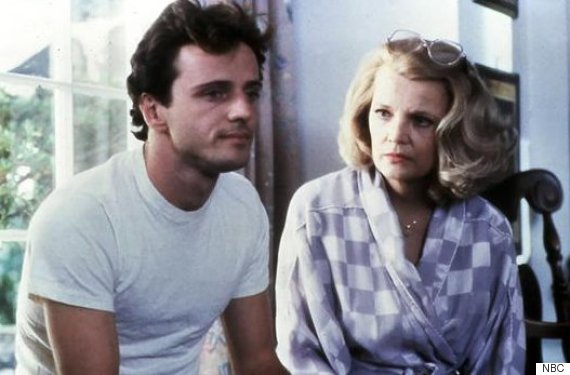 A still from "An Early Frost."
It took 13 drafts for the pair to come up with a script executives would sign off on. NBC had requested the content, but also set up a number of obstacles for getting it on air. And part of that was a lack of understanding behind the scenes.
"The man whose idea it was was Perry Lafferty. He was a lovely man, he was married, he had a family. He was a straight man. And he was an executive at NBC for years," Cowen said. "So, it really didn't start with gay people at all. All the people at NBC were straight men who were dealing with it. And Deborah."
Cowen and Lipman had to get everything by NBC's Standards and Practices -- "Fancy language for 'censor,'" as Cowen put it -- a department then led by a former Catholic priest.
That's where the rules about "no touching" came in. "There was no kissing or hugging between gay characters," Lipman said with a sigh.
Still, both Cowen and Lipman appreciated how new "An Early Frost" would be for audiences at the time and understood the method behind the restrictions.
"It was the first time people in the United States heard anything about this disease," Cowen said. "People thought it was the gay plague. It was terrifying. So, it had very important medical information, but it also humanized gay people. Gay people weren't on TV before that. Gay people weren't represented at all."
We were writing for Kansas, not Greenwich Village.

Ron Cowen
"All these years later, especially after 'Queer as Folk,' it seems a little quaint," Lipman interjected. "But when you think back, this was for a mass audience. It was for people who didn't know what AIDS was, for people who didn't really know gay people ... I think [NBC] didn't want to turn people off."
"We were writing for Kansas, not Greenwich Village," Cowen stressed.
Fifteen years later, Cowen and Lipman were working on a project for Showtime that fell through. They were devastated and would have seen it as a low point in their career had they not then been offered the opportunity to adapt the British drama "Queer as Folk."
It's worth noting that only a few years before Showtime greenlit "Queer As Folk," NBC brought in an in inordinate amount of security and operators to monitor the filming of Susan and Carol's wedding on "Friends."
"When we did the gay wedding, they put on 125 operators at NBC," "Friends" co-creator Marta Kauffman said at the "Grace And Frankie" panel during the 2015 ATX Television Festival. It was an overreaction, to say the least. "The only thing that happened was one town refused to carry it -- I think it was in Texas, guys," she said, to an eruption from the audience that may as well have been a laugh track. "They got four phone calls that night. [There were] a lot of bored operators."
Around the same time "Queer As Folk" debuted, Amy Sherman-Palladino was working on "Gilmore Girls" over at WB, where executives vetoed her idea that Sookie (Melissa McCarthy) be gay.
"It changed so quickly," Sherman-Palladino told HuffPost before the ATX "Gilmore Girls" reunion. "By the time 'Gilmore' had been on a year or two, that shit was starting to drop right and left. But by that point, Sookie was in a relationship. It was really right at the cusp of when things were starting to turn. You know, today everyone would be gay. Lorelai would be gay!"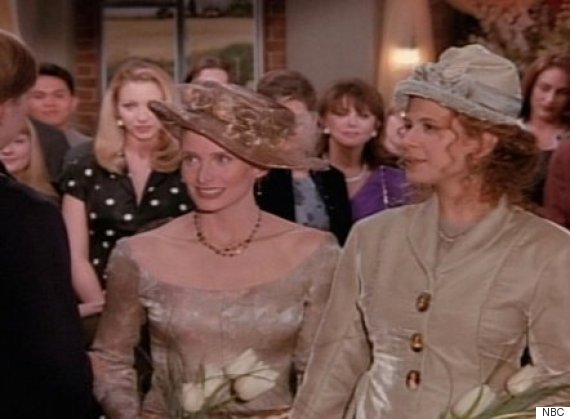 At the turn of the century, progress seemed to go into hyperspeed. "Queer as Folk" aired its first episode on Showtime in 2000, and a year later, CBS debuted "The Ellen Show." It was the first show with a gay woman as the lead. Finally, a lesbian character was not merely a token character in an ensemble cast, but the titular role.
Cowen and Lipman credit this to the changing perception of AIDS.
The only thing they have left is hope, and we're not going to take hope away from them.

Ron Cowen
"I think, medically, there are huge changes, because there was finally treatment for AIDS, so it was no longer a death sentence," Cowen said.
It was something both of them had sensed would make the difference even back in 1985.
"At the end of ['An Early Frost'], our character did not die," Cowen said. "It was the one demand we made. We were not going to show him die at the end. We interviewed so many men who were basically on their death beds, friends of ours had died and we knew there was basically nothing anyone could do. So, we said, 'The only thing they have left is hope, and we're not going to take hope away from them.'"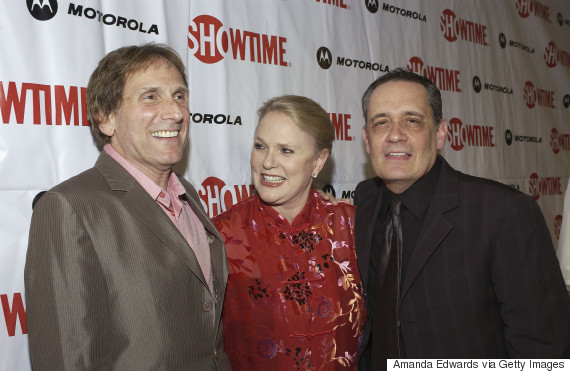 Ron Cowen, Sharon Gless and Daniel Lipman at the the season premiere of "Queer as Folk" in 2005.
As the stigma surrounding AIDS weakened, there was rising competition for privatized channels to make a name for themselves. Where Lipman felt that Lafferty was trying to do something "important" by airing an "An Early Frost" on NBC in 1985, he understood that Showtime was hoping for an "edgy" show that could compete with HBO.
"We were in the right place at the right time," he said. "[Showtime] was trying to engage these minority groups. For instance, they were doing a Latino show called 'Resurrection Blvd.' and 'Soul Food' for the black community."
Viewing even a single episode of their co-created "Queer as Folk," which premiered 15 years after "An Early Frost," is a testament to how things changed between the pair's career-defining projects. There's an inherent difference in writing for network TV and Showtime, but the progress can't merely be chalked up to the lack of censorship on privatized channels.
As Lipman remembers it, HBO was willing to adapt "Queer as Folk" into a mini-series, so Showtime rallied to make it a series. That move into new realms of content was a huge part of what pushed things forward.
"I really believe that as channels started to multiply, you had to get a statement in order to get noticed," said Peter Paige, co-creator of "The Fosters" who also played Emmett Honeycutt on "Queer as Folk." As he sees it, the market demanded progress.
"You couldn't just do what NBC and CBS were doing. They were already doing it, and doing it well," Paige said. "So, I think that paradigm forced executives to step outside their comfort zones, to go to creatives and say, 'Okay, what stories do you want to tell?' And when you start doing that, it catches fire."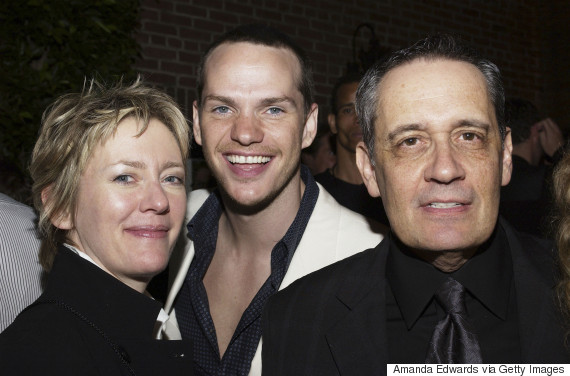 Producer Sheila Hockin with Peter Paige and Daniel Lipman at the 2005 "Queer as Folk" after-party.
Was Showtime just trying to ruffle feathers in hopes of recruiting subscribers? After all, the cast of "Queer as Folk" had to sign a 21-page nudity rider before being cast. It's unquestionable that, going into the show, what Showtime wanted was edginess. But Cowen is adamant that he and Lipman never wrote sex scenes for pure shock value.
"The sex was really not gratuitous," Cowen said at the ATX panel for "Queer as Folk" the day before our interview. "This had never been done in a show before. Ever. So, for us, we thought of it as arias, like in opera when language ceases to express, people start to sing. The same happened with sex. You can express so much with sex."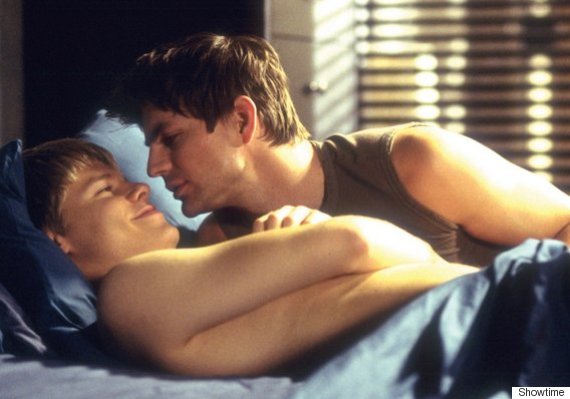 A still from "Queer As Folk."
The impact of "Queer as Folk" on the current state of TV is unrivaled. In 2007, research Victor D. Evans found that 80 percent of all same-sex intimacy on TV was featured on "Queer as Folk." Now, we have representation ranging from have mainstream series like "Modern Family" and "Orange Is the New Black" to more niche shows like "Looking" and "Shameless" and major plot lines on the likes of "Orphan Black," "Empire" and "How to Get Away with Murder" as obvious inheritors. But, of course, the clearest impact can be seen with "The Fosters."
'Queer As Folk' taught me firsthand that television can be more than entertaining, that it is a sword to be yielded, that it matters.

Peter Paige
The ABC Family show about two moms raising a multi-ethnic family of biological and foster children has been breaking ground since it debuted in June 2013.
It was Cowen and Lipman's direction that laid the groundwork for Paige to move behind the scenes, to realize he wanted to be the one making a difference. Along with his writing partner Brad Bredeweg, Paige chose to focus on dismantling stereotypes about gay parenting along with those about children in the foster-care system. They've made significant strides in those target areas, while also paving the way for a more considered, complex approach to adolescent drama.
"Would 'Fosters' exist without 'Queer as Folk'? No." Paige said. "I mean, would something else have come in 'Queer as Folk's' place and carved out a different road? Maybe. But the privilege of being on 'Queer as Folk' as an actor had taught me firsthand that television can be more than entertaining, that it is a sword to be wielded, that it matters."
Most notably, in Season 2, "The Fosters" brought us the youngest same-sex kiss in the history of TV, finally showing the world of pop culture that (as Paige puts it), "gay adults start as gay kids." There was a bit of the usual ignorant outcry in response to the scene, though it was met with barely any pushback from ABC Family.
"The network was incredibly supportive," Paige said. "We pitched it in Season 1 and they said, 'Can we wait for their voices to change? Can that be a Season 2 thing?' And, to their credit, we were prepared for a fight in Season 2 and they didn't even blink."
The reality is that, while Paige is happy to vouch for executives as good, kind, progressive people, their support is also emboldened by the positive responses they've received by expanding LGBT representation on the channel. Emily Fields came out on "Pretty Little Liars" long before "The Fosters" pilot. It's clearer than ever that for audiences and networks alike, exposure breeds acceptance and acceptance breeds success.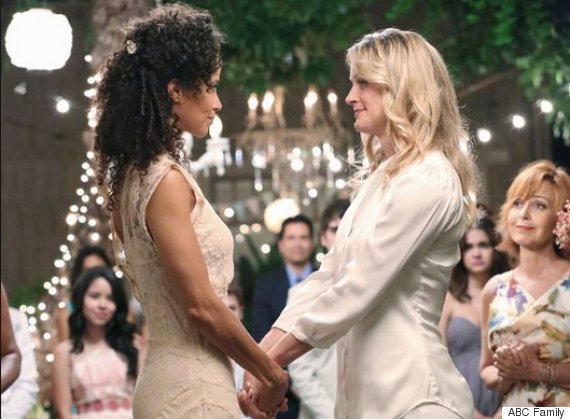 A still from "The Fosters."
30 years ago, Cowen and Lipman couldn't have gay characters even touch on TV. Now, executives are allowing creatives to delve into the nuance of relationships and identity in a way that even 15 years ago would have been impossible outside of the likes of Showtime and HBO.
And yet, the fight is far from over. There is something about this programming that is still seen as special or separate. There's still room for homophobic nonsense, like Billy Crystal saying gay representation on TV is "too much." As he put it at the Television Critics' Association Winter Press Tour back in January: " I just hope people don't abuse it and shove it in our face -- well, that sounds terrible -- to the point of it just feels like an everyday kind of thing."
What's happening is gay people are becoming less and less exotic, and that's a good thing.

Daniel Lipman
Cowen thinks pushing past that level of alienation is the next obstacle. Which is true not just for bigots who need their hands held in moving toward acceptance, but allies and gay viewers themselves.
"I think assimilation is the next phase," he said, when asked what changes he'd like to see in the future. "The transition of gay people from living in a gay community to living in the world, showing gay people as part of the fabric of the country, socially and politically. Instead of being a minority, instead of being a marginalized group, our place is now in the mainstream."
For "Queer as Folk" fans, those words conjure up the last season's clash between Michael and Brian. The lifelong best friends go through a torturous falling out as Michael decides to move to the suburbs and start a family with his partner Ben. Cowen and Lipman see the next move as dismantling the radical divide between cultures that pushed Brian to be a separatist.
"What's happening is that gay people are becoming less and less exotic," Lipman said, "and that's a good thing."
"I think we still have a long way to go," Cowan added. "If you want to assimilate, you want to be like them, what do you keep of yourself and what do you sacrifice in order to be part of the mainstream? You always have to give up some part of your identity to blend in. That's the thing we need to figure out."
Before You Go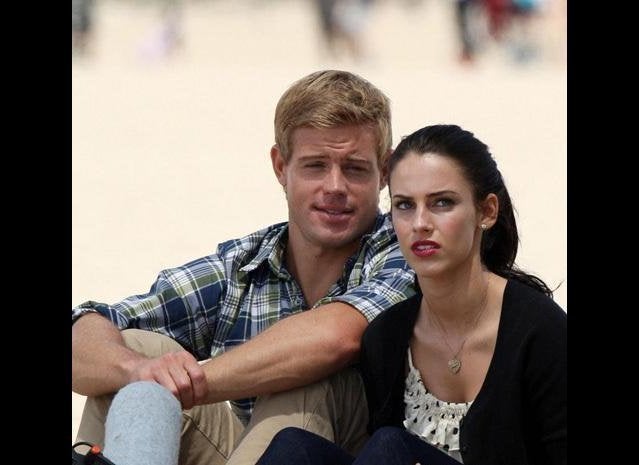 Leading Gay Characters On Network TV
Popular in the Community