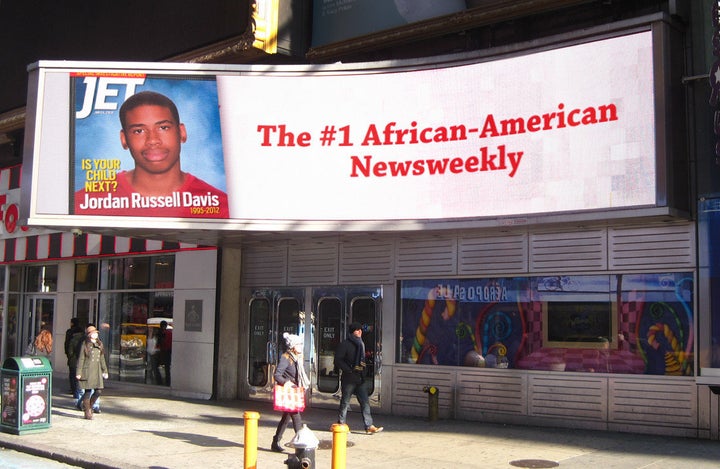 Ron Davis still isn't sure how he made the 30-minute drive to the hospital. He was crying. He was praying he wouldn't crash into anyone. He was pleading with God to just let his son Jordan Davis, 17, be alive.
It was the day after Thanksgiving at around 7:30 p.m. All Ron Davis knew was what the mother of his son's best friend had called to tell him: Someone had shot at the boys in a Jacksonville, Fla., convenience store parking lot. The shooter apparently thought the music blaring out of the teenagers' red SUV was too loud, she told Davis. Once Davis finally made it to the hospital, privacy rules prevented him from walking into the trauma bay where doctors were working on an unidentified boy. But after an hour of frantic pacing, Davis convinced a nurse to look at a picture stored on Davis' cellphone of him and his son. Did the smiling boy in this picture have a face like the boy on the table? The nurse took the phone and went in. A doctor, two police officers and a hospital chaplain came out.
"I just heard a few words," said Davis, 59. "I heard him say 'I could not get a pulse.' He could not revive my son. I don't know what else was said. I just saw lips moving."
As the nation reels from a spate of gun deaths in 2012 –- some of them singular tragedies like Jordan Davis, others coming in a bloody deluge like the massacre at Sandy Hook Elementary, the movie theater in Aurora, Colo., or in a deadly weekend on the streets of Chicago -– Davis and a small but dedicated band of parents have been transformed. They've become activists.
What that means for them, and what tactics they will employ to try to prevent more parents from losing their children to gun violence aren't settled matters. Their views on gun ownership and gun control are far from uniform. But, as the country begins the contentious process of examining state and federal gun and ammunition laws, parents-turned-activists like Davis intend to have their say.
"It's a pretty powerful role," said Josh Horwitz, a lawyer and executive director of the Washington, D.C.-based Coalition to Stop Gun Violence, a group of 48 national religious and social justice organizations, child welfare advocates and public health professionals. "They are able to speak about this issue with an eloquence no person in their right mind would envy. But I think one of the things that makes this time different than in the past is that survivors aren't just getting organized. They are so much better organized, equipped and capable of connecting."
The first few hours, maybe even the first few days after Jordan died, Ron Davis said he was stuck in a dream-like state that was occasionally punctured with the realization that his son was really dead. Usually, it happened when Davis delivered the news to others. When he went home and told his wife, Jordan's stepmother, what happened, she let out a scream that neighbors four houses away told him later they heard. When Davis called his ex-wife, Jordan's mother, the wails and the tears started over again.
Then, Tracy Martin called. Martin was the father of Trayvon Martin, a 17-year-old boy shot and killed in February by an armed neighborhood watchman two hours' south in Sanford, Fla. Davis won't talk about what he and Martin discussed, describing the conversation only as "private matters between two dads."
And sometime during that week, Davis and his ex-wife, Lucia McBath, started reading. First online information, then newspapers and finally, Florida's actual legal code.
"I remember thinking, Davis said, "sometimes I still think -- is this what my country has come to?"
A combination of Florida laws had changed the state, Davis came to believe, citing the state's infamous Stand Your Ground statute, which does not require those who feel threatened to retreat but rather gives legal cover to use deadly force, and the unusually high number of concealed weapon carry permits issued under yet another policy.
Florida's crime rate, like that of many other states around the country, has declined since 2005. But the number of deaths classified as "justifiable homicides" involving civilian shooters has tripled since 2005, when Florida legislators enacted the Stand Your Ground law.
"I looked at the laws, really read it and knew they had to change," Davis said. "Stand Your Ground, it tells you that you don't have a duty to retreat in any situation, which is crazy."
Davis does not object to gun ownership as long as the weapon is kept at home, he said.
It is not yet clear if Michael David Dunn, the man arrested and charged in connection with Jordan Davis' death, will claim self-defense under the state's Stand Your Ground law, or whether he holds a concealed carry permit. Dunn's lawyers must offer some details of their defense plans in early February. Concealed carry permits are not public record.
Dunn's first lawyer, whom he has since replaced, told reporters that Dunn had argued with the teens in the SUV, felt threatened by the four black males inside, saw a shotgun barrel emerging from a rear window and fired his gun into the car. The Jacksonville Sheriff's Office has said that no one in the car was armed and no weapons were found at the scene, inside or outside the car. Dunn fired into the car eight or nine times, according to the sheriff's office report. Bullets ripped through the SUV as the teenage driver tried to back away. Two of Dunn's bullets punctured Jordan's body, according to Davis. One hit his chest, and one hit his groin, Davis said.
The state charged Dunn with three counts of attempted murder and one count of murder. He entered a plea of not guilty.
Back in 1955, JET was one of two black-owned publications that ran pictures of the disfigured body of Emmett Till, an African-American teenager from Chicago who was murdered while visiting family in Mississippi after allegedly making a pass at a white woman.
What Davis told the reporter about the careful, deliberate way his son was raised, the plans Jordan had for a future in the military and the senselessness of his death, convinced JET's Editor-in-Chief Mitzi Miller that this was another Emmett Till moment. Miller put Davis' last school photo on the cover, along with his dates of birth and death, with a single evocative question:
Miller also placed the cover on a billboard in Times Square.
But for Ron Davis, it wasn't enough. A few days after Jordan died, Ron Davis and his ex-wife hired John Phillips, a Jacksonville lawyer who mostly handles personal injury and wrongful death cases. As Phillips and Davis talked, what became clear was that Davis wasn't prepared simply to wait for Dunn's trial.
"We all react differently to tragedy," said Phillips. "I have never frankly seen strength though suffering like I have seen with Ron Davis."
Phillips called the Brady Center to Prevent Gun Violence, a Washington, D.C.-based advocacy organization at the forefront of the gun control movement.
"Victims and their families have been at the heart of our organization from the very beginning," said Jon Lowy, Director of the Brady Center's Legal Action Project. It happens all the time -- we see families move from grief-stricken to powerful advocates for sensible gun laws."
Some newly minted activists need more training than others. Davis and his ex-wife, however, are naturals, Lowy said.
"They have clearly immersed themselves," Lowy said, "in some of the broader aspects of the issue of gun violence, prevention and the problems that lead to the death of their son."
Early this month, Davis and his ex-wife joined Brady Center staff on Capitol Hill. They met with members of Congress, attended a gun control forum and shared their concerns about what happened to their son in Florida, what happened in Connecticut and the laws and weapons that they believe made both possible.
Davis and McBath also joined Tracy Martin and Sybrina Fulton, the parents of Trayvon Martin, in filing a written argument with the Seventh Circuit Court of Appeals. Illinois, the only state in the nation that does not issue or allow concealed carry weapon permits, had been ordered by a lower court to do so. The state appealed. The court has not yet ruled.
"Stand Your Ground, Michael Dunn and his gun changed me," Davis said. "I will not do nothing while other children, children with all sorts of promise and plans just like my son, needlessly and senselessly die."
Calling all HuffPost superfans!
Sign up for membership to become a founding member and help shape HuffPost's next chapter