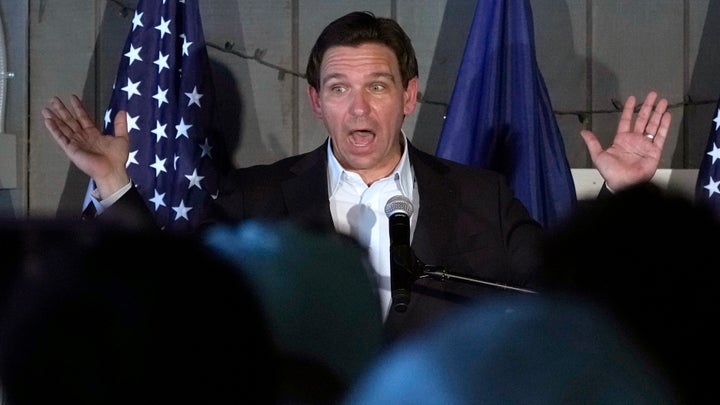 MANCHESTER, N.H. — Donald Trump has lots to say about Ron DeSantis, but Ron DeSantis, at least in front of voters, has almost nothing to say about Donald Trump.
The latest wrinkle in the escalating rivalry between the Florida governor and the former president was playing out in New Hampshire and in Iowa on Thursday, as the two GOP frontrunners held dueling campaign events in the first two presidential nominating states.
DeSantis did not mention the president at all during his swing through the Granite State, where curious voters seemed to find DeSantis' more upbeat and polished approach refreshing. The closest he came to acknowledging Trump in one of his stump speeches was suggesting that Republicans should elect a president who can serve in the White House for two consecutive terms — which Trump, having already served one term in office, cannot.
"I think you really need to ensure that we have a two-term president to be able to see this to a conclusion," DeSantis said Thursday morning in Laconia, New Hampshire, at a VFW hall with more than 100 mostly white and mostly older voters. (New Hampshire is the second-oldest state in the country and the fourth-whitest; demographics reflected strongly in the base of GOP primary voters.)
Trump's swipes at DeSantis from across the country were less subtle. Trump trolled his Florida nemesis by campaigning in Iowa the day after DeSantis planted his flag as the biggest threat to Trump in 2024.
Trump called DeSantis "really bad on ethanol" at a stop in Urbandale, Iowa, referencing a key issue for farmers in the state. He also jabbed DeSantis for refusing to engage with the media and voters. DeSantis was captured on video Thursday snapping at an Associated Press reporter — "Are you blind?" ― when the reporter asked why he wasn't taking voters' questions in a town hall format, a tradition in the first presidential primary state.
"Who the hell wants to wait eight years," Trump said, in response to DeSantis' argument that it will take that long for a GOP president to set the nation on track. (The theme of DeSantis' campaign is "Our Great American Comeback," a skewering of Trump's "Make America Great Again.") "When he says eight years, every time I hear it, I wince. If it takes eight years to turn it around, you don't want him."
DeSantis, in one of his few interactions with the press in New Hampshire and in general, responded to an NBC reporter who told him that Trump said he would fix the nation's problems within six months back in office. "Why didn't he do it in his first four years?" DeSantis said.
The drama was even more petty in Iowa, where the tit for tat literally took the form of road rage — the pro-DeSantis super PAC Never Back Down parked a bus with messages trolling Trump outside his campaign stops, which Trump's team then blocked in with one of its black SUVs, according to Politico.
DeSantis has done most of his attacking of Trump through his campaign's rapid response Twitter account, which highlights DeSantis' spicer takes and goes on Trump offensive more fiercely than DeSantis does on his own channels. The account on Thursday highlighted a tense exchange between Trump and an Iowa voter who claimed "we have lost people because you supported the jab," meaning the overwhelmingly safe and effective COVID vaccine that he promoted as president.
After a two-day swing in Iowa, DeSantis zipped around New Hampshire at breakneck speed, stopping at veterans' halls and social clubs where he delivered his 45-minute stump speech both inside and outdoors in 95-degree heat. DeSantis was cocooned on stage and among crowds by six or so Florida law enforcement officers, who allowed voters just enough access for a quick interaction with the governor before ushering him back to his idling vehicle.
There were no MAGA hats — an usual site for any GOP event in 2023 — except for pro-Trump demonstrators at the last stop of the day at Manchester Community College. Dozens of people had replaced the red baseball cap with an array of "DeSantis 2024" gear, which vendors at other stops were hawking outside events.
New Hampshire's laid back libertarian-leaning voters seemed to relish the lack of drama with DeSantis. Most of them who spoke with HuffPost said that while they still either "like" or "love" Trump and would still vote for him in a general election, they were cautiously looking forward to having anyone else go up against President Joe Biden, whom they see as a disaster and too elderly to serve.
"He's got Trump beaming down on him constantly, and yet he was very respectful," said Sue Nelson, a local GOP leader. "He stuck to the issues. He was not trashing another human being, which I applaud him for, because, you know, he has plenty of reason to. He's speaking to people and saying, 'Here's what I'm bringing to you, here's where the country is going.'"
"I don't believe he comes with the baggage that Trump had," Peggy Selig, a retired 81-year-old, said of DeSantis.
"I think Trump would be a disaster. He's done some good things, but I think he's just too far out. He's dishonest. He was indicted for payments with a hooker and everything else. Come on," said Ralph Lutjen, a retired 80-year-old referring to Trump's indictment for payments made to the porn actress Stormy Daniels. "Do we really want that kind of person?"
That doesn't mean that Lutjen doesn't like Trump, who, unlike DeSantis, has a way of charming even voters who find aspects of his behavior repulsive.
"I still like him," he said. "But I dislike his mannerisms. And the fact that he attacks this guy with such stupid statements: 'Florida was horrible.' He moved to Florida!"
Popular in the Community