Just before signing a 15-week abortion ban into law, the governor applauded the anti-abortion activists who claimed they had approached and taken 115 fetuses from a driver for a waste services business outside the Washington Surgi-Clinic last month.
"We just saw this terrible scandal in Washington, D.C. ... They found all these remains of babies and they found five who were basically infants, premature, they would have been able to survive outside the womb," DeSantis said at the bill signing at a central Florida church.
D.C. police had previously disputed the extremists' claim ― repeated by DeSantis ― that the fetal remains were the size of "basically infants."
The five fetuses in question "were aborted in accordance with D.C. law, so we are not investigating this incident along those lines," Ashan Benedict, the executive assistant chief of police, said at a news conference after the remains were discovered. "There doesn't seem to be anything criminal in nature right now about that, except for how they got into this house, and so we'll continue to look at that."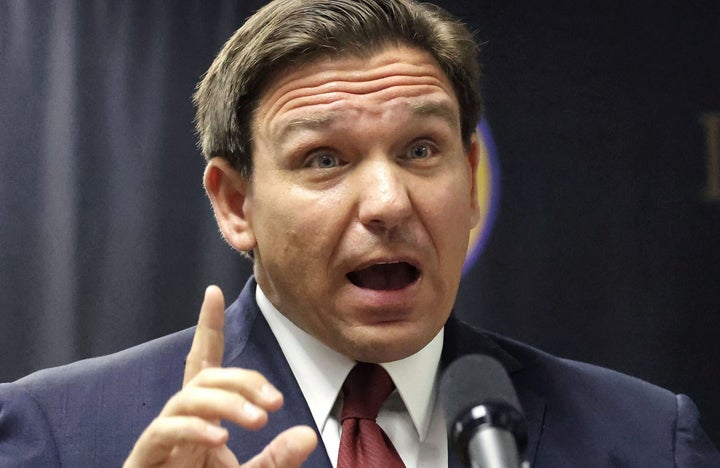 That didn't stop DeSantis on Thursday. He continued: "And yet, Washington, D.C., is treating that just like we would treat the trash from our lunch or something like that. It's really horrifying to see that that could go on in our country, but particularly in our nation's capital. So that is callous, that is wrong. ... What we're doing today, is saying that we will not let that happen in the state of Florida."
The Florida governor was met with a loud round of applause from the crowd of anti-abortion supporters. He signed an unconstitutional 15-week abortion ban into law that makes no exceptions for rape or incest. The abortion restriction is set to go into effect on July 1, weeks or even days after the Supreme Court rules in a case that threatens to overturn or gut Roe v. Wade.
Lauren Handy and Terrisa Bukovinac, the anti-abortion extremists who were discovered with fetal remains, alleged that a medical waste worker allowed them to seize 115 fetuses from outside the clinic last month. After allegedly burying 110 of the remains in their backyard, Handy and Bukovinac said, they kept the remaining five because they looked "nearly full-term" and wanted to seek out a doctor to confirm the fetuses' gestational ages.
"The patterns of their wounds suggest violent federal crime," Handy claimed during a press conference. Both Handy and Bukovinac are part of an organization called Progressive Anti-Abortion Uprising.
The fetal remains were discovered by D.C. police late last month after receiving a tip. Police told reporters they did not find "anything criminal in nature" in regards to the five fetal remains the anti-abortion activists believed to be "nearly full-term."
A day prior to the police finding the remains, the FBI arrested and charged Handy with federal civil rights offenses for a separate incident. Handy and eight others allegedly violated the Freedom of Access to Clinic Entrances Act in October 2020 when they purposely blocked the doors of an abortion clinic in Washington, D.C. Handy and the others indicted in the case face up to 11 years in prison and a fine of up to $350,000 each.
Support HuffPost
The Stakes Have Never Been Higher
Popular in the Community