They're not running against each other in any election, but Florida Gov. Ron DeSantis (R) and California Gov. Gavin Newsom (D) will participate in a "red state vs. blue state" debate on Fox News, the network announced Monday.
The showdown between DeSantis and Newsom, each one of the biggest stars of their respective parties, is scheduled for Nov. 30 and "will mark the first time the two prominent governors will face off in a debate," the network said.
The debate will air on Sean Hannity's show and will take place somewhere in Georgia.
"I'm looking forward to providing viewers with an informative debate about the everyday issues and governing philosophies that impact the lives of every American," said Hannity, who will moderate the debate on the conservative network.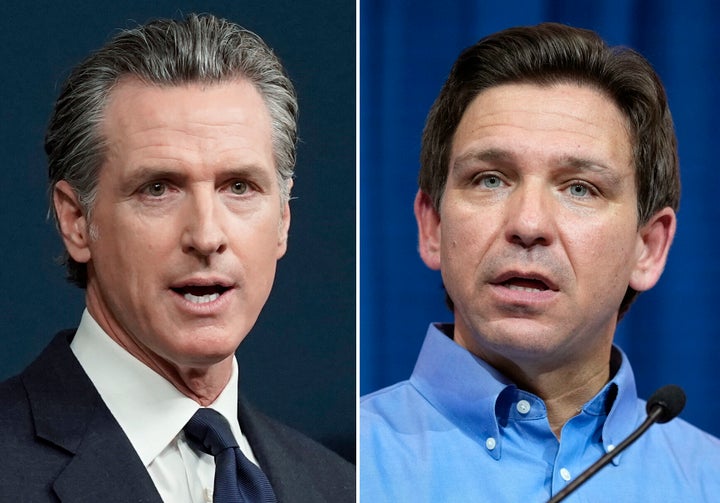 Hannity first proposed the debate when Newsom appeared on his show in June after the two sparred over DeSantis deceiving migrants into traveling to various blue states with the false promise of work papers and immigration assistance.
"Why do you use people as pawns?" Newsom asked Hannity. "What faith tradition teaches you to treat human beings like this ― to belittle them, to demean them?"
DeSantis, who is running for the Republican presidential nomination, agreed to the debate idea in August.
"I'm game. Let's get it done. Just tell me when and where," he told Hannity during an interview.
The two governors frequently take jabs at each other on social media, with DeSantis attacking California's economic policies and Newsom slamming DeSantis' far-right social policies, especially those that concern lessons on race and LGBTQ+ history in schools.
Newsom has admitted to watching so much Fox News in an effort to track conservative talking points that his staff tried to intervene.
"My staff has quite literally tried to have interventions with me about it. They say I'm too obsessed with it, but I need to understand it," Newsom said in July. "I don't want to know what they think ― I want to see the patterns, and what you see are patterns that emerge."
Support HuffPost
The Stakes Have Never Been Higher
Popular in the Community