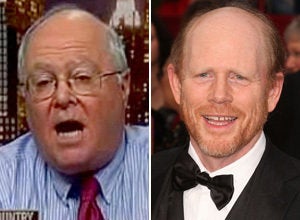 Let the cable bookings begin!
Catholic League president William Donohue has hit back at director Ron Howard for Howard's defense of his upcoming summer blockbuster "Angels & Demons."
Howard wrote a blog for Huffington Post on Monday defending the film, "It's A Thriller, Not A Crusade," saying the May release is absolutely not an anti-Catholic movie and that Catholics will likely enjoy watching it.
Howard also hits back at years of Donohue's opinion and press releases railing against first "The Da Vinci Code" and now "Angels & Demons."
He writes, "I guess Mr. Donohue and I do have one thing in common: we both like to create fictional tales, as he has done with his silly and mean-spirited work of propaganda."
"Howard must be delusional if he thinks Vatican officials are going to like his propaganda -- they denied him the right to film on their grounds. Moreover, we know from a Canadian priest who hung out with Howard's crew last summer in Rome (dressed in civilian clothes) just how much they hate Catholicism. It's time to stop the lies and come clean."

Popular in the Community