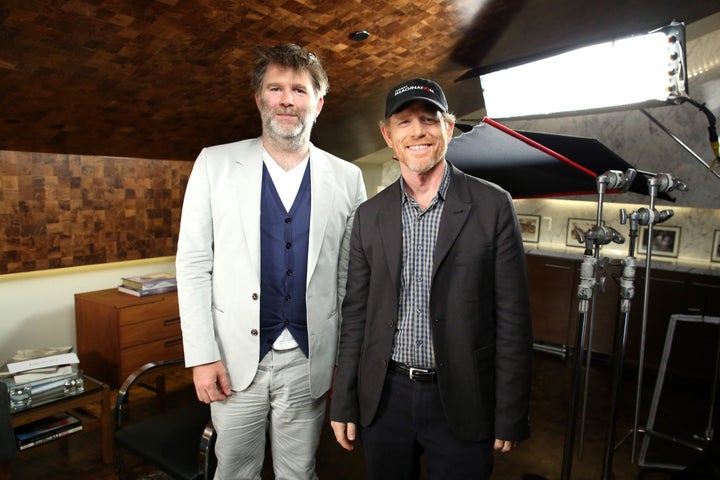 Ron Howard is excited. On the day HuffPost Entertainment spoke with the Oscar-winning director, Howard was promoting a new contest for Canon that finds him playing mentor to Eva Longoria, Biz Stone, Jamie Foxx, Georgina Chapman and James Murphy. Of course, that didn't stop an energetic Howard -- who speaks in polite, clipped sentences that come in bursts -- from going off on some tangents.
Not that you can blame him: Howard is currently editing "Rush," working on the much-anticipated return of "Arrested Development" and preparing to sift through hours of footage from Jay-Z's inaugural Made In America music festival, from which he and longtime collaborator Brian Grazer will carve a documentary.
And then there's the contest. Canon has recruited Howard and the aforementioned crop of over-achievers (aside from the actors, Stone founded Twitter, Chapman is Marchesa's designer and Murphy just dissolved LCD Soundsystem out of a want for something new) for quite the challenge. Project Imaginat10n will require the five contestants to make one film each, based upon photographs submitted by everyday photographers.
The 10 in Imaginat10n represents the ten themes these photographs will inspire (Mood, Character, Goal, etc). The special catch is that Howard gets to throw a wrench (or lifeline) into the mix by choosing the tenth theme. He has elected to go with Discovery, and will choose the photograph he feels best informs that idea. The images can be submitted at the project's website. (Last year, Howard's daughter Bryce Dallas Howard created the film "when you find me" from eight photos submitted by users.)
HuffPost Entertainment chatted with Howard about how he approaches film, why he's excited about the project, how much progress he's made on "Rush," what it was like to film for Jay-Z and how he feels about some pesky Kim Kardashian rumors.
Hi Ron, how are you?
I'm doing fine! I'm here in the "Rush" editing rooms, and I'm working on that. I have several different things that I'm working with, and they're so different and so interesting. The Canon project is among them, but it's really in a creative way, it's fun for me to bounce out of a visual affects meeting for a Formula 1 movie into a discussion of this Canon creative experiment, then going over and talking about the Jay-Z "Made in America" documentary. It keeps things fresh for me, creatively.
It's interesting that you say that, because the diverse crowd you're going to work with on the Canon project are probably going to keep it pretty fresh as well.
I was very excited about that. When the Canon folks were pleased with the last iteration's results and what it yielded -- I certainly was -- and I thought it sort of proved that their premise, their experiment, was a really worthy one. It was really effective. So when they got the idea of expanding it in this way, I was excited about it. And I always laugh because they keep saying I'm mentoring them, and even these folks being it up. And I'm happy to help as much as I can, but these are such creative powerhouses that I feel I'm the one that's going to pick up a few things. I'm looking forward to just seeing how they assert themselves, using the photos submitted by the photographers to express themselves.
When you approach film, do you think about it predominantly through images? Or do you start somewhere else.
I don't, no. Because of my career as an actor, I really think in terms of character, pretty much first and foremost. Certainly as I'm reading a script or working on a film, the environment may influence me or inspire me in some way, but it isn't until later that I'm beginning to think about how to support the actor, how to create the environment, how to use cinema to help tell the story, in addition to creating an environment where great actors get to excel.
And that's where, over the years, I've found still photography to be useful. And frankly, I found that after the Project Imagination experience, that on this film, "Rush," I was more tuned than ever to photographs. And not just looking at them as research, but more intentionally looking at them for inspiration. And it was useful.
I've never gotten involved with a product or a campaign before, but they were so clearly onto something that I just wanted to do it. To be honest, last year it turned out to be a lot less of a high-wire act than I thought it would be. It fluidly yielded, for my daughter Bryce who directed the film last year, a very organic, personal story. And that's what excited me more -- it's that old ideal about "restrictions stimulate creativity," the fact that there are rules and guidelines. That's what James Murphy talks a lot about. There's an automatic set of rules and structure that he has to work with, and he thinks that's exciting, it gives him a foothold, a jumping off place.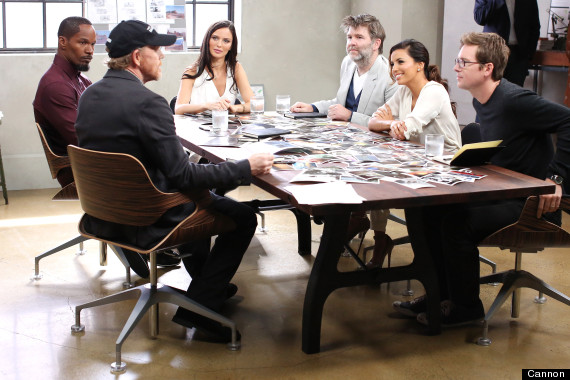 Ron Howard with the celebrity directors.
Shifting gears a bit, can you tell me about Made in America?
It was incredible, and of course it's another version of really having to discover the story. It's not scripted. We gathered a lot of threads and material looking at the festival from a lot of different perspectives. From top down to bottom up. And we're already underway but it's going to be a matter of looking at it and seeing which stories we want to bring to the forefront.
Is there a general timeframe for a release on that?
No, not right now.
Have you been a longtime Jay-Z fan?
I'm pretty eclectic in my taste as well, but I'm not really an avid, disciplined consumer. I wouldn't characterize music as a hobby, particularly. So I've got my longtime favorites, I've always appreciated Jay-Z. Jay-Z did some work for Imagine, he came to Brian Grazier and had an idea for an album inspired by "American Gangster," and that was our film. Brian came to respect him so much and like him creatively in that experience. So that's how I was lead to this opportunity, through their relationship.
Was there a particular moment that really spoke to you through the lens?
The Run-DMC reunion is pretty significant. I got to talk to D'Angelo, and I was very impressed with him. I was able to convey to him how much respect everybody had for his growth as a musician, during this time that he was away and just dropped out of the limelight for years. And everybody is so impressed with what he's come back with, and who he is. I really enjoyed meeting a lot of artists that I didn't know much at all, from Rita Ora to Skrillex. These are really talented young artists. I really enjoyed [laughs] getting to know Odd Future. I had a lot of fun with those guys -- they're great! I mean they're hilarious! And courageous in their own way, though they wouldn't characterize themselves as such. They're taking a lot of risks and I appreciate that.
I was out there at Made In America -- you know, Bryce's film was made with a Canon 300, and it was sort of a prototype and introducing that equipment. So we wound up using it a lot on "Rush," sort of by accident. The cinematographer was really comfortable with Canon equipment and it had nothing to do with the campaign or anything, but it just wound up being a really useful tool. And there we were again, using it all over at Made in America. So there we go.
Why did you choose the theme of Discovery?
In expanding the list of categories, that is one of those foundational narrative ideas that gets overlooked a little bit. You don't see it turning up in screenwriting books. But most great actors tell you that they want to discover for themselves a secret that the character has. Almost all great drama is about catharsis. Comedy, too. Another element is mystery and suspense in stories. So those moments of discovery are often what you really remember the most. Either it's because it's a moment a character grows, or where your audience finds an audience or it's a theme that emerges. So it's not discussed a lot, but I think it's vital and important.
I was thinking about Discovery in terms of James [Murphy] a lot, especially given that he just ended LCD Soundsystem and the documentary about that ("Shut Up and Play the Hits") hinges on the moment when he realizes it's actually over and what he has to do next. Did you have any relationship with James before this?
I didn't, and I was very impressed meeting him. I knew his work a little bit, but now I'm dying to see that film. But I know that Bryce was incredibly excited when he decided to do it, and really knew his work well and how visually he is an artist. It's no surprise that he's tackling this. Look, I think all five of them see this as a perfect opportunity. It's purely experimental, and yet there is pressure on it. These are high achieving people, so it helps them that there's a reason for it, a company behind it, an audience that will watch it, and that it will be judged. But it's not the pressure to sell tickets, it's just the pressure to test themselves creatively. It's a chance to make a film and be as pure about it as you can be.
A quick question on "Arrested Development" --
Sure, of course, but I'm not sure if I can answer it. There's a cloak of secrecy.
Can you give us any details about John Slattery's character?
Oh, no. I can't tell you anything about Slattery's role, and I haven't been around any of that shooting. They're all really happy that he's doing it, but I can't shed any light on that.
But it seems like you're very happy with the way things are going.
Yeah, I really am. I think it's great and that the writing is great. It's very bold. I'm very proud of Mitch [Mitchell Hurwitz]. You know it's not going off into some place that's going to alienate people who love those characters, but it's just going to further enrich their interest in these characters, and the way these characters make us all laugh. I think he's really done something great. The cast is so excited about it. And it's cool and fun to get back in that groove, it's also pushing the boundaries from a story standpoint, character standpoint, and a comedic standpoint in a way that really inspires them. So it doesn't feel like some opportunistic reunion, it feels like the next iteration of it all.
On the "Dark Tower" front, you're still committed to moving forward and finding financing for that, right?
Yes, we're absolutely committed. So is Steven King, we're working on it. It's just one of those really challenging ones. Whether we'll ever get there or not remains to be seen. But I'm not discouraged, creatively. I believe in it, and I love the world and I understand that it's a little outside of the box, it's a risky one. And it's not an inexpensive one. So I get it, but I have unwavering interest and belief in it. There just such a great bunch of characters, and the world is cool and it has a lot to say in a wildly entertaining way, in a compelling way. I've never done anything like it. It's got a kind of badass quality -- it manages to be badass and humanistic at the same time. Maybe that's a Steven King quality but I really recognize it in "Dark Tower." And I'm really excited to realize that, in movies and TV and even video games. Our idea is to carry the stories over a number of different mediums. We're just going to keep slugging. It's worth fighting for.
And finally, have you seen these stories about Beyonce supposedly yelling at Kim Kardashian because the latter was supposedly trying too hard to get your attention in Philly? Is it bizarre to find yourself in the middle of a tabloid story?
You know, I heard Kim Kardashian was there, but I never met her. I was glancing like crazy, so it's possible that I laid eyes on her, but I'm not aware of it, if I did. I spent a little time with Beyonce, she's great, and I got to talk to her and certainly she was there. We covered her a bit. I wasn't aware of any one-ups-manship or anybody vying or anything. I'm not saying it didn't happen, but I just didn't see it. Hopefully it happened and we got it on camera! I'll be in the editing room, so I'll find out.
James Murphy introduces Project Imaginat10n and asks for submissions:
Calling all HuffPost superfans!
Sign up for membership to become a founding member and help shape HuffPost's next chapter
BEFORE YOU GO