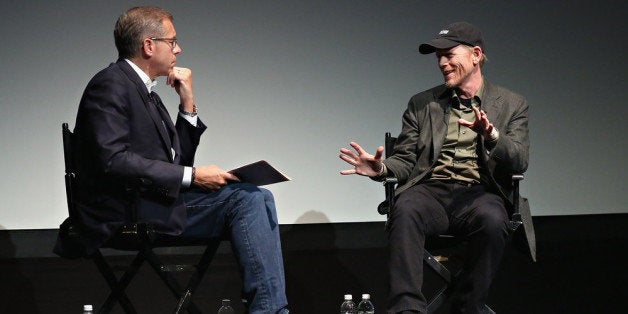 Amid today's spectacle-heavy Hollywood business model, Ron Howard calls making any drama a "labor of love." He's performed many labors throughout his storied career, directing films such as "The Paper," "Apollo 13," "A Beautiful Mind" and "Frost/Nixon." The Oscar-winning filmmaker's résumé reads like a veritable master class in popular culture. Howard sat down to examine that legacy with NBC anchor Brian Williams at an April 26 Tribeca Film Festival panel. Along the way, Howard discussed his calls to fame -- precocious Opie on "The Andy Griffith Show" and wholesome Richie Cunningham on "Happy Days" -- as well as his burgeoning film career and the cinematic work he most admires today. (Although, like almost everyone else, he agrees much of the best entertainment in the 21st century has existed on television.) Below are some of Howard's best anecdotes from the hourlong interview.
1. He'd love to return to acting someday, even though he's recently turned down roles in Coen brothers and Scorsese films.
Howard hasn't had a substantial role in a theatrical film since 1979's "More American Graffiti," but he still gets sent scripts for parts from time to time. "I've even had some opportunities from great directors. The Coen brothers once asked me to do something, but I was doing another movie. And Martin Scorsese, who's an absolute hero of mine, called me one time to ask if I would want to be in a film. It was a nice role, but I couldn't do that as well. So far, because I do move from film to film, I never have the time to commit. One of these days, I'm going to make the time."
2. He found an unusual connection to John Wayne on the set of the 1976 Western "The Shootist," for which Howard earned a Golden Globe nomination.
At Henry Winkler's instance, Howard brought with him a copy of TV Guide Magazine, which that week featured the "Happy Days" duo on the cover. Wayne's response when director Don Siegel showed him the magazine was, "Ah, big shot, huh?" But a couple of days into shooting, Howard found an unexpected way into Wayne's good graces by asking him to run lines for one of their scenes. "Nobody ever asks me to do that," Wayne replied.
"I always admired him as a movie star, but I thought of him as a total naturalist," Howard explained. "Even those pauses were probably him forgetting his line and then remembering it again, because, man, he's The Duke. But he's working on this scene and he's like, 'Let me try this again.' And he put the little hitch in and he'd find the Wayne rhythm, and you'd realize that it changed the performance each and every time. I've worked with Bette Davis, John Wayne, Jimmy Stewart, Henry Fonda. Here's the thing they all have in common: They all, even in their 70s, worked a little harder than everyone else."
3. At 6 years old, he rewrote a line on "The Andy Griffith Show."
"As I child, I would sit around listening to them talking about the script and working out kinks," Howard said. "I was even allowed to speak up. I remember that first year I was 6, and it was a little worrisome because they weren't accepting any of my ideas. I was full of notes. At the end of the second season, we were in rehearsal, and I was supposed to come in the sheriff's office like I always do and say, "Hey, Pa" or something. And I don't remember what the line was, but I remember during rehearsal, I hesitated and I said, 'Could I say something?' They said, 'Sure.' I said, 'I don't think a kid would say it that way.' And the director, Bob Sweeney, who'd also been an actor, said, 'Well, how would a kid say it?' And I pitched my little rewrite, and he said, 'Great, say it that way. Okay, here we go, let's rehearse it.' And I remember just standing there and I must have been beaming because Andy looked at me and kind of squinted and said, 'Whatcha grinnin' at, youngin?' And I said, 'Well, that was the first idea of mine that you ever took.' And he said, 'It was the first one that was ever any damn good, now let's do the scene!'
4. He auditioned his own mother for a role in "Apollo 13."
Howard's mother had given up acting to raise children, but she returned to the fold shortly before Howard made 1995's "Apollo 13." She was "the new little old lady on the sitcom block," as Howard describes it. The director's father suggested he cast her in the role of Tom Hanks' mother. He was hesitant, knowing she'd only just resumed acting and that this was a "very important movie." After careful consideration, knowing there was "a lot riding on it," he had her audition for the part. "I didn't want to do it at the office, so I said I'd come by the house and we'd read through the scene. So I came by, and she was nervous. She had a little house coat and was prepared to do it. And we went through it a couple of times and she made me cry just because I was proud of her as a son and also because I knew that she could do it, and this was an opportunity. And it was just one or two takes on the day of shooting, but it was a great moment."
5. Howard's favorite directors are Frank Capra, John Ford (particularly "The Grapes of Wrath"), Mike Nicholas (particularly "The Graduate"), Miloš Forman (particularly "One Flew Over the Cuckoo's Nest"), Quentin Tarantino, Paul Greengrass and Steven Spielberg.
"I developed a theory that in many ways the early 'Andy Griffith' episodes especially were an awful lot like a Capra movie," Howard said. "They were a lot like 'Mr. Deeds' or a lot like 'It's a Wonderful Life' in tone and presentation. But the first movie that I really studied was Mike Nichols' 'The Graduate.' That movie played for over a year. I found myself going to the movies at 1 in the morning. That was when I learned for the first time what the director's role was in not just guiding the actors but guiding the look. I read everything I could read about the 'The Graduate' and every interview I could find about the transitions and his collaboration with Sam O'Steen, the editor, and the cinematographer and the production designer and so forth. He was a theater director and it was only his second feature film. That was an eye-opener for me."
7. One of the biggest hurdles he faced as a director was getting on Bette Davis' good side.
Howard was directing a series of television movies when he had the opportunity to cast Bette Davis in the 1980 NBC film "Skyward," the tale of a paraplegic girl with dreams of flying an airplane. Davis played a "crusty" pilot who would become the young girl's instructor. She loved the script but was dubious of Howard casting an actual paraplegic for the role instead of a veteran actress. "She also didn't much like that there was this 25-year-old from a sitcom who was going to be directing her," he said. But Davis stuck with the project, saying she liked the script. She also insisted on calling him Mr. Howard. When the director asked her to refer to him as Ron, she replied, "No, I will call you Mr. Howard until I decide whether I like you or not."
To impress Davis, Howard emulated her favorite director, Billy Wilder, by wearing a suit and tie on the set -- even though they were shooting on a Texas airfield in the middle of August. "The first scene we had to do was in this little mockup of the plane, but we were pretending it looked like she was flying acrobatics," Howard explained. "She was a little confused by the whole thing. So I go over in my jacket and my tie to give her her first direction. And she turned around and very loudly, for all the crew to hear, said, 'Oh my god, I saw this child walking toward me! I couldn't help but wonder what this child with any consequences could have to say to me.'" (At this point, Howard throws his head back and imitates Davis' deep cackle.)
"So I gave her the direction and turned back and was popping Tums on the way back to the camera. She did the direction, and we're working our way through the day and it's still Mr. Howard, Mr. Howard, Mr. Howard. And finally we got to a pivotal moment in a scene where once again the staging was a little awkward, and I gave her a note. I said, 'Mrs. Davis, I think the timing would be better for you here if you hold that line until you get to the table, then you pick up the prop, then say the line and then I'd say the other one on your way out the door. I think you'll feel it'll flow a little bit better." And she said, "Oh, I don't think so, I think that would be very awkward.' And I said, 'Well, please try it.' And she said, 'Of course I'll try it, because I'm always the director's kid!'" (Again, Howard imitates Davis' cackle.) "So she did it -- she tried it, and it worked for her. And on that rehearsal, she said, 'You're right, that works much better. Let's shoot.' So we did, and we made it through the day. Finally I went up to Mrs. Davis at the end of the whole thing and I said, 'Well, Mrs. Davis, great first day. You're wrapped. I'll see you tomorrow.' And she stubbed out her Camel cigarette and she said, 'Okay, Ron, see you tomorrow' and patted me on the ass."
Listen to Howard's full Tribeca panel below:
Before You Go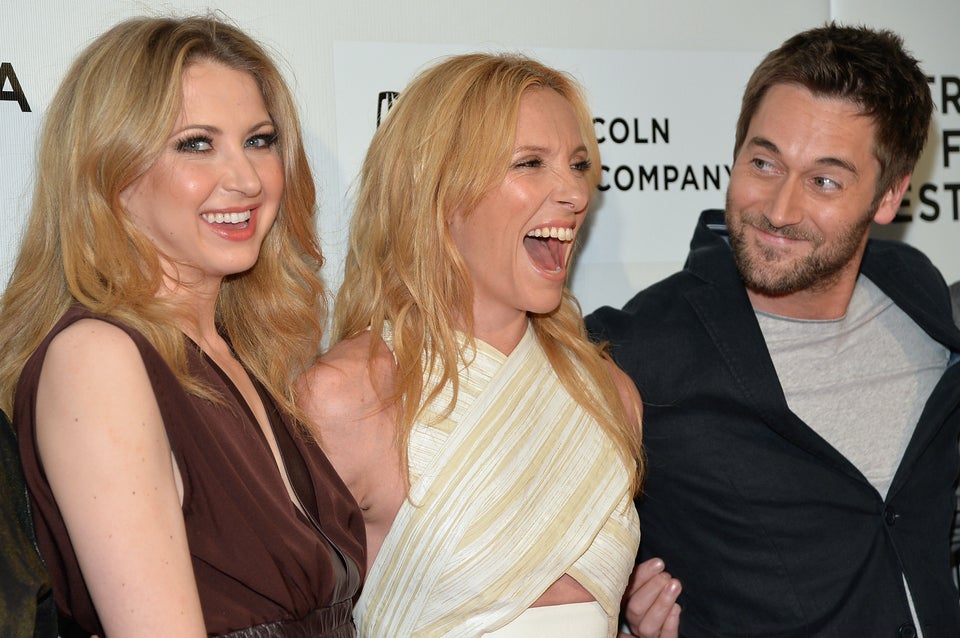 Tribeca Film Festival 2014