FERGUSON, Mo. -- Missouri Highway Patrol Capt. Ron Johnson defended the new rule that protesters cannot stand and congregate in one place, saying it would protect community members from criminal elements who were trying to hide in their midst and cause trouble.
"We are not going to let groups congregate and build into larger groups because that's what causes problems," Johnson told reporters in a press briefing Monday night, in response to a question from The Huffington Post. "Because what happens is, the peaceful protesters gather, and the other element blends in. Now they blend in, and that's what's been causing us some issues. So by allowing them to walk, that's not going to let the other element blend in and define this group."
On Monday, protesters were told by law enforcement to keep walking, unless they were in an approved protest area. The American Civil Liberties Union filed a motion in court for a temporary restraining order to stop this rule, but a judge denied the request.
Johnson, appointed by the governor to be in charge of security in Ferguson, took issue with the idea that the requirement violates people's right to assemble.
"We're not violating your rights, we're allowing you to protest," Johnson said.
"Protesting does not need to stand still, it needs to be heard. It needs to move forward," he added. "So really, the marching around in the circles, we're keeping our voice moving. I don't want it to stand still."
Monday night began more peacefully than the previous evening, when police threw tear gas to clear the streets before 10 p.m. Protesters marched with signs calling for justice in the death of Michael Brown, an unarmed African-American teenager killed by Ferguson police Officer Darren Wilson on Aug. 9. The rapper Nelly caused a significant stir from the crowd as well.
Still, bad feelings lingered from Sunday night.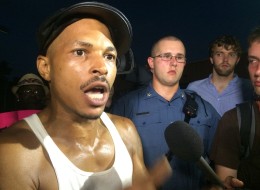 A protester confronted Johnson over the tear-gassing of crowds Sunday night.
One man interrupted the press conference to ask Johnson why his forces tear-gassed crowds -- which included children -- Sunday night. He took issue with Johnson's assertion that people in the crowds were throwing Molotov cocktails and threatening the police command center, saying he was at the front of the march and saw no trouble.
"The front of that was peaceful," said Johnson. "In the center of that, in the midst of that, some protesters that came over the hill behind you ... I saw them [the Molotov cocktails] being thrown," he said.
Wilson has not been charged with a crime, and many protesters said they will not be content until the officer is held to account for killing Brown.
Want more updates from Amanda? Sign up for her newsletter, Piping Hot Truth.
See below for the latest in Ferguson: