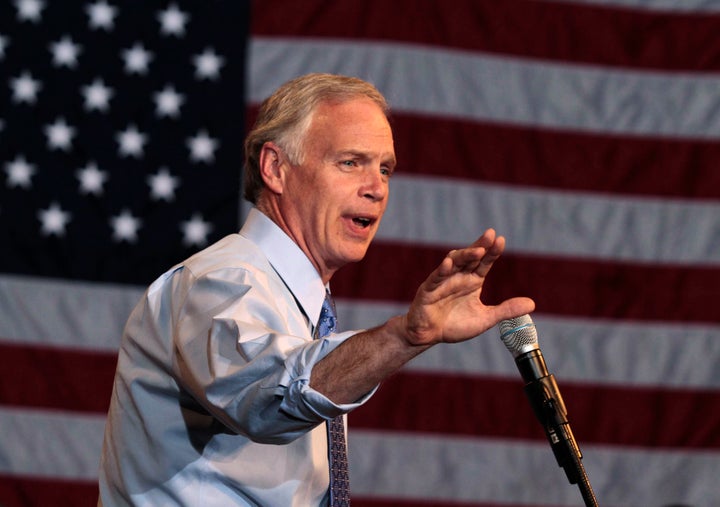 Sen. Ron Johnson (R-Wis.) blamed the U.S. government for the 2008 financial crisis ― instead of big banks and Wall Street ― in a local radio interview last week.
"A lot of that was juiced by government policy that forced banks to make loans to people who couldn't pay them off and then allowed banks to have mortgaged-backed securities without collateral so they didn't have the capital to back it up," Johnson said in response to a question about what caused the economic collapse during an Aug. 17 interview with WVRQ AM 1360.
Faulting the U.S. government for taking steps toward eliminating discriminatory lending practices seems to be a cornerstone of Johnson's political career.
"They threatened to bring the Department of Justice in to, I guess, to prosecute banks that would be accused of redlining," Johnson said. "Not making loans to people in certain areas."
That was regulation that incentivized them to make those loans, force them to make those loans, and then package them up because no bank, no bank, no bank ― would your community bank have made loans to people that couldn't pay it back? No. The only reason they made them is because the federal government forced them to do it, they were able to make commission off that and then the federal government made it possible for them to off-load that risk on the American taxpayer. So, it was, so it was regulation ― it wasn't a lack of regulation ― it was the federal government regulation that caused the housing crash.
Johnson continued, saying that people of color were "enticed to take out these liar loans" and that the crash wouldn't have happened had "the banking system not been manipulated by the federal government where we, we went away from good banking and loaning ― lending ― standards where you actually had to have a down payment on a loan."
Popular in the Community