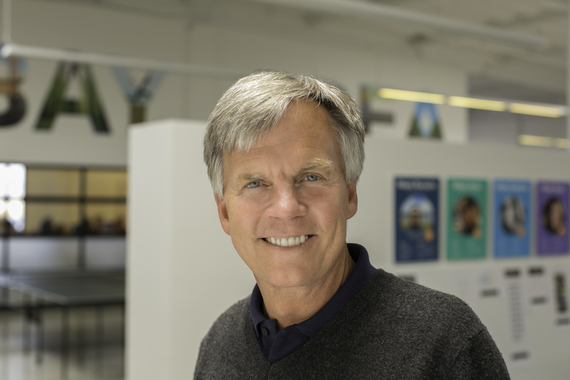 At age 55 and after rising to the heights in retailing, Ron Johnson certainly didn't need the money. Nor did he need the stress and aggravation of starting not only a business, but a revolutionary concept. Johnson made it "hip" to shop in Target. He invented the now iconic Apple Store concept, though he failed in his effort to turnaround century old retailer JC Penny. Now he's invented "Enjoy"
Imagine wanting to get a new tablet computer or smartphone. Only instead of going to a store to pick it up or going online to order it for next day or two day delivery, you can go online, and within four hours someone will show up at your door and help you set up the product, and for no more money than the online price. Ron Johnson can not only imagine it, he's doing it. The service is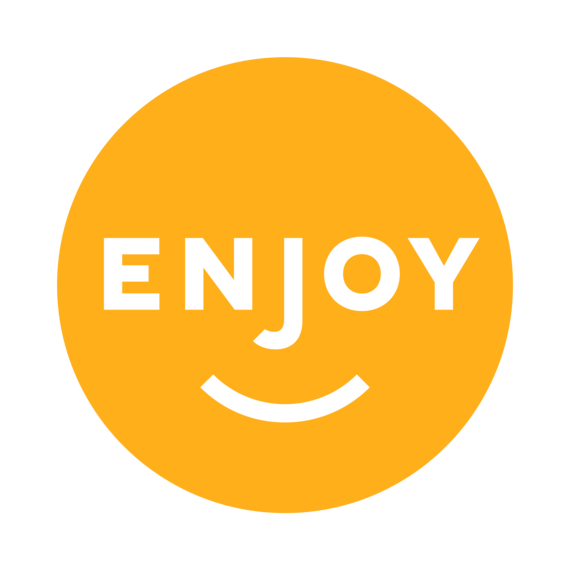 called Enjoy, run by his new company Enjoy Technology. The concept is a little like Amazon.com meets Geek Squad, with a dose of Apple's Genius Bar and Target mixed in. For starters, there is no brick and mortar Enjoy Store. But while you can't visit the brick and mortar store, the store can and does come to you. Johnson puts it this way,
Ultimately in retail you compete on a few strategies, one is the products you carry... second is your pricing, and third is what can you do for the customer, what's the service strategy? Well unfortunately, a physical store can't help you put your Nest thermostat on the wall. A physical store can't go out in the park and help you fly your first drone. Amazon is a great place to buy, they can deliver to your door, but they can't help you shoot your first film on your GoPro camera, import, edit and share with a friend. Where were going to challenge the physical store is how do you compete, how do you deliver service, in an age where companies offer what I call a 'personal commerce plan", reinventing service by going through the door.
Johnson is initially rolling out the "Enjoy" concept in San Francisco and New York, but with heavy venture backing, he's likely to start expanding to other major markets within months. His concept is to have a cadre of representatives who are trained in all of their products who can bring them to your home and help you learn how to use them. There are no "delivery windows", The buyer makes an appointment and the Enjoy trainer shows at the appointed time, Johnson hopes these "trainers" will also develop a personal rapport with the customers, so that if they need more products, or just someone to talk to for advice, they'll go back to the initial trainer. And when they're not delivering products, Johnson says they'll be back at home base, called Enjoy House, for more product training.
Enjoy is starting with a handful of product partners including: AT&T (iPhones, Android Phones, Windows Phones), GoPro, Sonos, DJI drones, Microsoft, Lenovo, HP and several others. In each case the trainer will come to your home, or if need be to an office, a Starbucks, or even a park (if you want to launch a drone). Johnson is also moving the personal service concept to the area which has been dominated by Geek Squad and others. If you already have a product, for $99 you can arrange to have a Enjoy representative come out and walk you through what you've already got. He feels that by offering a high level of service and interaction he can not only grow his market, but also create a dedicated workforce. Johnson says, "If people are satisfied the first time around, they will call you second. They'll ask the expert, 'what else can I enjoy'?"
It's His Calling
Johnson says that after JC Penny he was looking for something new, but didn't plan a new venture,
It wasn't a desire to start a company or be an entrepreneur, it was just kind of discovering that there was an idea I had so why not go do it ? ...I look at the work in many ways as my ministry. It's how I help the world for good. You know, I think most people might go to church for hour on a Sunday but you're at work for 50 hours a week, so in many ways, what happens at work has more impact on people then what happens at church. By creating companies and creating cultures, creating amazing experiences for people like offering help, in many ways is something that is a lifetime passion and so it's hard to imagine being retired when you're at an age where you've got great health, you've got a great mind, you got an ability through all of your experiences to do something good for the world and so I just felt very compelled to launch Enjoy
Johnson admits that periodically he does start running out of steam, "Sometimes I sneak out for a nap in the middle of the day but other than that, no problems. Our office is about 3 miles from my home, so I've done that a couple of times, but you get an incredible energy being around young people ... and when you get to be around young people at the beginning of their career it's very energizing, it's contagious and that's one of the side benefits of launching a company.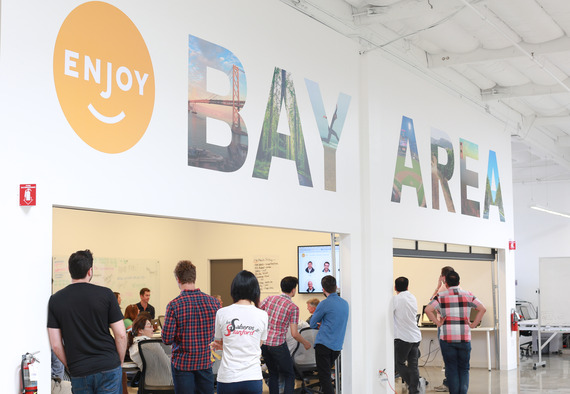 Shades of the Genius Bar
Johnson thinks the Enjoy concept is a natural for the fifty plus market, "because having worked at the Apple Stores, I know the people who come to the Genius Bar, and the people who come to the one to one training classes. Everyone comes to the Genius Bar who need help, it was the older folks that came to the training a little more frequently, because they really had time to learn, wanted to learn, and in many ways wanted to keep up with their kids and communicate with their kids, and they didn't want to bother someone else to do that for them. What surprised us is how popular it is for other demographics like young millennial women, young boomer families who have 2 kids at home and the mom feels responsible for most of the household but not the technology, too complicated, so we discovered a pretty broad appeal and it's really people not from a demographic group but a psychographic group that really love help and convenience.
Will it Enjoy work? Johnson feels that by combining the level of service that you find at an Apple Store and bringing it to your home, the model could just stand retailing on its ear. Again.
Calling all HuffPost superfans!
Sign up for membership to become a founding member and help shape HuffPost's next chapter