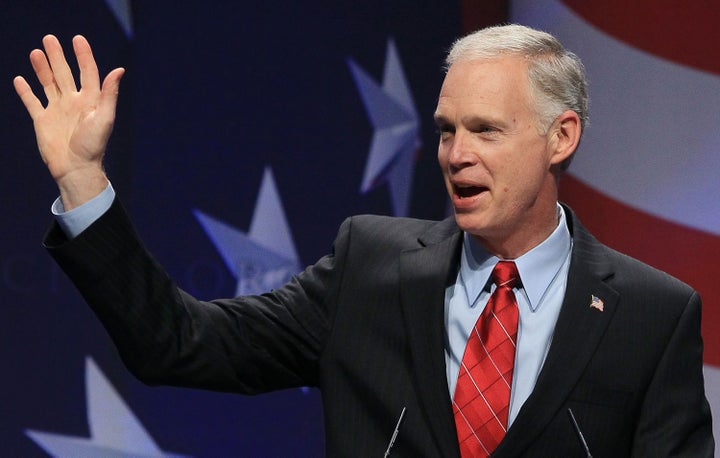 WASHINGTON -- Freshman Sen. Ron Johnson (R-Wis.) declared that as long as the debt ceiling negotiations are held behind closed doors, he will block all unanimous consent calls, effectively putting a stop on Senate business Tuesday in a one-man filibuster.
Johnson criticized the move to "decide the fate of America's ... financial future" in private.
"Unless we receive some assurance from the Democrat leadership that we will actually start addressing our budget out in the open, in the bright light of day -- I will begin to object," Johnson said on the Senate floor. "I will begin to withhold my consent."
When there was a request to relinquish a quorum call, Johnson objected, bringing several senators, including Jim DeMint (R-S.C.), Lamar Alexander (R-Tenn.) and Rand Paul (R-Ky.) and aides of Minority Leader Mitch McConnell (R-Ky.) over to discuss procedural moves.
Johnson is attempting to make negotiations over the debt limit his "Mr. Smith Goes to Washington" moment, calling for an open discussion about making a debt ceiling deal as the closed-door talks are in doubt. Because the Senate operates much of its business on unanimous consent, a lone lawmaker can grind things to a halt.
When asked how long the senator intends to obstruct unanimous consent, Johnson's office did not immediately respond to The Huffington Post.
Lawmakers are negotiating with the White House on a debt-reduction deal in exchange for raising the government's borrowing limit, which the Treasury Department estimates must be done by Aug. 2 to avoid a U.S. default.
Opposition party representatives in the talks, House Majority Leader Eric Cantor (R-Va.) and Senate Minority Whip Jon Kyl (R-Ariz.), quit Vice President Joe Biden's bipartisan debt discussions last week over the issue of revenue-raising measures, which they have repeatedly said cannot be included in a final deal.
President Barack Obama started meeting with congressional leaders in closed to the public meetings to hammer out the details this week, although there have been continued disagreements over whether or not to include any tax increases on wealthy Americans.
Johnson also called on the Senate to pass a budget of only $2.6 trillion, an amount just below what the federal budget was in 2007. The dollar figure he proposed is the amount of projected revenue the U.S. would collect in fiscal year 2012.
"The Senate needs to pass a budget," he added. "It shouldn't be that hard."
"Republicans have it backwards," said Adam Jentleson, spokesman for Senate Majority Leader Harry Reid (D-Nev.), to The Huffington Post. "Instead of finding new ways to block jobs bills, they should be working with us to create jobs and get our economy back on track."
UPDATE - 7:08 p.m.: Johnson's threat to shut down the Senate lasted a little longer than two hours, after a procedural move by Reid stopped the Wisconsin Republican in his tracks.
Reid ordered a vote to authorize the sergeant at arms to request the attendance of all absent senators just after 6 p.m. Tuesday. The motion passed 44-40 along party lines. However, Johnson was granted permission to speak for 10 minutes where he mostly reiterated his points from earlier in the afternoon.
The Senate should stay in session next week to deal with the budget instead of adjourning to a short recess with a pro forma session, Johnson suggested. Instead, the Senate is "waiting on the results of negotiations behind closed doors."
Johnson cautioned he wouldn't rule out pulling a move like that again if the Senate didn't get a budget passed soon.

Popular in the Community