Sen. Ron Johnson (R-Wis.) said Senate Republicans are obstructing President Obama's Supreme Court nominee for purely political reasons to make sure the high court's ideological balance favors them.
"We may elect Hillary Clinton, we may elect the Democrats to the Senate, and then we're going to get an even more liberal justice. So we're saying let the American people decide and we'll accept their verdict."
Johnson, like many Senate Republicans, have said they are determined to bar Merrick Garland, Obama's nominee to replace the late Supreme Court Justice Antonin Scalia, from getting a confirmation hearing. Most say they want to wait until 2017, when the next president takes office.
By contrast, most Americans, including 49 percent of Republicans, want GOP leaders to do their job and give Garland a hearing, according to a HuffPost/YouGov poll conducted last week.
Chief Justice John Roberts argued last month, just days before Scalia's death created a vacancy on the court, that in general, the confirmation process should steer clear of politics and focus on whether nominees are qualified.
Johnson blamed the media for pressuring Republicans to change their minds, claiming "the press is really not for freedom of speech" and "they want to see the Supreme Court flipped."
"I have never had the press press me so hard to make a change of position," Johnson said. "The press wants the Supreme Court to flip because the press is not particularly interested in freedom of speech," he added.
"When other Americans, other than the members of the press, can get their message out, the press's power is reduced. You engage in campaign finance reform, which restricts free speech, that makes a few members of the press have all the more power. So the press is really not for freedom of speech. They like restrictions in speech because it gives them more power. So again, they want to see the Supreme Court flipped. I got that."
Before You Go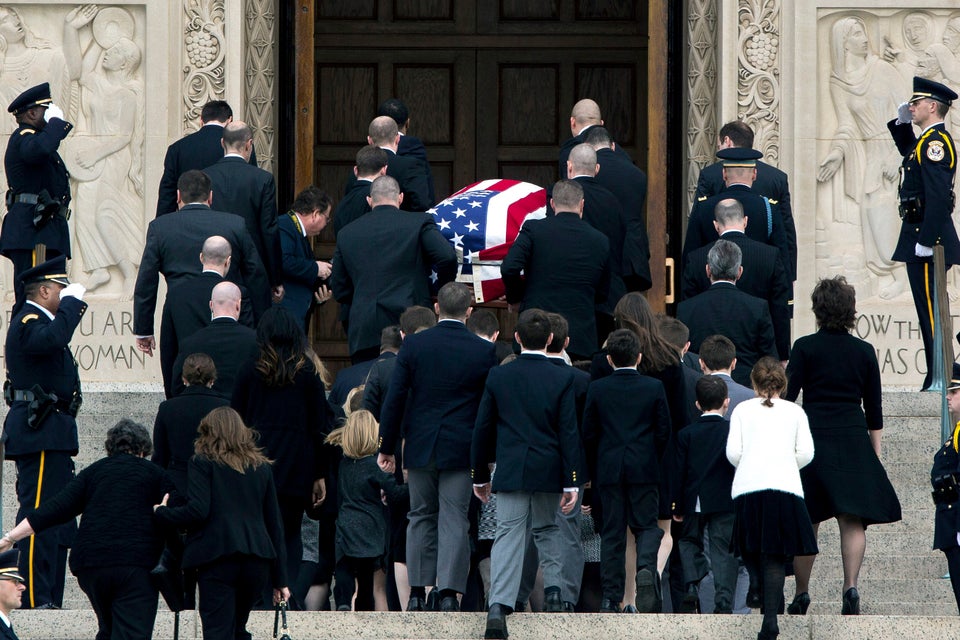 Funeral Of Supreme Court Justice Antonin Scalia
Popular in the Community