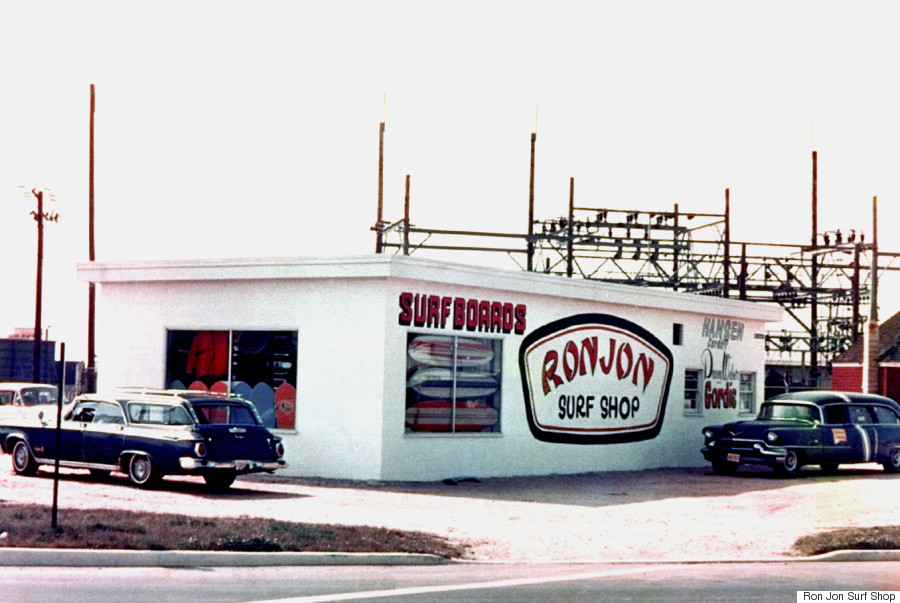 The original Ron Jon location on Long Beach Island, New Jersey, as seen in the 1960s.
ouvenirs are often the sign of a great vacation, but what if the store you bought it from was the point in itself? That's the case with
, which first opened on New Jersey's Long Beach Island in 1961. The store is the brainchild of Ron DiMenna, who founded the shop in 1959 as a way of getting a custom surfboard for himself.
"With the New Jersey store," Heather Lewis, the brand's marketing director, told HuffPost Travel, "it built a following because taking a Jersey Shore trip is a tradition in the area. He opened it at the right place, right time." Two years later, DiMenna opened the second store on Florida's barrier island of Cocoa Beach. From there, the store took off.
You likely know the brand thanks to their famous stickers, which you often see on people's luggage or guitar cases or anything, really. The brand is recognizable thanks, in part, to great marketing. The stores have been giving out stickers as a gift with purchase since the mid-to-late 1960s. It's since become a lifestyle akin to, say, Margaritaville or Life Is Good.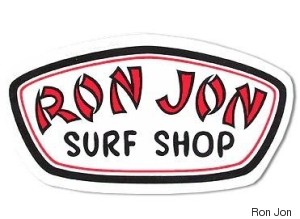 That it's now a right-of-passage for some travelers is no incident. DiMenna admired the rise of Disneyland, Lewis told us, and wanted to simulate their success by making Ron Jon stores into an experience. And experience it is. Today, the company gets visitors from all over the world, 1.5 million of whom annually flock to Cocoa Beach's 24-hours-a-day, 365-days-a-year flagship store that measures a 52,000-square-feet.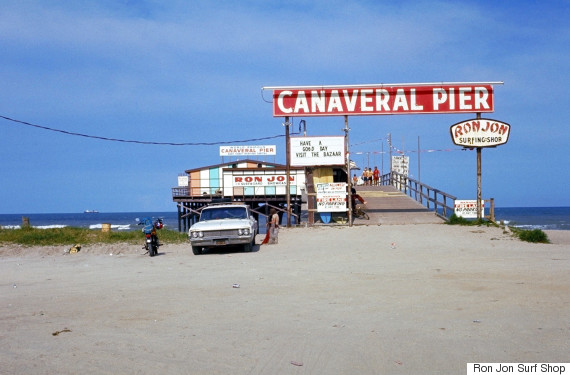 The view of the pier at the Cocoa Beach location, as seen in the 1960s.
The brand owns and operates 11 stores, all of which are in tourist-friendly beach communities on the East Coast. A 12th store will open in May on Alabama's Orange Beach. Even if you don't visit the stores, you'll know the brand: they license a Surf Shop in Cozumel, Grand Turk and Las Vegas and have airport shops in Orlando International, Tampa International, Miami International and JFK International.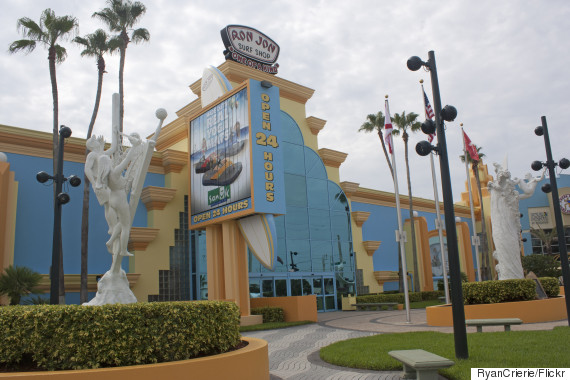 The Cocoa Beach flagship today.
According to the company, the Surf Shop is the most popular tourist destination in all of Florida's Brevard County. Rumor has it that someone even stuck a sticker on the Eiffel Tower at one point. The Store is so iconic, Rudy Giuliani even campaigned there in 2008 ahead of the Republican primary (below).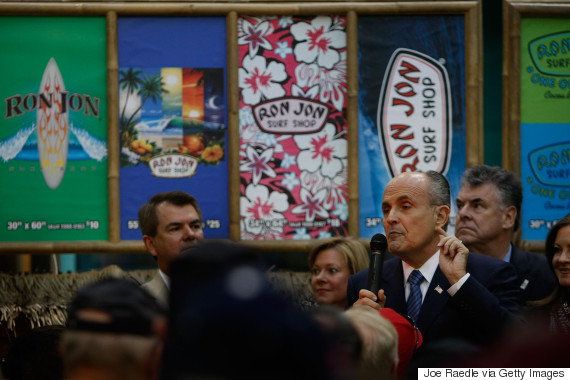 Decades later, the store that was once a stop on the way to the Shore is now considered a vacation all on its own.

Related
Before You Go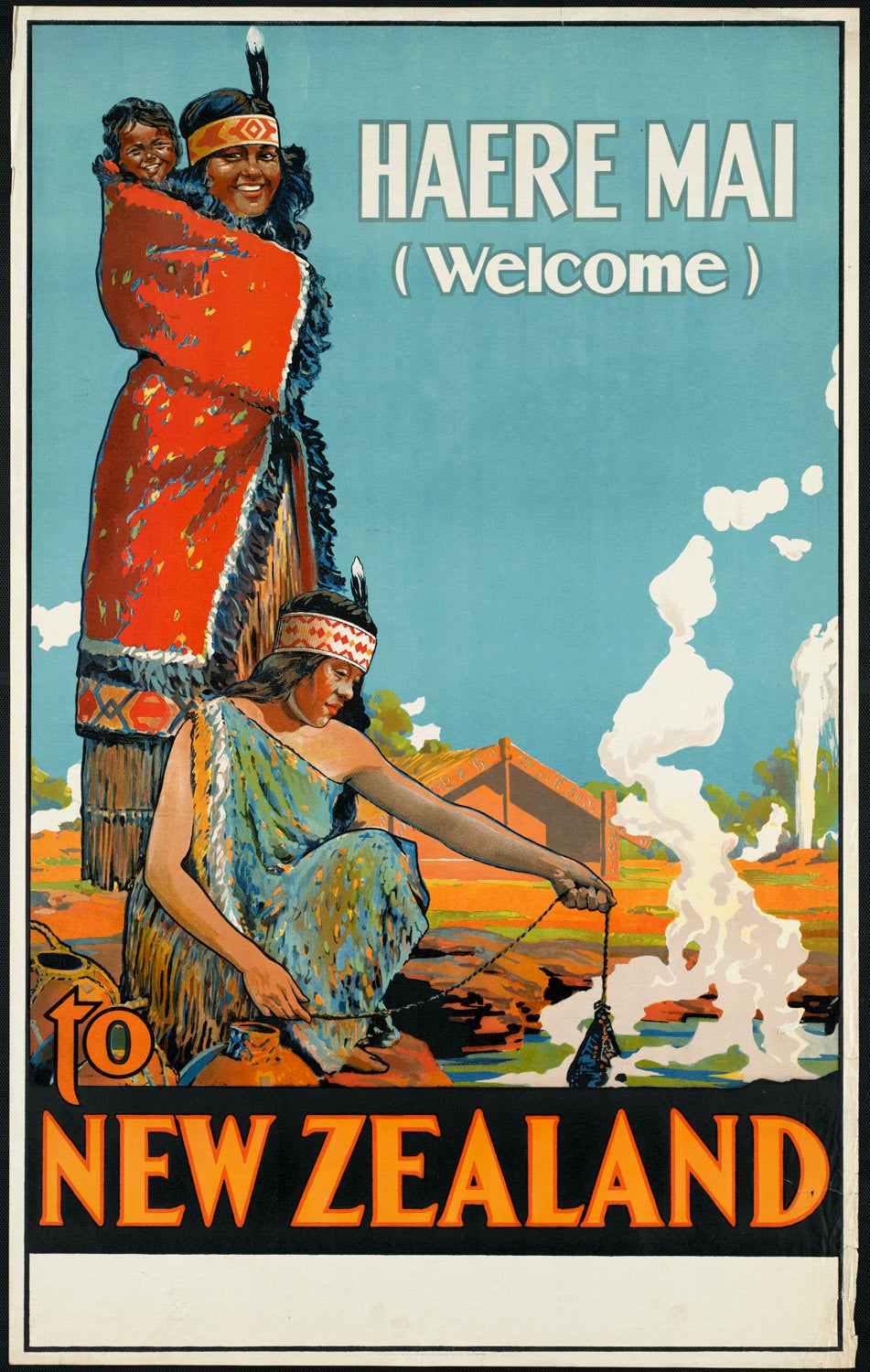 Vintage Travel Posters