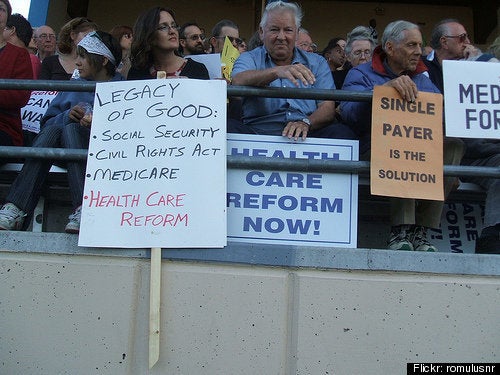 Waiting in the front entry of the high school auditorium on Friday in Whitehall, Wisconsin one man stood out. Signs and banners had been banned from the "Listening Session" with Representative Ron Kind. Scott Hanson had found a way around the ban, turning his t-shirt into a walking sign. The front of his t-shirt read: "No Insurance Company Will Sell Me Health Insurance at Any Price (It Could Be You Too)." On the back of his shirt: "My One Medication in 2002, $960; Now, $2835 per month." Scott Hanson said, "There are millions of people in this country who cannot buy health insurance. I'm one of those people. I have MS. There are 10,000 people in Wisconsin with MS."
The auditorium was filled beyond capacity with people standing along the side aisles and filling the lobby outside the hall. The session opened with a short talk by Representative Kind, who explained the details of HR 3200,
America's Affordable Health Choices Act
. He pointed to the fact that Wisconsin, especially his district in Western Wisconsin, is a model that President Obama looks to as an example of how to efficiently supply high quality health care at an affordable price. The audience was then allowed to speak based on a lottery system of names randomly drawn from a pool of people who had identified themselves as wanting to speak. Many people shared personal stories of lacking insurance coverage or the ability to pay for coverage. Steve Orik of Chili, WI said he wanted to go back to school but was concerned that he'd lose his employer-based insurance coverage. Representative Kind said that too many people were in a similar position and he explained that the Health Care Exchange would change that. He said a number of times that if you like your plan, you can keep it, and no one is going to change that. Some in the audience seemed skeptical of this statement stating such things as, "How is the insurance company going to compete with the government? Once this happens, it's gone!" Michael Ryan, administrative law judge from Eau Claire, WI talked about his role in medical assistance hearings for twenty-six counties in northwest Wisconsin. "I deny basic care every month for things like diabetes. To qualify, a couple must not make more than, $591.67 a month. It has been the same for 20 years." Referring to his Catholic school upbringing, he said that "I was taught, whatever you do unto the least of my brothers, you do to me ... I reject the idea that anything we do for the common good is socialism ... I believe it is the mark of a civilized society." Many listeners were concerned with how the program would be paid for, pointing to Medicare, Medicaid, and other programs that were in financial trouble. Representative Kind agreed: "That's a fair question. It's important as we move forward, that we figure how to pay for this, not to pass this on to the future generations. I believe that in my gut." Jay Smith of Stanley, WI was a vocal opponent of health care reform during the session. When asked if he was happy with his health insurance, he said yes. Where did he get his insurance from, then? He said, "I'm on Badger Care Plus, you pay a little bit at a time, but it ain't bad." Badger Care Plus is a low income, taxpayer-funded program offered by the State of Wisconsin. When Mr. Smith was asked what he thought was the solution to the health care crisis he said: "It's a tough choice. There's too much greed in America. Doctors make too much money. I don't think there is a solution." Based on applause and the more boisterous responses to different speakers, it appeared that people were fairly evenly split in their support or opposition to health care reform.
Calling all HuffPost superfans!
Sign up for membership to become a founding member and help shape HuffPost's next chapter