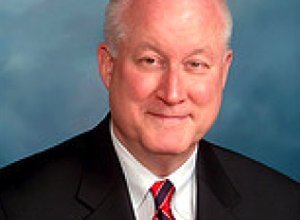 Tennessee Republican congressional candidate Ron Kirkland recently said that when he served in the military during the Vietnam War, gay service members "were taken care of" in ways that he could not begin to describe.
Kirkland's candid remarks came at a Tea Party forum last week when the GOP hopeful criticized the Obama administration's support for overturning the "Don't Ask, Don't Tell" policy.
Conservative House candidate Randy Smith offered a similar reaction to the measure at the event when he declared he "wouldn't want to share a shower with a homosexual."
The Associated Press reports:
Kirkland, a Vietnam veteran, said of his time in the military: "I can tell you if there were any homosexuals in that group, they were taken care of in ways I can't describe to you."

[Randy] Smith, who served in the first Iraqi war, added: "I definitely wouldn't want to share a shower with a homosexual. We took care of that kind of stuff, just like (Kirkland) said."
The candidates justified their opposition to repealing "Don't Ask, Don't Tell" by arguing that ending the policy is simply a matter of "political correctness" that would place unneeded stress on military service members.
The Jackson Sun reports that both Kirkland and Smith faced a backlash after suggesting that gays were "taken care of" during their independent service experiences:
Comments Republican congressional candidates Dr. Ron Kirkland and Randy Smith made about gays being "taken care of" in the military at a forum Thursday night in Paris prompted a backlash against the two on Friday, with an official from a state gay rights group saying the candidates should apologize.
The Tennessee Republican Party reportedly had no comment on the candidates' comments related to repealing "Don't Ask, Don't Tell" when asked about the matter by the AP.

Popular in the Community