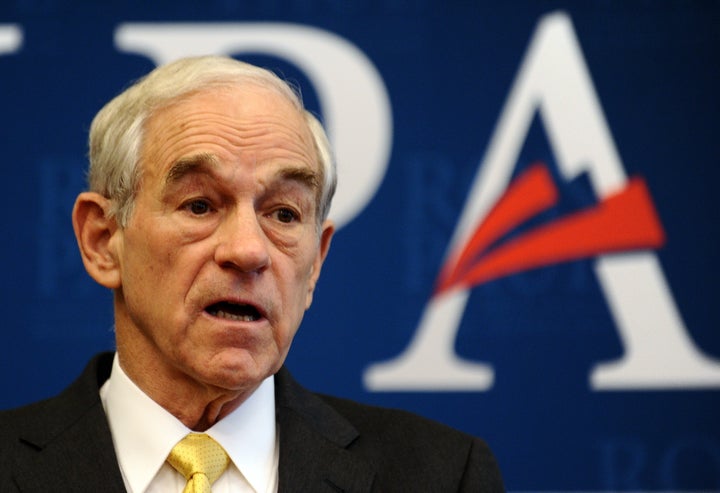 DES MOINES, Iowa -- Some 20 protesters interrupted the start of a Ron Paul event at the Iowa State Fairgrounds just as the GOP candidate and Texas Representative began to speak, at about 7:30 p.m. local time.
"Ron Paul, why do you hate gays," Heaven Ryan, 16, shouted. "Why do you hate the 99 percent?"
Ryan, her mother, Heather, 39, and a man in his 20s shouted from a prepared script until their words were drowned out by the crowd of about 750, some of whom menacingly surrounded the protesters and then hustled them out.
"Freedom of speech, ain't it wonderful?" Paul said.
The protesters continued to yell near the back of the room, while a few Paul supporters stood to yell back. A staffer stood between them, asking Paul's supporters to ignore the group and remain calm. John Kurr, a 49-year-old Paul supporter, tried to reason with the Occupy group, saying the candidate is for the 99 percent.
"He's not for the corporate people, he's for the little guy," Kurr told HuffPost. "He's for everybody. He's not for Wall Street."
Some Occupy protesters agreed. As Kurr spoke to the group, one woman said she supports Paul. Another protester, 28-year-old Des Moines resident Clarke Davidson, told HuffPost he also likes Paul, but wanted to stand in solidarity with his fellow Occupiers.
Later in the event, Davidson ran toward the front of the auditorium waving a sign that said "End the Fed" and started a chant of the same.
Earlier, when Heaven was being rushed out of the auditorium, HuffPost asked her for her script. She handed it over with a wan smile.
Here is what she had shouted:

"Ron Paul

You say you want to repeal Roe v Wade.

What makes you think the state has the right to control a woman's reproductive decisions?

You say you want every child to have a chance to live. How will those children eat when you eliminate essential programs like WIC and food assistance?

Where will those children live when you eliminate subsidized housing?

How will those children receive healthcare when you eliminate Medicaid?

How will those children get an education when you eliminate student aid?

Mr. Paul, you do not care about the children of the 99 percent. You do not care about the rights of women. You are a servant of the Patriarchy. You are a servant of the 1 percent."

This article has been updated with comments from more protesters.
Popular in the Community