WASHINGTON -- The Iowa caucuses stand out as Ron Paul's best hope for an early victory in the Republican nomination battle. His support among likely Republican caucus-goers, as measured by five surveys in November, consistently registers in the double digits. The Bloomberg News survey found Paul in a four-way tie for first, along with Herman Cain, Mitt Romney and Newt Gingrich.
Can Paul win in Iowa? Some pundits think he can. Writing in The Hill, Brent Budowsky argues that Paul can "outperform his rising poll numbers" and win Iowa "because his supporters are very highly motivated and his campaign is very highly organized."
Questions about where Paul in particular stands point to a bigger and more fundamental issue: How accurate are the Iowa caucus polls overall? As polling assignments go, few present the degree of difficulty that Iowa does.
First, the caucus-goer population is relatively small. As the following table shows, past caucus turnout by Republicans has typically represented 4 to 5 percent of Iowa's adult population.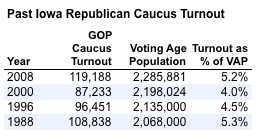 Second, pollsters have no way to identify with precision which Iowa voters will actually participate in the caucuses. The internal polls conducted by some campaigns rely on registered voter lists that indicate which individuals have caucused before, but typically about half the caucus participants are first-timers, making those lists of limited value.
To judge the GOP primary race, most Iowa pollsters start with a sample of all adults or all registered Republicans and independents, and select just those who say they plan to vote in the caucuses. For the Bloomberg poll, for example, that meant selecting 503 likely caucus-goers from a sample of 2,677 registered Republican and independent voters, a segment that represents approximately 11 percent of all Iowa adults.
Other surveys screen more broadly. The sample of likely voters chosen for the Iowa State University survey, for example, represents approximately 18 percent of Iowa adults.
Either way, the screening process is time-consuming and expensive, and yet it yields a "likely caucus-goer" sample two to three times the size of the crowd most expect to actually show up on Jan. 3. That's not a surprise. While self-reported voting intentions have predictive value, they typically overstate turnout. But this is the best that pollsters can do.
All this adds up to a lot more potential for misleading results than in polls on other types of elections. Some pollsters, like Democrat Mark Mellman, argue that we should simply ignore Iowa caucus polls.
Yet over the years, more often than not, the final polls conducted just before the caucuses have been generally close to the final result. Why? We don't know for certain, but the best theory is that the preferences of the actual caucus-goers come reasonably close to those of the broader population of "likely caucus-goers."
That said, there have been some huge misses. Although the final Des Moines Register poll in 2008 -- conducted by Ann Selzer, who also fields the Bloomberg News polls this year -- accurately forecast Barack Obama's victory in the Democratic caucuses, five other Iowa polls fielded at the same time had him nominally behind. Selzer famously got it right because her poll caught the influx of young, independent first-time caucus-goers, who voted overwhelmingly for Obama.
Or consider 1988. The final pre-caucus surveys by Gallup and the Des Moines Register showed televangelist Pat Robertson running in third place with 11 percent (behind George H.W. Bush and Bob Dole). On Caucus Day, Robertson
finished a surprise second to Dole with 24 percent. So in effect, the surveys missed more than half of Robertson's intensely committed, well-organized and previously nonpolitical supporters.
What's the chance that caucus polls are missing fans of Ron Paul this year?
Paul has a strong campaign organization. His highly committed supporters helped him win a series of unofficial straw polls and come within 152 votes of winning the high-stakes Ames Straw Poll in Iowa in August.
Paul's organization wins plaudits from the Iowa Republican insiders who participate in our weekly HuffPost-Patch Power Outsiders surveys. They rate his campaign as the best organized in the state -- even though few are Paul supporters.
More importantly, surveys in Iowa and nationwide consistently show Paul with much greater support among younger voters and independents. These are exactly the sort of voters who do not typically participate in the Iowa caucuses.
And then there's this odd but consistent finding from the Iowa surveys conducted by Selzer this year: Senior voters, those age 65 or older, have been saying they are less likely to attend the caucuses than younger voters, a reversal of the historical pattern.
As a result, 65-and-over voters have been 14 to 17 percent of Selzer's last two "likely caucus-goer" samples, far fewer than the 27 percent who turned out for the 2008 Republican caucuses, according to the network entrance poll. That skew is one reason why Paul does better on Selzer's polls than most of the others this fall.
In a late October op-ed, Selzer speculated whether that age skew might be "an early sign of change," perhaps an advance warning of the sort of "dramatic shifts" that benefited Robertson in 1988 and Obama in 2008. Yet she concluded with a note of caution, "We do not know if this is an early sign of lower turnout; we do not know if this is a sign of general disinterest if not disaffection with the political process."
Selzer's unwillingness to "correct" a similar skew in 2008 was the main reason her survey accurately captured Obama's surge of support from younger, first-time caucus-goers. But lightening may not strike twice. Given all the challenges of polling in Iowa, we really won't know for sure whether Ron Paul has hidden support until the votes are counted on caucus night.

Calling all HuffPost superfans!
Sign up for membership to become a founding member and help shape HuffPost's next chapter