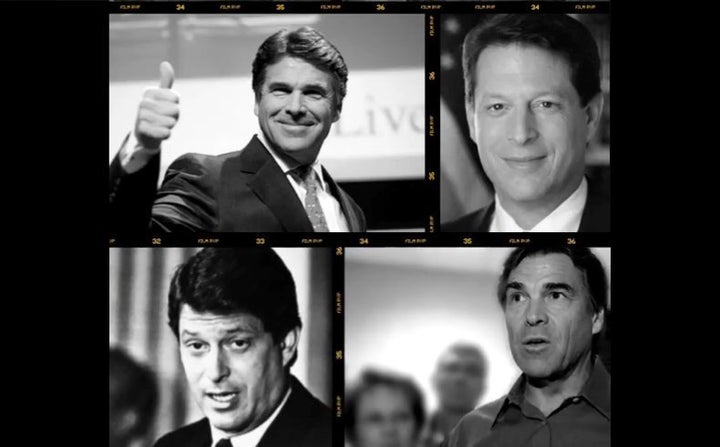 Republican presidential candidate Ron Paul is going after rival contender Rick Perry with a new campaign ad highlighting the Texas governor's past support for former vice president and presidential candidate Al Gore.
"The establishment called him extreme and unelectable, they said he was the wrong man for the job. It's why a young Texan named Ron Paul was one of only four congressmen to endorse Ronald Reagan's campaign for president," says a narrator in the 60-second television spot. "After Reagan, Senator Al Gore ran for president, pledging to raise taxes and increase spending, pushing his liberal values. And Al Gore found a cheerleader in Texas named Rick Perry. Rick Perry helped lead Al Gore's campaign to undo the Reagan revolution, fighting to elect Al Gore president of the United States. Now, America must decide who to trust: Al Gore's Texas cheerleader or the one who stood with Reagan."
Perry served as Texas campaign chairman for Gore during the then-presidential candidate's 1988 run for the White House. The Fort Worth Star-Telegram recently noted that Perry began his political career as a rising Democratic star in the Lone Star State:
A raging liberal he was not. Elected to represent a slice of rural West Texas in the state House of Representatives in 1984, Perry, a young rancher and cotton farmer, gained an early reputation as a fiscal conservative. He was one of a few freshman "pit bulls," so named because they sat in the lower pit of the House Appropriations Committee, where they fought to keep spending low.

But Perry cast some votes and took a few stands that seem to be at odds with his current conservative stances.
According to the Star-Telegram, when it comes to the Perry-Gore connection, the Texas governor likes to say he eventually "came to [his] senses."
Below, video of Paul's new campaign ad.
Popular in the Community