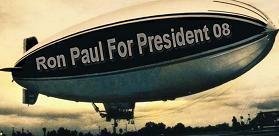 The Ron Paul campaign is gearing up to escalate its battle to destroy the U.S. Constitution in order to save it and to otherwise bugger our imaginations with rampaging insanity by taking the fight to the skies! Pictured, at right, is the Paulites latest atrocity: an artist's concept of what would be the Ron Paul Blimp! The Dread Zeppelin! La dirigible unintelligible! It will float from town to town, and, if the description the Paul supporter behind this idea is accurate, confuse the minds of men!
Imagine.. the mainstream media is mesmerized as the image of the Ron Paul blimp is shown to tens of millions of Americans throughout the day (and throughout the month). Wolf Blizter [sic], stunned and as if in a trance, repeats the words "Amazing, Amazing".
You have to admit, this sounds AWESOME.
As GPS co-ordinates stream to the website a map shows the Ron Paul blimp's location in real time. The local Television stations broadcast its every move. The curious flock together and make a trip to see history in the making. Emails with pictures are sent, then forwarded, then forwarded again. Youtube videos go viral and reach tens of millions of views. Ron Paul becomes the first presidential candidate in history to have his very own blimp. The PR stunt generates millions upon millions of dollars worth in free publicity, and captures the imagination of America.
But why stop there? Why don't we raise some money to buy Ron Paul his very own kangaroo? He can climb in the pouch and hop from campaign stop to campaign stop! Wolf Blitzer will look on, dumbfounded, muttering, "Stunning...wondrous!"
The thing is, these Paulites are deadly serious about this. They claim to have raised over $98,000 toward the $350K they think will make this blimp a reality. And if the picture below is any indication, the next terrorist-themed movie they aim to fetishize may be Black Sunday.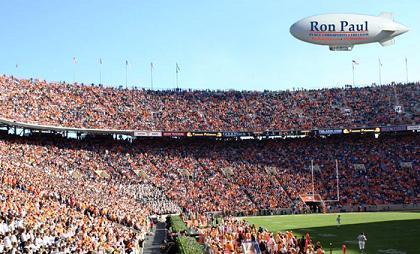 Really. Isn't it time to consider whether we might all be better off if we simply gave in to Ron Paul's demands?
Popular in the Community