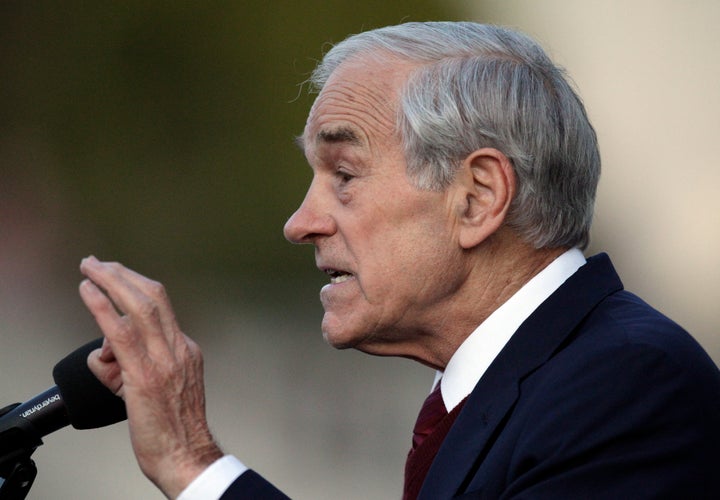 WASHINGTON -- This may be the Ron Paul gambit we've been waiting for.
An obscure rule change made four years ago by the Republican Party has opened the door for Paul forces to cause a major headache for Mitt Romney when he tries to nominate his choice for vice president at the party convention in August.
The Republican National Committee could change Rule 40 in the week leading up to the convention, but that would risk the appearance of jamming Romney's nominee through, and likely cause a subsequent backlash.
Republican officials are still waking up to the fact that Paul loyalists -- who control the majority of delegates in Maine, Minnesota and Iowa, and have sizable contingents in a number of other states -- could very likely enter Paul's name into nomination for vice president. This would force a roll call vote where each delegate of each state is polled on the floor of the convention.
Such a move would transform a symbolic procedure that has taken mere minutes in the past several conventions into a chaotic and time-consuming spectacle that could eat up the better portion of a day.
Not only would such a floor fight step all over the message of party unity and strength that the Romney campaign hopes to drive through the convention, it would also open the door for alternatives to Romney's choice to gain momentum and further drive the process off the rails.
For example, if Romney chose Sen. Rob Portman (R-Ohio) as his vice presidential pick, but the Paul forces leveraged their impressive foothold in several states to nominate Paul from the floor, then someone like Sen. Marco Rubio (R-Fla) could emerge as the preferred pick for many delegates as the convention goes into a roll call vote. And Rubio's name could be entered into nomination, in addition to Paul's, if a plurality of five states voted to nominate him.
Where things would go from there is anybody's guess.
It is the word "plurality" that is key.
On January 17, 2008, eight months before the GOP convention in Minneapolis-St. Paul, the RNC's rules committee changed the process for nominating the presidential nominee or vice presidential nominee, so that instead of requiring a majority of delegates from five states, a candidate needed only a plurality of delegates from five states.
The alteration came during a primary where Sen. John McCain (R-Ariz.) was competing with Romney, former Arkansas Gov. Mike Huckabee, former New York City Mayor Rudy Giuliani, former Sen. Fred Thompson (R-Tenn.) and Rep. Paul (R-Texas).
Morton Blackwell, a Republican committee man from Virginia and a veteran of the conservative movement, spearheaded the change during the January 2008 meeting, arguing that if multiple presidential candidates split delegates from a large number of states, then it was possible that no candidate would be able to muster a majority from five states, and the party would be prevented from having a nominee.
Blackwell originally proposed that the number of states be reduced from five to one, according to a source who was at the January meeting but revealed its details on condition of anonymity. But then he altered his amendment, so that it retained the five-state threshold but changed the requirement for each state's support from majority to plurality.
The impact of the rule change on vice presidential nominations was not discussed. The change took effect at the 2008 convention, but it was so overlooked at the time that when McCain was nominated, the chair of the convention used the language referring to his having the support of a majority of five states, instead of a plurality.
Blackwell could not be reached on Wednesday. A secretary at The Leadership Institute, the conservative group he founded in 1979, said he was on vacation all week.
Former New Jersey committeeman David Norcross, who chaired the January 2008 meeting where the rule was originally changed, told The Huffington Post that he did not know why they had changed the rule.
"No question it lowers the bar" for those who want to undermine the choice of the presidential nominee, Norcross said. "I cannot for the life of me figure out why we would lower the bar, why we would want to lower the bar."
Arizona committeeman Bruce Ash, who is currently the chair of the RNC rules committee, also said he was not aware of the change to Rule 40.
"I don't know that this is a concern that has jumped up on to anybody's radar screen," Ash said. "I suppose under the right set of circumstances, there might be some sort of potential competing name. I doubt it."
But there are some in the party who have recently become aware of the Rule 40 situation, and are trying to alert others to its potential for disruption.
Paul supporters have waged an intense and often contentious battle at the state level to win as many delegate spots to the national convention as possible. This has often meant fighting inch-by-inch through every step of the arcane and often confusing processes that each state uses to determine who represents it at the national convention. HuffPost has written extensively, for example, about how this works in Iowa, though each state has its own unique methodology.

A Paul adviser did not respond to a request for comment, but the speculation has been that Paul wants to use his convention strength to gain a prime-time speaking slot or to force changes in the Republican platform, and his campaign has in fact articulated the issues it wants to see prioritized.
Yet, the legitimate prospect of a floor fight has not yet surfaced until now.
And while the change to Rule 40 four years ago from a majority requirement to a plurality requirement also applies to the presidential nomination, it is more relevant to the vice presidential pick. That's because delegates who are bound by state party rules to vote for Romney -- a restriction some are disputing -- are not bound at all on the question of who should be the vice presidential nominee.
There are states, such as Nevada, for example, where Paul supporters have managed to win 22 of 28 delegate spots. Those delegates are bound by state rules to cast their vote on the presidential nominee question for Romney. However, those restrictions don't apply to the vice presidential nominee. Nevada's delegates are therefore free to support whoever they want for vice president.
Thus, in the context of the vice presidential nomination, you can add Nevada to the list of states -- in addition to Minnesota, Iowa and Maine -- where Paul forces control majorities of delegates and would likely support placing Paul's name into nomination for vice president.
This is before you even get to the question of which states might have a plurality of delegates who want to support Paul --or for that matter his son, Sen. Rand Paul (R-Ky.) -- for vice president.
Paul said in a recent statement that all together, he estimates to have about 200 delegates headed to Tampa that are bound to him, with another 300 or so delegates supporting him but bound to Romney. But again, those 300 delegates are bound to Romney only on the question of the presidential nominee, and not on the question who should be the party's vice presidential nominee.
A Romney campaign adviser did not immediately respond to a request for comment, and neither did an RNC spokesman.
Popular in the Community