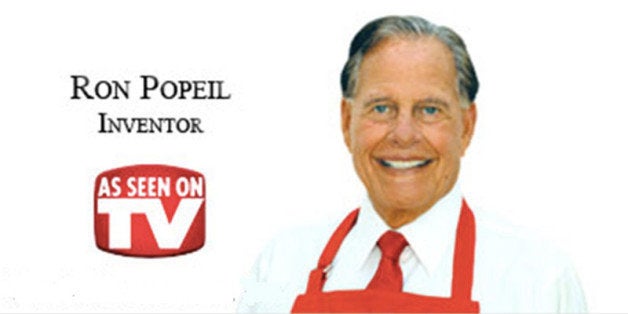 Ron Popeil is the voice that permeated your half-conscious state, half-piquing your interest with his late-night, "But wait, there's more!" promise. He didn't exactly lull you to sleep and he didn't keep you awake, either. You watched, bleary-eyed, as the infomercial host convinced you of your need for a spray can that could disguise your dad's thinning hair or an automatic pasta maker.
The inventor was born in 1935 in New York City to Samuel and Julia Popeil. His parents split when he was six, and Popeil spent the early years of his life in foster care, and then under the guardianship of his grandparents. At 17, Popeil began to work for his dad who was also an inventor and businessman. The senior Popeil crafted the first Chop-O-Matic and Veg-O-Matic, but it was his son who masterminded the marketing behind the sales, doing public demonstrations and eventually taking the products to television in the early '60s.
Popeil's retail tactics were enormously successful, and he continued to broadcast his merchandise on the small screen, earning the attention of millions. Even though Popeil stayed up late with you, droning on about doodads that could work miracles, there are some fascinating things about him that aren't so publicly advertised on the boob tube.
1. Weird Al Yankovic wrote an entire song about Ron Popeil.
And Popeil's half-sister, Lisa, sang the backup vocals. The lyrics of the 1983 tune "Mr. Popeil" pokes fun at many of the inventor and his father's best-sold products, like the Veg-O-Matic and the Pocket Fisherman, and hyperbolizes a couple of their functions.
Yankovic, as he is wont to do, mocks Popeil in the little ditty, but the pair appear to have an amicable relationship. Popeil posted this cheery photo of himself with two of his daughters and the parody artist to his Instagram account.
2. The original Improved Veg-O-Matic II is in the Smithsonian Museum.
It earned its spot in the museum, ostensibly, because the Veg-O-Matic paved the way for televised infomercials. The Popeil family donated the revolutionary device in 1986, along with a recording of a commercial. This manually-operated food slicer, dicer and chopper was actually invented by Ron's father, Samuel, with whom Ron had a rocky relationship. It was originally named the Chop-O-Matic (as in the video) and was later renamed, redesigned and pitched as "the greatest kitchen appliance ever made."
Since the product can slice and dice a whole ton of foods, pitchmen would have trouble making sales, since they'd have to carry around a weighty amount of groceries to prove the Chop-O-Matic's worth. As Malcom Gladwell writes, "The pitchman could no longer afford to pitch to just a hundred people at a time; he had to pitch to a hundred thousand. The Veg-O-Matic needed to be sold on television, and one of the very first pitchmen to grasp this fact was Ron Popeil."
3. Ron Popeil and Flavor Flav are friends in some capacity.
Popeil captions this Instagram: "At Flavor Flav's concert."
Whether it's strictly business or beyond, the unlikely pair have something brewing.
In the informercial for Popeil's most current project -- yes the 79-year-old is still inventing -- at least one recognizable guest appears in the studio audience.
Yup. The Olive Oil Fryer (also referenced as the 5in1 Fryer) hasn't yet been released to the market, but a preview of the infomercial aired on Rock Center with Brian Williams in 2013. Popeil gives old Flav a shoutout on Facebook, too.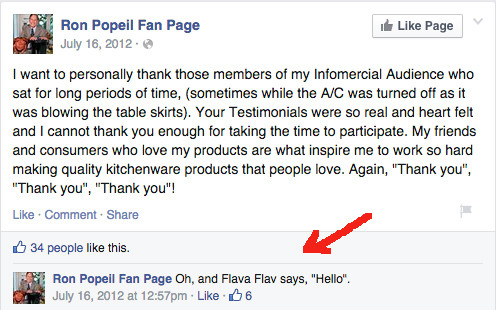 4. In 2013, MSNBC erroneously stated that Ron Popeil was dead.
5. Ron Popeil plays himself in an episode of "Futurama."

In the 1999 episode, "A Big Piece of Garbage," Popeil hosts, fittingly, the Academy of Inventors Annual Symposium. Popeil is credited for inventing the science that enables human heads to be kept alive in jars, which is how his appears in the episode.
6. Ron Popeil is in the Guinness Book Of World Records for owning the largest collection of olive oil bottles.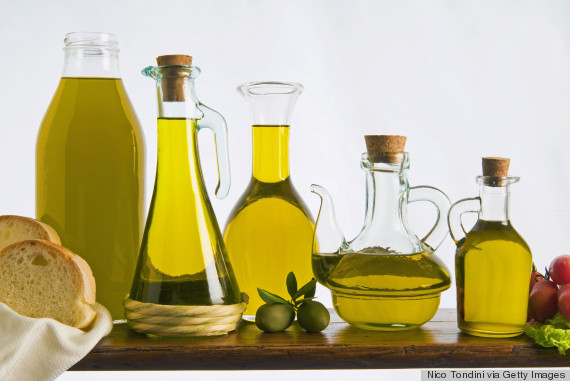 As of October 1, 2011, Popeil's collection consisted of 2,440 bottles. Cool.
7. A fictional product invented by the non-fictional Ron Popeil appears on an episode of "The Simpsons."
8. It is improbable that Ron Popeil will ever run out of ideas.

Correction: A previous version of this article misidentified a lyrical reference in Weird Al's "Mr. Popeil."
There's a lot you need to know about the salesman of the century.
Related
Before You Go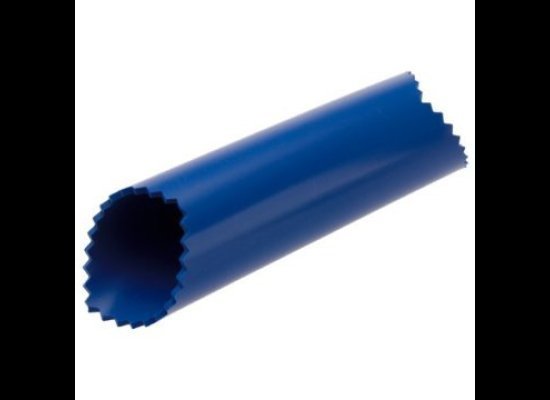 Useless Kitchen Gadgets