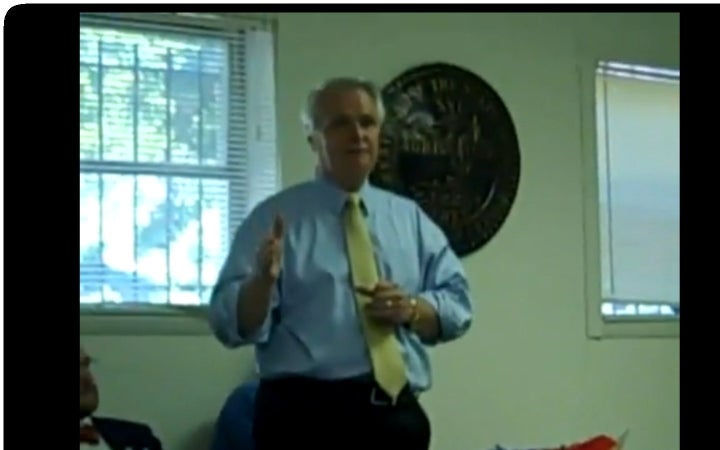 At a campaign event in Chattanooga, Tennessee, Lieutenant Governor and gubernatorial candidate Ron Ramsey (R) said that freedom of speech, guaranteed by the First Amendment, may not apply to Islam because it could be considered "a cult."
During a question and answer session, an attendee said that he was concerned with an "invasion" from "the Muslims." Ramsey responded that the uproar over a "mosque" (in reality, the expansion of an existing Islamic community center) is justified because Sharia law is "scary":
... I've been trying to learn about Sharia law. I've been trying to learn what it is: not good, if that's what's going on. You can even argue whether being a Muslim is actually a religion, or is it a nationality, a way of life, or a cult -- whatever you want to call it -- and we do protect our religions. But at the same time, this is something that we are going to have to face.
Ramsey, who trails Rep. Zach Wamp in the Republican primary, said that he was "all about the freedom of religion," but "you cross the line when they start trying to bring Sharia law into the United States."
WATCH: Ron Ramsey explain why he is opposed to the Murfreesboro Islamic Center (question begins at the 3:08 mark):
"My concern is that far too much of Islam has come to resemble a violent political philosophy more than peace-loving religion," he said in an email. "It's time for American Muslims who love this country to publicly renounce violent jihadism and to drum those who seek to do America harm out of their faith community."
The Islamic Center of Murfreesboro has become a target for conservatives after a 52,000 square foot expansion was approved. Lou Ann Zelenik, a Republican candidate running for Congress, called the center an "Islamic training center," the AP reported Saturday. Over 250 Muslim families live in the community.
Popular in the Community