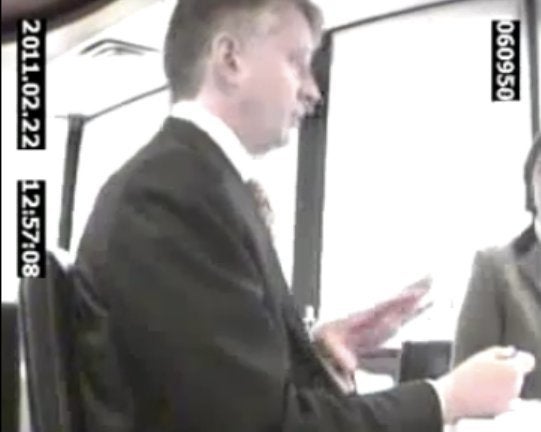 UPDATE: Ron Schiller, the NPR fundraising executive whose comments criticizing the Tea Party and questioning the network's need for federal funds, has resigned his post effective immediately, the network announced on Tuesday night. Schiller, who announced that he would be leaving NPR for another job last week, had been due to exit his current post on May 6.
Schiller issued this statement:
"While the meeting I participated in turned out to be a ruse, I made statements during the course of the meeting that are counter to NPR's values and also not reflective of my own beliefs. I offer my sincere apology to those I offended. I resigned from NPR, previously effective May 6th, to accept another job. In an effort to put this unfortunate matter behind us, NPR and I have agreed that my resignation is effective today."

ORIGINAL POST:
A top NPR fundraiser was caught harshly criticizing the Tea Party, defending the firing of Juan Williams and saying that NPR would be better off without government funding in a sting operation that caught on tape. (Watch video below.)

The sting was overseen by James O'Keefe, the conservative activist whose previous videos targeting ACORN eventually led to that organization's demise, even though the video was found to be heavily doctored. O'Keefe also hatched a plot to ensnare a CNN reporter on a boat with sex toys last September, and, in May of last year, he plead guilty to breaking into the office of Sen. Mary Landrieu, a Louisiana Democrat.
In the video, Ron Schiller, NPR's senior vice president for fundraising, meets with two members of a fake group that claims to be a Muslim education fund.
Schiller announced last week that he is leaving NPR, and he is due to start a job at the Aspen Institute. He was not involved in editorial content while at NPR. In a statement, NPR said it was "appalled" by Schiller's comments. (Read NPR's full statement below.)
Among other things, Schiller calls the Tea Party "fanatically involved in people's personal lives and very fundemental[ly] Christian—I wouldn't even call it Christian...basically, they believe in white, middle America, gun-toting—it's pretty scary. They're seriously racist, racist people."
He also defends the firing of Juan Williams. "What NPR did I'm very proud of. What NPR stood for is a non-racist, non-bigoted, straightforward telling of the news," he says.
And Schiller further says that it would be better for NPR not to receive funding from the government.
"Very little of our funding comes from the government, but they act as if all our funding comes from the government... it is very clear that in the long run we would be better off without federal funding," he says.
The video released on YouTube runs a little over 11 minutes. O'Keefe also posted the full, two-hour video online.
NPR spokesperson Dana Davis Rehm responded to the video:
The fraudulent organization represented in this video repeatedly pressed us to accept a $5 million check, with no strings attached, which we repeatedly refused to accept.

We are appalled by the comments made by Ron Schiller in the video, which are contrary to what NPR stands for.

Mr. Schiller announced last week that he is leaving NPR for another job.
WATCH:
(Note: this article has been corrected to reflect Ron Schiller's job status. He had originally been called a "former" fundraiser for NPR by the network, but they clarified later on Tuesday that his resignation from his job was effective in May.)

Related
Popular in the Community