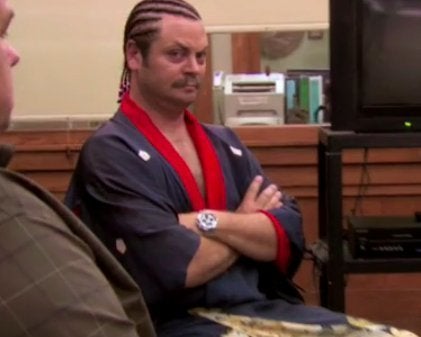 One of the highlights of last season on "Parks and Recreation" was the introduction of Megan Mullally as the ex-wife of Ron Swanson (Nick Offerman), the Parks and Recreation Director for the city of Pawnee. In that episode, we discovered that the unflinchingly stolid, Ayn Rand-loving Ron has no control over the spell of sexual exuberance and passion inspired by his manipulative ex-wife.
Mullally's character returned on Thursday's episode of "Parks," and once again drove Swanson to
even more absurd heights of uncontrollable insanity. After initially going out with Tom Haverford (Aziz Ansari) to help Tom get back at Ron for going out with his ex-wife, Mullally once again seduces Ron with her psychotic charms and wiles.
Generally uncomfortable with outward display of feelings in any regard, Ron bafflingly finds himself with cornrows, wearing a kimono and getting trapped in the frantic sexual hurricane that occurs whenever Tammy and Ron are near each other (The chemistry between the two is real -- Offerman and Mullally are married in real life.)
In this clip, Ron's co-workers in the Parks department hold an intervention, led by Leslie Knope (Amy Poehler), to cure him of his Tammy problem for good.