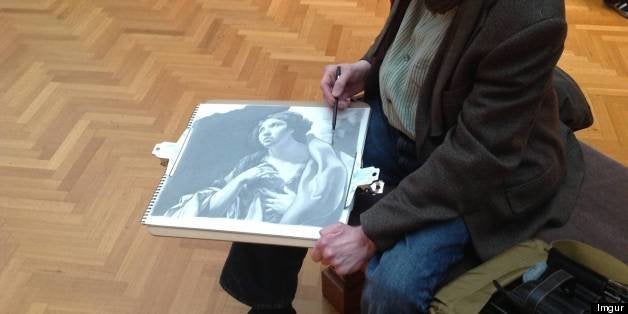 Ron Wilson is a professor at Case Western Reserve University, and has a genuine knack for recreating the images of his favorite artworks. From paintings to sculptures, he produces uncanny sketches of museum treasures from the corners of exhibition halls, mostly unnoticed by art admirers around him. We caught up with Mr. Wilson via email to ask him a few questions about his drawing ability, his favorite museums and how he feels about his newfound fame online. (Scroll down for interview)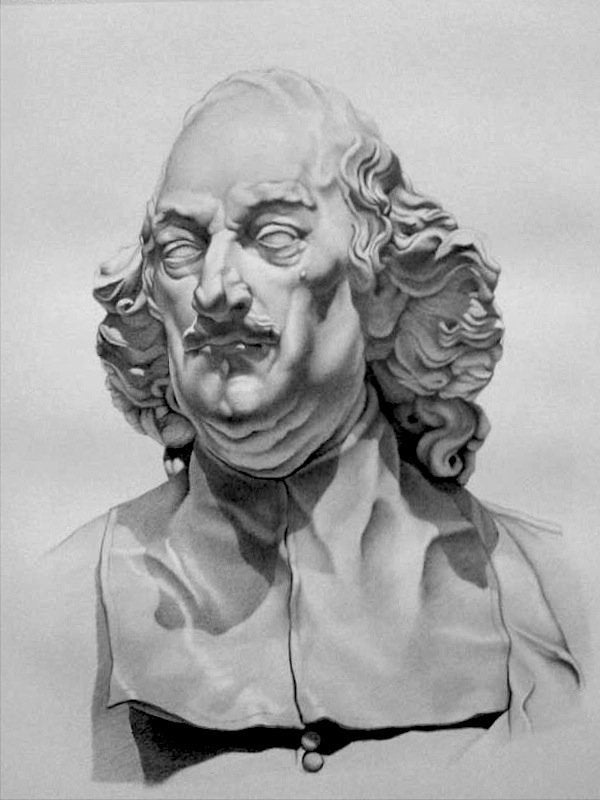 Ron Wilson's Sketches
The Huffington Post: How did the image of you drawing in the museum end up on Reddit?
Ron Wilson: It seems the man who asked to take a photo of me drawing at the museum assumed that also included permission to post my image on the Reddit chat room. I heard of it from a friend who lives in Spain.
HP: The photo has received over 400 comments. What do you think about the newfound fame?
RW: I'm not sure if this counts as fame or infamy. The Internet is somewhat of a mysterious place for me. Receiving instant attention online is certainly not the reason I was at the museum that day drawing. Doing studies of masterpieces at a museum for me is a form of continued study. So my intention when drawing in a museum is to study how a particular artist problem-solved elements of form, gesture, perspective, composition, light. It's never about just making a drawing –- a copy; it's about understanding.
HP: How often to you head to the museum to draw?
RW: Whenever I have a free moment. Sometimes I have to go for a month or two without getting to visit the museum, but when I have an open hour or hours I'll squeeze in a quick visit –- even an hour helps. Usually summers and holidays are my prime times.
HP: What type of artwork do you enjoy sketching? Do you have a favorite genre/artist?
RW: Primarily if I'm not drawing a live model I enjoy drawing 17th, 18th, and 19th Century French sculpture –- the Baroque and the Neo-Classicists. Favorite classical draftsmen include: Jean-Auguste-Dominique Ingres, Pierre Paul Prud'hon, etc. Classical Realism is my passion.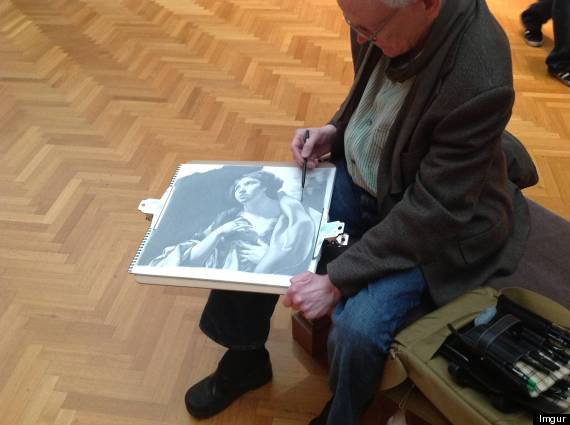 The original image of Ron Wilson uploaded to Reddit last week.
HP: You're a theater professor at Case Western University. Did you train as a visual artist as well or is this simply a hobby?
RW: Yes, I'm the Chair of the Theater Department at Case Western Reserve University and serve as the Director of the MFA Acting Program in concert with the Cleveland Play House. I was lucky enough to have studied both art and theatre in college at Wichita State University. After being immersed in the theater profession for almost 50 years as an actor, a solo mime performer, a playwright, a director and teacher, I found I needed to return to the figurative art work I'd done in my youth. Six years ago, I took the chance and applied to an intensive figure drawing workshop in Paris. My art and theatre work have always complimented and fed each other in a symbiotic way. I suppose that is why I have always loved these art forms.
HP: Is the Cleveland Museum of Art your location of choice for drawing?
RW: The Cleveland Museum of Art is amazing, and I have drawn classical statuary and portrait paintings there for the past few years.
HP: If you could draw at any museum in the world or in front of any great artwork, which would it be?
RW: I began drawing in museums in the Louvre in 2007, and now I return to the Louvre to draw whenever I'm in Paris. The collection of French sculpture is extensive and exquisite. There is a small room in the museum (the Cour Puget) filled with sculptures created by artists as application pieces to the French Royal Academy. Bringing your drawing up to the level of artistry exhibited in these sculptures is an impossible task, but one that is a fabulous challenge. This is my favorite place to draw –- my hideaway.
Popular in the Community