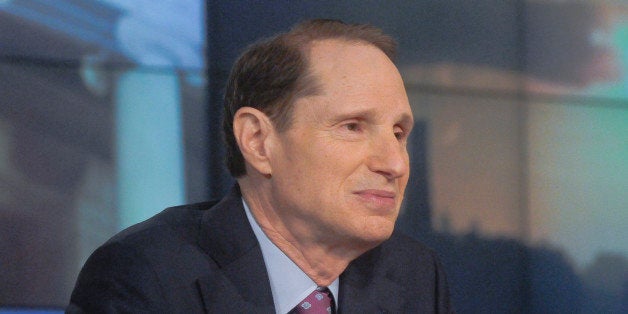 WASHINGTON -- Sen. Ron Wyden (Ore.) is a key Democrat whom Republicans want on their side in their quest to grant President Barack Obama the authority to fast-track secretive trade deals. But a new poll released Thursday by a progressive group indicates that if Wyden gets on the trade train, he could face backlash from his constituents.
Half of the Oregon voters polled said they would be less likely to vote for Wyden in 2016 if he joins Republicans to approve the Trans-Pacific Partnership, a massive trade deal between the United States and countries in the Asia-Pacific region, as well as fast-track authority, which Obama is seeking in order to get TPP and other trade deals through Congress without amendments or filibusters.
The poll was conducted earlier this week by Public Policy Polling on behalf of Democracy for America, a progressive political action committee, and included 537 Oregon voters.
Seventy-three percent of respondents indicated that they oppose "Congress giving the president fast-track authority for the NAFTA-style trade agreements like the TPP." If fast-track authority is in place, lawmakers can vote only "yes" or "no" on final trade packages.
Wyden, who is up for re-election next year, hasn't faced major re-election problems in the past, but Republicans are considered very competitive in the state.
The TPP could put Wyden, who is ranking member of the powerful Senate Finance Committee and is considered friendly to trade advocates, in a tough political position. The president is urging Congress to pass fast-track legislation, but many Democrats say the TPP includes provisions that are harmful to labor and environmental rights and should receive closer congressional scrutiny.
Rep. Alan Grayson (D-Fla.) told The Huffington Post that there are other Senate Democrats more likely to "toe the Chamber of Commerce 'free trade' line than Wyden." But he said he certainly believes there will be fallout for Democrats who support fast-track authority and the TPP.
"Middle-class voters recognize that these trade giveaways destroy U.S. jobs," he said. "Even a dog knows when it's being kicked."
The Office of the U.S. Trade Representative has contended that "TPP will be the most progressive trade agreement in history, breaking new ground on labor and environmental protections."
In January, Wyden raised concerns that a fast-track bill would prevent a public debate on TPP. "The American people have made it very clear that they will not accept secretly written agreements that don't see the light of day until the very last minute," he said at a congressional hearing.
Wyden is reportedly seeking some changes to fast-track legislation and is working with Rep. Paul Ryan (R-Wis.) to make them, The Hill reported earlier this month.
Keith Chu, a spokesman for Wyden, told The Huffington Post that the senator has "for many years pushed for trade policies that benefit middle class Oregonians."
"That means more transparency and oversight in trade negotiations, much stronger enforcement of the rules to hold trade cheats accountable, strong protections for labor and the environment, and new rules that are fundamental to preserving free speech and the exchange of ideas over the Internet," he added.
But fast-track skeptics say Wyden should take a stronger stance against secretive trade deals.
"Senator Ron Wyden can either stand with the Republicans who want to pass the job-killing Trans-Pacific Partnership or he can stand with the people of Oregon who oppose it, but he can't do both," Charles Chamberlain, executive director for Democracy for America, said in a statement.
Before You Go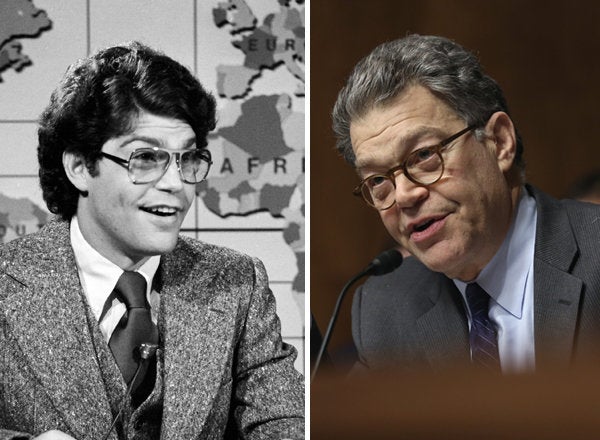 Politicians Then And Now
Popular in the Community