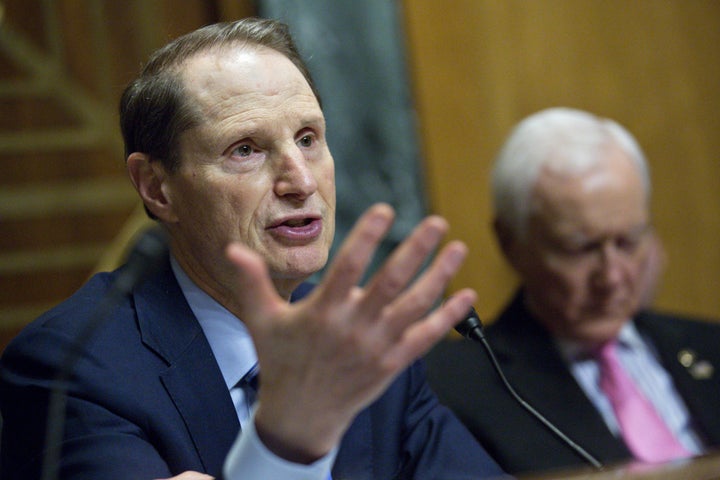 WASHINGTON -- Last week, Republican leaders in the Senate held open a floor vote for an hour, trying to corral support for legislation that would have given the FBI the power to search Americans' browser histories without a warrant. That attempt failed narrowly, so the upper chamber will likely give it another go.
At least, that's what Sen. Ron Wyden (D-Ore.), a staunch privacy advocate, predicts will happen.
When senators were first alerted that the provision would be brought up, Wyden thought the move seemed sudden. Lawmakers didn't have much time to figure out what they were voting on.
"A conservative came up to me and said, 'Do you think people know that under this [bill], without any court approval the government can get people's browsing history?'" Wyden told The Huffington Post. "I said, 'I don't think most of the Senate knows that.'"
The measure, authored by Sens. John McCain (R-Ariz.) and Richard Burr (R-N.C.), would have allowed the FBI to use an administrative subpoena to gather people's digital records, including email, chat records and browsing history. The provision would have been attached to a larger spending bill.
McCain and others called for its passage in light of the Orlando, Florida, massacre, arguing that the measure would help the FBI better identify terror threats.
In a floor speech leading up to the vote, Senate Majority Whip John Cornyn (R-Texas) said the amendment would help the FBI to "connect the dots," which he added is the "biggest problem that they've had in identifying these homegrown, radicalized terrorists, like the shooter in Orlando."
Burr said that under current law the FBI is forced to wait for court approval before it can access web history, which he claimed isn't feasible during an emergency.
But Wyden called that a cop-out. Under the USA Freedom Act, in a section he said he wrote himself, the FBI is able to "demand all of these records immediately in an emergency and get court approval after the fact."
Indeed, the electronic records of Omar Mateen, the man who pledged allegiance to the Islamic State moments before attacking the gay club in Orlando, had been previously reviewed by authorities twice, according to FBI Director James Comey. That's why Wyden considers the new push a "knee-jerk" reaction to Orlando.
"If you know what websites a person is visiting, it's akin to spying on their thoughts," Wyden said, adding that he's geared up to fight whenever Republican leaders try to bring the measure up again.
The 58-38 vote didn't reach the 60-vote threshold needed to overcome a filibuster, but Senate Majority Leader Mitch McConnell (R-Ky.) flipped his vote to no at the very end, which allows him to bring the measure back up when he sees fit. On Friday, a spokesman for McConnell said there were no scheduled announcements on the amendment. 
"We only won by a couple of votes, but we still have to win again because there is going to be a revote," said Wyden, who vowed to talk to as many of his colleagues as he could to round up sufficient opposition.
In particular, he's appealing to senators who voted last year against allowing the National Security Agency to continue its bulk metadata collection program of Americans' phone records.
"Web browsing history is also incredibly revealing," Wyden said. "If you know a person visits the website of a mental health professional, or a substance abuse support group, or a political organization, or a particular dating site, you know a lot about that person. To me, this level of intrusiveness ought to come with court oversight and they ought to get a court warrant unless it's an emergency."
Calling all HuffPost superfans!
Sign up for membership to become a founding member and help shape HuffPost's next chapter