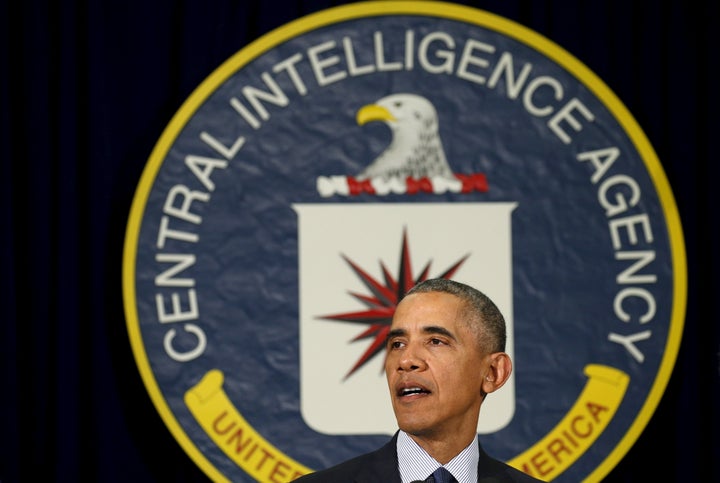 WASHINGTON ― If President Barack Obama wants to codify his legacy on banning the use of torture in U.S. intelligence gathering, he should declassify the 6,700-page CIA torture report and make it a federal record, according to a top Senate Democrat.
Ron Wyden, a vocal member of the Senate intelligence committee, has long urged the administration to declassify the report with necessary redactions. But now he's pressuring Obama to make the report a document of federal record before he leaves office ― protecting it from possible destruction under a Donald Trump presidency.
With Trump heading to the White House in just under two months, the Oregon Democrat told The Huffington Post it's "more important than ever" that the American public know what is in the full torture report.
Something Obama "can do today on this," Wyden said, is "make sure the report isn't destroyed and lost to history."
"All that the president needs to do is direct that the report be a federal record under the Federal Records Act, and an agency record pursuant to [the Freedom of Information Act], and then it can be disseminated widely to appropriate, cleared agencies," Wyden said in his Capitol Hill office on Wednesday.
On his second day in office Obama used his executive authority to ban "enhanced interrogation" techniques authorized by President George W. Bush, but his administration decided not to press charges against individuals involved in the torture program. Prompted by revelations that the CIA had destroyed videotapes of some of its interrogations, the Senate intelligence committee voted in 2009 to investigate the CIA's detention and interrogation program. In December 2014, the Democrats on the committee released a 525-page executive summary of their findings. They concluded that the CIA's interrogation program used techniques far more brutal than it had previously disclosed and misled the public about the efficacy of the program in producing intelligence.
The full report remains classified. Lawyers who represent detainees at Guantanamo who were previously held at CIA black sites say the executive summary of the torture report reveals only a small part of the abuse their clients endured.

The Obama administration has been less than eager to declassify the report, with agencies directed to keep their copies unopened. Even less transparency is expected from his successor. Trump, a real estate businessman with no prior government experience, said earlier this year that he would "bring back a hell of a lot worse than waterboarding."
Trump's sympathetic stance toward torture is why Wyden thinks the president-elect wouldn't think twice about the destruction of a report long mired in controversy.
"It seems to me ― and this'll be the argument we'd be making to the administration ― that the president wants a legacy issue," Wyden said. "This is something he can do today that will be very meaningful, and frankly we're very concerned that it's just going to get destroyed and that will be that."
Making the torture report a federal record would not require its declassification, but making it an agency record would open it up to a Freedom of Information Act request. Even then, it can be redacted in part or full. 
The report, an "exhaustive history with hundreds of footnotes," should "at a minimum" be protected, Wyden said. He later clarified it has tens of thousands of footnotes.
Wyden pointed to Trump's campaign promises, the views of those he's surrounding himself with, and comments made by his Republican colleagues as proof there's a real threat the report could be lost forever.
In January 2015, during his first month as chairman of the Senate intelligence committee, Sen. Richard Burr (R-N.C.) requested that the White House return every copy of the document that had been distributed to the administration officials and federal agencies. In a letter to Obama, Burr wrote: "I consider that report to be a highly classified and committee sensitive document."

"It should not be entered into any Executive Branch system of records," Burr continued.
At the time, Burr also said he planned to give back a critical secret document, the Panetta Review, that underpins the entire Senate investigation into the CIA's torture program.
Burr never got the copies of the torture report back; the White House said it would "preserve the status quo."
But once Republicans have complete control of the federal government from the White House on down, it only follows that Burr would again request to have the last copies of the secret report returned. And what he does with them after that is pretty much up to him.  
That means the fate of the infamous document would depend on individual senators like Wyden fighting to keep it in existence until it can be declassified.
Sen. Dianne Feinstein (D-Calif.), who led the intel committee during the investigation and when the report was released, is also pushing for Obama to declassify the document.
She hasn't always been supportive, however. A New Yorker report published in the summer of 2015 said Wyden, then-Sen. Mark Udall (D-Colo.) and Sen. Martin Heinrich (D-N.M.) rarely aligned with Feinstein on surveillance and tried to convince her to push for the entire declassification of the report.
"Feinstein, concerned that the information in the full report would be too inflammatory, decided that the executive summary sufficed for the time being," according to the New Yorker.
She's changed her mind since, and handed a letter to Vice President Joe Biden to give to Obama last week, urging him to make it public.
"The time has come to declassify the report, allow the general public to make up its own mind," Feinstein said, according to Politico. At least, those that'll read 7,000 pages."
So far, the White House response has not been encouraging.
"It was not a full-throated: 'We are gonna declassify the report," Wyden said of recent statements coming from the administration. "So we've got some heavy lifting to do on that."
In the final days of the Obama administration, Wyden says, he plans to focus on preserving the torture report so people understand what the CIA engaged in when interrogating suspected terrorists, and "that it's contrary to our values; contrary to our laws."
"I want to amp up the concern I have to make sure that this full report is not destroyed," he said. "That's all the more reason why the report ought to be put in hands of American people so that you can have a real debate about this."
White House spokesman Ned Price didn't comment on Obama's plans for the report or on calls by Democratic senators for it to be declassified or made a federal record.

"The President supported the declassification of the Summary, Findings, and Conclusions of the Senate's report on detention and interrogation, with appropriate redactions for national security, in part to ensure certain practices were never employed again," Price said. "We also have made clear that U.S. law prohibits torture without exception, and that all U.S. personnel are prohibited from engaging in torture at all times and in all places. Similarly, we reaffirmed our commitment to the Convention Against Torture, and have strongly backed Congressional efforts to codify key interrogation reforms from the Executive Order that the President signed nearly 8 years ago."
"To be sure, we have owned up to past mistakes and helped to right wrongs ―both at home and abroad," Price continued. "As the President said in 2014, 'No nation is perfect. But one of the strengths that makes America exceptional is our willingness to openly confront our past, face our imperfections, make changes and do better.' That is precisely what we have done and will continue to do."
When Feinstein disseminated the copies nearly two years ago there were eight: one sent to the White House, two to the CIA (one for the inspector general, which was "mistakenly" deleted) and the rest to five different agencies.
The White House declined to comment Thursday on the status of the various copies.

Jessica Schulberg contributed reporting. 
Calling all HuffPost superfans!
Sign up for membership to become a founding member and help shape HuffPost's next chapter