The stunned, angry reactions followed reports earlier this week that troops in military fatigues with "police" patches and no other obvious identification grabbed and detained anti-racism protesters in Portland. The squads — which were dispatched by DHS — have been manhandling protesters since at least Tuesday, Oregon Public Broadcasting reported. It's not clear why Portland was targeted by the DHS crackdown.
Sen. Ron Wyden (D-Ore.) blasted the "paramilitary assaults" by an "occupying army."
It's "painfully clear this administration is focused purely on escalating violence without answering my repeated requests for why this expeditionary force is in Portland and under what constitutional authority," he said in a statement from members of Oregon's congressional delegation demanding an investigation. "The Office of Inspector General must investigate Trump's assault on Americans' constitutional rights now."
Fellow Democratic Sen. Jeff Merkley accused Homeland Security and the Justice Department of engaging in "acts that are horrific and outrageous in our constitutional democratic republic."
For her part, Oregon Gov. Kate Brown (D) denounced the squads as "political theater" by President Donald Trump and his acting Homeland Security chief Chad Wolf to provoke violence and terrorize Oregonians.
Wolf has insisted his forces are battling "violent anarchists" and that Portland has been "under siege for 47 days" — a statement Brown dismissed in a Washington Post interview Friday as a fabrication and a "deliberate effort to provoke."
In a statement on the DHS website, Wolf's grievances about "violent anarchists" in Portland consisted largely of a long list of "graffiti" at various sites in the city, damaged fences, and "throwing animal seed at officers."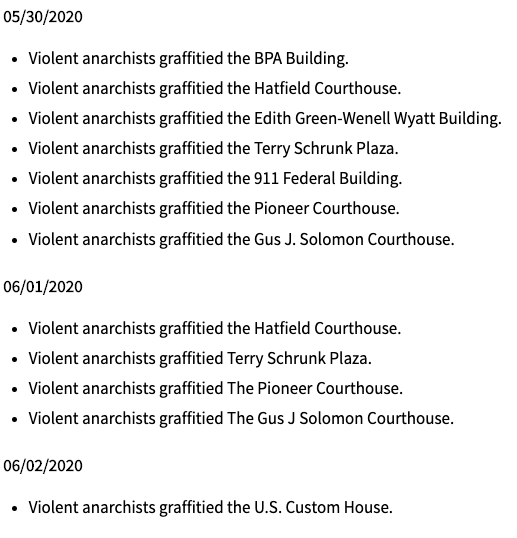 Meanwhile, the American Civil Liberties Union sued DHS and the U.S. Marshals Service on Friday to block federal law enforcement from "dispersing, arresting, threatening to arrest, or using physical force" against journalists or legal observers tracking the federal actions, according to an ACLU statement.
Brown told the Post that the squads have "nothing to do with public safety" and that the intent is to "pour gasoline on the fire" as part of a political strategy to demonize protesters.
"We know that things were calming down," she said. "We know that the presence of federal officers has inflamed the streets."
Over the weekend, a protester was severely wounded after he was shot in the face by federal marshals using ammo classified as "less lethal." The DOJ Office of Inspector General has launched an investigation into the shooting.
If Homeland Security was "really interested in helping us, they would have had conversations first, and taken actions later," Brown said. "Instead it's ready, fire, aim."
The governor said she told Wolf: "We do do not want you here. You are exacerbating the situation."
She said Wolf was "not interested in conversation."
Popular in the Community