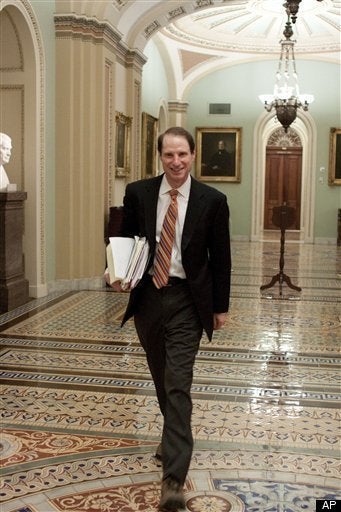 Sen. Ron Wyden (D-Ore.) has vowed to prevent the Senate from extending any other expiring laws until it extends unemployment benefits and subsidized health insurance for laid off workers.
The Senate adjourned on Friday without renewing the benefits. As a result, hundreds of thousands of people will stop receiving unemployment checks every week, starting Monday.
Wyden is outraged. "Denying [the unemployed] legislation that helps them pay for the basic necessities of life is fundamentally wrong," Wyden told HuffPost. "For people that are getting hammered in this economy, trying literally to figure out from their kitchen table and their living rooms how they're going to get by, this legislation is a lifeline."
Senate Democrats had been pushing a stopgap measure that would extend by 30 days the eligibility deadline for enhanced unemployment benefits and subsidized COBRA health insurance. The stimulus bill provided the subsidy and more than 50 extra weeks of federally-funded benefits for laid-off workers. But after Feb. 28 laid-off workers will be ineligible for the additional "tiers" of benefits. State workforce agencies have already sent out letters telling some benefits recipients that they will be ineligible for the extra benefits.
Senate Majority Leader Harry Reid (D-Nev.) and Majority Whip Dick Durbin (D-Ill.) pleaded with Bunning to let the bill proceed to a vote, arguing that letting the benefits expire would wreak havoc on unemployed families and the economic recovery. Bunning wants to fund the extension with unused stimulus money.
Now Wyden is fighting back with the same much-maligned parliamentary tactic Bunning is using. "It's awful that you have to do this," he said. "I am the ringleader of the effort to blow the whistle on outdated secret procedures."
Asked specifically what his hold would block, however, Wyden wouldn't say.
Such holds are generally placed secretly, but Wyden inserted a statement of his intentions into the congressional record on Friday:
Consistent with Senate Standing Orders and my policy of publishing in the Congressional Record a statement whenever I place a hold on legislation, I am announcing my intention to object to any unanimous consent request to proceed to legislation extending any expiring laws that does not include extension of unemployment benefits and COBRA health insurance benefits.

Last night, there was an attempt to extend some laws that expire at the end of the month without extending the enhanced unemployment insurance and COBRA health insurance benefits that were enacted as part of the American Recovery and Reinvestment Act. I objected to that attempt.

I did so because Oregon currently has one of the highest unemployment rates in the nation with an unemployment rate of 11percent. Extension of unemployment benefits is critical for many unemployed Oregonians who are in jeopardy of running out of benefits if they are not extended before the end of this month. What's worse, many jobless Oregonians and unemployed workers in other states lose their health benefits when they lose their jobs, leaving them both without income and health care. In order to ensure unemployed workers in Oregon and other states will not be left without these critical, lifeline benefits, I am announcing my objection to any unanimous consent to extend other expiring laws, unless extension of unemployment benefits and COBRA benefits are included as part of the legislation.

I have no objection to the Senate proceeding to H.R. 4213 to Provide for Certain Extenders because extension of unemployment and COBRA benefits are included as part of that legislation. I yield the floor.
Calling all HuffPost superfans!
Sign up for membership to become a founding member and help shape HuffPost's next chapter