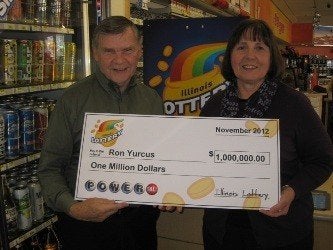 Ron Yurcus was just trying to make room on a desk in his Glen Ellyn, Ill. home when he stumbled across a million-dollar miracle.
The retired hospice chaplain had been sitting on a winning million-dollar Powerball lottery ticket he had purchased from a BP gas station a whole two months earlier.
"About 12 tickets had accumulated on my desk and I decided to tidy up to make room for my new computer," Yurcus said in a statement by the Illinois Lottery. "I checked the numbers on the Illinois Lottery website and realized I won $1 million in the August 22 drawing. As soon as my wife came home I asked her to double check the ticket."
The Glen Ellyn resident of nearly 45 years said he "just about screamed" when he realized he won, reports the Chicago Tribune.
Yurcus and his wife tucked their winning ticket into a safety deposit box until they could claim their winnings. He told the Illinois Lottery he plans to travel and spread the wealth with the unexpected windfall.