The Ronald McDonald of the Internet age is here -- and he's wearing cargo pants.
Though Ronald's oversized clown shoes and red hair remain, the fast food giant gave the 51-year-old character a normcore makeover -- or makeunder. His not-quite-on-trend trappings include cargo pants, a vest and a rugby shirt.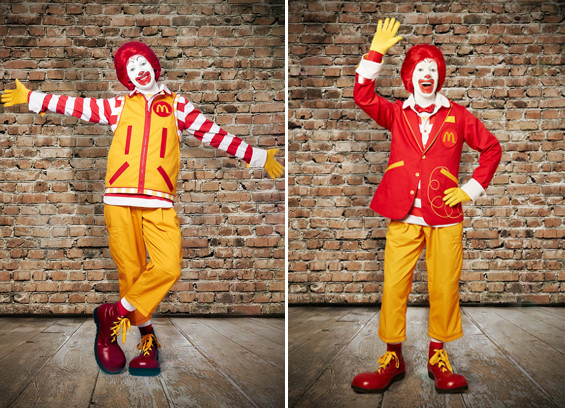 The re-imagined Ronald McDonald's everyday look (left) and special occasion outfit (right).
For comparison, here's what Ronald McDonald's outfit looked like before: Ronald McDonald in his former trademark yellow jumpsuit had branding experts wondering if the clown's floppy red shoes and flaming-red hair were too hackneyed for iPod-savvy kids. (AP Photo/McDonald's Corp., file)
Of course, his new look could have been worse. Via
, here's how the company imagined Ronald might look with a different hairstyle in
:
"Customers today want to engage with brands in different ways and Ronald will continue to evolve to be modern and relevant," Dean Barrett, McDonald's senior vice president and global relationship officer, said in a statement.
The company also got a quote from the suddenly social media-savvy Ronald McDonald:
Popular in the Community